Investing In Brazil Should Be Your Next Move, Here's Why
My Favorite Pocket Money Beachfront Property Market—
Own On This White-Sand Beach For Less Than $70,000
Hard to believe that there are still parts of the world where you can own beachfront property for less than US$100,000… and even below US$70,000…
But this is the case in Brazil—a country that, let's not forget, is world-famous for its beaches.
And, right now, the best place to get an affordable slice of Brazilian beachfront is in the northeast—along the coast that stretches from the city of Fortaleza down to the resort town of Canoa Quebrada.
If you haven't been paying attention to this part of the world… but are interested in owning a beachfront property (whether for your own use or to bring in a healthy rental income)… now is the time to check out the opportunity here.
Why Act On Brazil Now?
One important factor that makes Brazil particularly attractive to North Americans today is the extraordinary currency advantage. Right now, the dollar is trading at over 5 Brazilian reais. That means that everything from eating out to staying at a hotel to buying property comes at a significant discount.
But these low property prices we're seeing can't last. This market is moving. Despite the pandemic, sales in Fortaleza in July were up 43% on June (and 21% higher than in July 2019).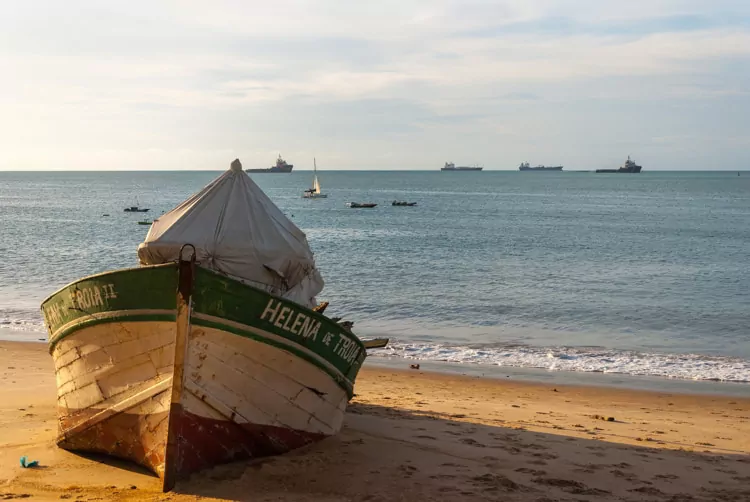 Because Fortaleza's airport is only operating at 20% capacity right now, international tourism is down this year. However, Fortaleza's tourism has always been driven by local vacationers who travel from all corners of Brazil…
Earlier this week, I caught up with LIOS' contacts on the ground here in the northeast to find out what's happening on the scene at the moment. Here's what they told me…
Between global travel restrictions and people wanting to stay safe, many more Brazilians are choosing vacation rentals at the beach over busy hotels and resorts…
Despite the challenges to doing business these past six months, international clients are still buying beachfront here. Some of these are pure investors… others will use their home for vacation and even permanent homes.
With people now realizing that they can work at the beach instead of staying in the cities or suburbs, homebuyer habits are shifting. (If you want to move your desk to the beach here, internet is reliable fiber optic—starting from US$12 a month.)
In the cities, prices are falling in some areas. But the beach towns along the coast continue to be in high demand and prices are rising.
Prices may be rising, but, right now, they're still extremely affordable—with many still falling in the US$70,000 to US$100,000 bracket. For that price, you can be right on the beach, with sweeping ocean views. You can enjoy privacy… but still be close to amenities.
The best value for money we're seeing right now is in the little resort town of Canoa Quebrada…
Check Out The Pearl Of Ceará
Known as the pearl of the east coast of Ceará state, Canoa Quebrada (meaning "Broken Canoe") has long been a hot spot with local vacationers. In recent years, it's been pulling in the international set, too. Once a quiet fishing village, Canoa still manages to retain its small-town charm… yet it's just an hour from Fortaleza and its international restaurants and modern shopping malls.
In Canoa, you'll find beach bars and restaurants… as well as opportunities for kite surfing, horseback riding, dune-buggy riding, and more.
If you're attracted by the beach lifestyle—even for just a few weeks of the year—this could be the place to buy a vacation home/investment property. Brazil has reverse seasons to the United States, making it an ideal winter escape. But on this northeast coast, you can enjoy warm days any time of the year. Average annual temperature is 79 degrees and the mercury rarely drops below 77.
Annual rental yields along this stretch of coast are as high as 15%. And, you're not dependent on international arrivals. As I mentioned above, most tourism here is driven by the locals—who continue to plan their much-needed beach breaks.
New Release In Canoa Quebrada—Own From US$67,000
The developers we've been working with the last couple of years along this coast have seen inventory move fast on both their townhouses near Fortaleza and on their private beach villas farther down the coast. Many of your fellow readers have already made their move here… and inventory on these past projects has sold out.
The good news is that the developers are preparing to release a brand-new project—one that's within walking distance of Canoa Quebrada.
And, as a reader of this dispatch, you're eligible to participate at the launch price point.
Get in touch here now for full details.
Lynn Mulvihill
Editor, Overseas Property Alert