Get Yourself Noticed! Advertise in Offshore Living Letter!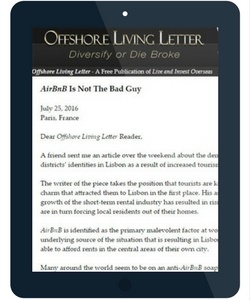 Offshore Living Letter informs readers on all of their legal options and helps them figure out the opportunities that best suit their offshore goals. It's a serious, down-to-business, here's-what-you-need-to-do-to-protect-yourself resource. No frills. No dreamy travel tales.
We have over 35,000 readers of the twice-weekly e-letter, Offshore Living Letter.
Reach an engaged and informed audience with your unique opportunities. Our readers are ready and willing to take advantage of useful resources and quality products. But please be aware that we won't offer just anything to our readers. Our readers demand the best and that's what we give them.
Think your product, service, or project can pass muster? Get in touch with us today!
Get Started Today!
For information on advertising in Offshore Living Letter or any other Live and Invest Overseas' websites or newsletters, please contact us via email at Advertise@LiveandInvestOverseas.com
For information about sponsoring one of our live events, including advertising, speaking slots, and exhibition booths, get in touch with our Conference Department:
By email at: Events@LiveandInvestOverseas.com
By phone from North America: 1-888-627-8834
By phone from outside North America: 1-443-599-1221