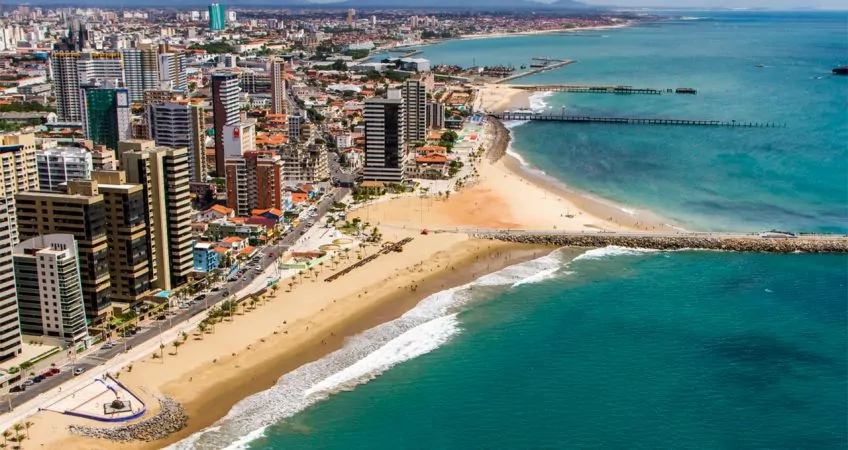 Fortaleza, Brazil: Earn 18% To 20% Return On Your Investment
Earn 18% To 20% Net From This Coastal Rental? Too Good To Be True?
A developer in Brazil is projecting what any serious investor (including me) would initially consider to be unrealistic net rental yields of 18% to 20% for his new coastal townhouse development.
However, stick with me. These returns are extraordinary… but I believe very realistic.
The market here is just outside Fortaleza, a rapidly expanding coastal resort area. This is already an active tourist destination among Brazilians, but it continues to gain popularity.
In addition, new direct flights from around the world are creating greater access and stronger international tourism. Air France/KLM recently selected the Fortaleza airport as its regional hub in Northeast Brazil. Traffic from Europe to Fortaleza is expected to increase 40% over the next couple of years as a result.
I've known the developer behind this opportunity for years, and I have been very pleased with his work. He has completed several projects in this Fortaleza area, including a sold-out beachfront lot development I bought into a couple of years ago.
Now that same developer is building turnkey rental units (in the form of townhouses) inside a master-planned development. The property already has a water park, golf course, hotels, and, of course, a big, long beach… and the local rental management companies are demanding more rentals.
Demand is way outweighing supply.
The water park, for example, saw more than 1 million visitors in 2016 for the first time. That's about a third of the total annual tourist traffic in Fortaleza, an area that's home to about 3 million people. The number of visitors in 2017 was even higher.
The fast-increasing tourism figures for "Beach Park" (as this area is known locally) is what's driving the demand for rentals… and creating the current market forces that are generating those out-of-sight double-digit rental yields.
The Ins-And-Outs Of This Phenomenal Return
18% To 20%?! How Are Those Yields Being Achieved? An Analysis…

When a developer tells me he's projecting rental returns greater than 12%, I'm skeptical.
A projection over 15% from a rental property? I hear that, and I walk away laughing.
However, as I've known this developer a while… I know he is serious and well-connected.
So when he told me about the yields projections for his newest offering, I didn't walk away. I asked him to support the claim.
The first statistic he referenced is an important one…
The current annual occupancy rate for everything in the area is 80%…
Hotels can see that level of occupancy at the top of a normal market cycle, but short-term rentals don't usually enjoy that kind of occupancy year-round. Fortaleza, however, is well-positioned for year-round tourism… and, as I said, both local and international tourism figures are expanding.
That said, the developer didn't use 80% in his projections. He wanted to be conservative and used 60%.
So I was on board for the occupancy rate.
But what about the nightly rental rate? Maybe the projected return is so high because the developer is using an inflated rental rate…
In fact, he is using average prices from Airbnb. Of course, prices vary depending on the time of year, but the average price per night used for the projections is 500 reais. Current Airbnb prices for comparable listings in the same area range from 300 to 650 reais for the various dates I used as a test. The lower-priced properties were farther from the beach, while highest-priced properties were closest to the beach.
The investment property here is well situated and close to the beach, and the projected rental rates are accurate…
The next thing to look at is the total investment amount used when making the projection calculations.
Looking closely in this case I found that the developer includes closing costs and the cost of furniture when calculating the yield. Most developers ignore these costs, to prop up yield projections.
However, again, in this case, closing costs and furnishing expenses are accounted for in the projected 18% to 20% return…
Beach Townhouses For Only US$99K—Financing Available…
The product has been designed based directly on recommendations from rental managers in the Beach Park area. These people make a living from rentals. They know the market better than anyone.
So, based on their advice, the developer is building three-bedroom townhouses of 110 square meters designed specifically as short-term rentals in the Beach Park neighborhood.
All units will have direct, permanent ocean views, and the complex will have its own pool, gym, and sauna. Each unit can also have an optional Jacuzzi on its rooftop.
Two pre-construction purchase options are available.
You can pay cash up front in full. In this case, the cost is US$99,000.
Or you can make a down payment of 24% and then make monthly payments over 24 months to complete the purchase. In this case, the cost is US$110,000.
The 20% net rental yield is based on the US$99,000 cash price plus the estimated US$5,000 closing costs and a US$15,000 furniture package. This package includes everything needed to set up the property as a short-term rental: appliances, lighting fixtures, curtains, beds, TV, dishes, sheets, towels, etc.
Easy Cash Flow—This Is A 100% Turnkey Investment

These townhouses are turnkey and will be fully managed for short-term vacation rentals by a proven rental management company that will take care of everything from marketing and greeting guests to maintenance and cleaning.
Get in touch to learn more now, here.
Lief Simon