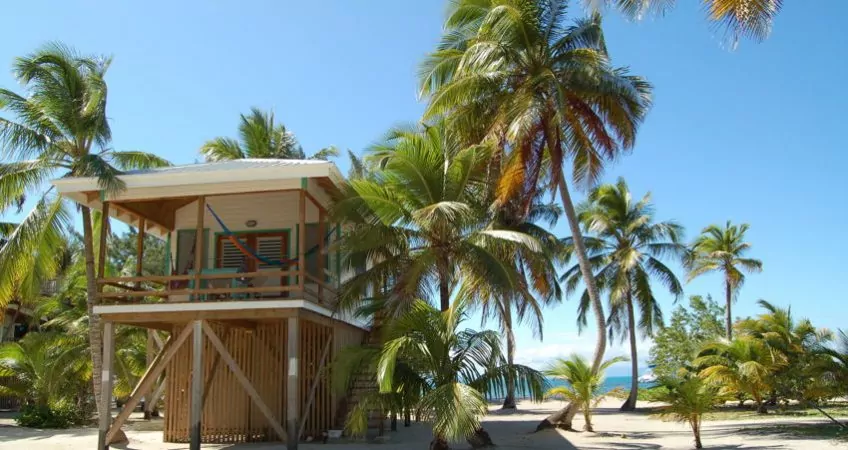 How Each Region of Belize Reveals Another Lifestyle Option
In This Paradise, The Government Is Nowhere To Be Noticed And Your Tax Bill Can Be Highly Controlled
Finally… after three days inside the meeting rooms of the Fort George Hotel, it was time to bug out of Belize City.
Belize City is poor, underdeveloped, and, in parts, unsafe.
I don't mind the place. Beneath the gritty surface, I detect a long-faded charm. Or maybe I project one. Either way, I enjoy passing through.
And on my most recent visit I observed more infrastructure works in progress and more active construction projects (shopping malls, hotels, casinos, restaurants, and condo buildings) in Belize City than I've seen in all my more than 30 years of coming and going to and from this point on the map that a friend refers to as the Calcutta of Central America.
"What is fueling this Belize City boom?" Lief asked Belize's Minister of Foreign Affairs Wilfred Elrington on the opening morning of last week's conference.
"Locally it's the Mennonites, who are reinvesting their considerable business profits into new business development," Minister Elrington explained.
"Plus, we are enjoying ever-bigger foreign investment from China," he continued. "The Chinese see Belize as virgin territory full of untapped potential. The Chinese value undeveloped land and open spaces. Belize has a great deal of both those things."
Still, I know that, for many, the best part about traveling to Belize City is leaving Belize City. We hold our annual Live and Invest in Belize Conference here because it's the only place in the country with facilities big enough to accommodate us.
Finally, though, Friday afternoon, our conference attendees were free to take off to see for themselves what this little country is really all about. Armed with the know-how and wisdom shared by our Belize experts and expats over the three days of the event, the readers in attendance dispersed to Belize's four very different corners.
And that was when the real fun began.
Many of these soon-to-be expats took a quick hop over to Ambergris Caye, home to the largest expat community in Belize and one of the biggest expat communities in the world. These folks want Caribbean, and now they're spending time on Ambergris, Belize's most developed Caribbean island, trying to determine if this is the Caribbean outpost they seek.
Ambergris is unadulterated, unpretentious Caribbean… the sea, sand, and sunshine of the Caymans or the Virgin Islands… without the price tag.
Another group of attendees headed in the opposite direction… and for the hills, the Cayo District, where the appeal isn't sand and sea but wide-open spaces, a back-to-basics lifestyle, and really cheap land.
Cayo is my favorite part of this country. When I think of Cayo, I think of sitting on the long, breezy porch of the home of a friend here. The charming cottage is built from the local Belizean hardwoods and looks out over the meandering Belize River.
Sitting on that porch you hear, in the distance, roosters crowing and cows mooing. All around birds sing and the sun shines. That's the memory of Cayo that I carry around with me.
The Idyllic Carmelita Gardens
And, yes, it's as idyllic as it sounds.
Here in this almost-too-blissful-to-be-real setting, developer Phil Hahn is creating the forward-thinking sustainable community known as Carmelita Gardens that many of the attendees at last week's conference back in Belize City have made the trip out specifically to see.
The Carmelita plan calls for solar power and community gardens and orchards. The intent is a place where you could live completely independently if you wanted, reliant on no public services or third-party infrastructure.
We've been watching progress at Carmelita for several years, and now Phil's vision is becoming reality. Carmelita today is not a development but a neighborhood of tidy cottages bordered by white-picket fences. It's like Mayberry by the river.
"Maybe you should rename the place Carmelita RFD," we've suggested to Phil.
In this part of Belize, you do feel like you've traveled back in time to 1950s America… a time and a place where you don't worry if you forgot to lock your front door, where neighbors greet passersby from their front porches, and where the best way to find out what's going on is to stop by the local watering hole or community center.
Friday afternoon, after the formal program concluded, a third conference contingency headed south to explore this country's mainland coast around Placencia. This is another face of the beachfront life on offer in Belize. Several master-planned communities are popping up here, catering to those with bigger budgets. You'll find marinas and golf courses alongside large homes within gated neighborhoods. That said, plenty of affordable and charming options exist outside of these higher-end options.
Finally, a fourth scouting party headed north to see the northern mainland Belize coast around Corozal. While Ambergris Caye is a fully-fledged expat community with all the trappings… Carmelita and the Cayo District are all about being off the grid and embracing a self-sustainable lifestyle… and Placencia offers luxury… Corozal is about kickin' back and layin' low. This region is low-density and low-impact. The biggest attraction for some is the uninterrupted peace and quiet.
Meantime, Chetumal, Mexico, with its 17 hospitals and big-footprint shopping, is only 15 miles away.
Those attendees able to make the time are traveling among two or three or even all four of these spots, to get a better picture of the different lifestyle options Belize has to offer.
Each has its pluses and its minuses. Island living is always more expensive than life back on the mainland… meaning Ambergris is the most expensive lifestyle choice in the country. Most expensive and also most developed, turnkey, and fully appointed.
Carmelita is being developed on a river. For some, river views don't substitute for ocean vistas. Others prefer them. Plus, Carmelita is off-the-grid and back-to-basics. In today's world, those two things can carry big upsides.
Corozal boasts easy access to Chetumal, which could be a big advantage in case of medical emergency. On the other hand, day-to-day, you could feel secluded here. Maybe that's a plus for you… maybe a minus.
The northern coast around Corozal sees about 50 inches of rain a year. The southern coast, Placencia and south, can see three times that much rain or more each year. Maybe that bothers you… maybe it doesn't.
Big picture, of course, all four of these regions are in Belize… which means the people speak English, the government is typically nowhere to be noticed, and your annual tax bill can be highly controlled.
Kathleen Peddicord