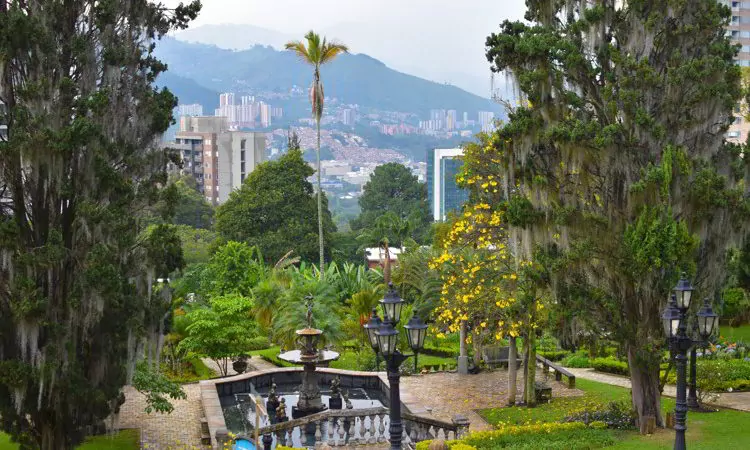 3 Types Of People Should Live Or Invest In Colombia—Are You One Of Them?
My Admission Will Shock Your Family This Thanksgiving
I want you to conduct a little test for me…
This Thursday, when you're sitting down to Thanksgiving dinner with your family, tell them you are considering a visit to Colombia.
If you're feeling feisty, tell them you're going to Medellín…
I bet you a bottle of rum that their shocked response will have something to do with cocaine, plata, plomo, cartels, or Pablo Escobar.
Maybe they'll mention kidnapping… the CIA… or make a wise crack about Agent Jack Ryan.
If you're able to speak hombre a hombre, maybe the conversation will turn to the women here.
Indeed, even throughout Latin America, Colombia is famous for its beautiful women…
And I should point out (lest I be accused of a discriminatory perspective) its handsome men.
In fact, an Overseas Retirement Index once named Colombia, and especially the city of Cali, as the #1 Best Place In The World For Single Men.
Regardless… and back to my original point… I urge you to make this a topic of conversation over turkey this week.
The reactions you'll get from family, neighbors, and friends should only encourage you to spend your time and money here.
That's because two facts about Colombia right now are helping to make this country one of the world's greatest bargains…
Colombia's New Image
First, the image of Colombia as a dangerous land run by cartels is decades out of date. Pablo Escobar died in 1993, and Venezuela's instability has led to the best U.S.-Colombia relations in recent history.
It took nearly two decades for the mainstream media to catch on, but, starting around 2015, The New York Times began including Colombia on its 'Places To Go' lists.
Harvard has jumped on the bandwagon more recently by granting Medellín its Award for Urban Design, and many others have followed suit with their own honors.
The Times is far from being alone in suggesting Colombia as a place to live or invest… Jim Rogers and Sam Zell, among many others, have recently invested relative fortunes in real estate here.
Finally—and this one's the clincher for the scared and uneducated masses—even the AARP suggests checking out Colombia, calling it an 'energetic land' with a 'vibrant urban fabric of food, art, and local traditions.
What's This All Mean?
It means the stigma once chugging along in North America and the rest of the world is losing steam. It's almost gone, but not completely…
Until then, you're still ahead of the crowd…
Meaning you still have a chance to take advantage of positions in this country that will be more expensive once the rest of the world fully catches on… and prices surely rise as a result.
I invested myself years ago, in 2011. While I am way ahead in that investment in Colombian peso terms, it's only a modest gain in U.S. dollars…
Why is that?
Well, this is the second reason you need to pay attention to Colombia—now…
Currency Discount
The Colombian peso is currently at historic lows against the U.S. dollar.
Creating what I like to call a 'currency discount.'
With 2015 as a baseline, Americans who convert their dollars to Colombian pesos have 55% more buying power… again, thanks to today's favorable exchange rate.
When it comes to a property purchase, for example, that condo that was US$100,000 in 2015 will cost you just US$64,000 today.
The property discounts are significant.
And, of course, this 'currency discount' also applies to all your other costs in this country… from groceries and property taxes to rent, HOA fees, and everything else you might spend money on…
The upscale dinner that cost US$50 a few years back is now just US$32 right now.
It's a huge advantage… but it's only one of the reasons why we're so enamored with Colombia.
Indeed, colleague Lee Harrison has long insisted that Colombia be at the top of the list of easy backup residency options. Lee was able to obtain Colombian residency quickly, efficiently, and without the help (or expense) of an attorney.
The information on the government website related to the process and the required paperwork is clear and accurate (which, believe me, is not always the case with government websites).
In addition, visa requirements here do not include a police background check. This eliminates the need for an American to get an FBI report, which can be one of the biggest delays for an American trying to establish residency.
The thresholds for Colombia's retirement and investment visa options are competitive…
You can qualify for the pensionado visa in Colombia right now with US$810 a month. If you're not retired and are looking for options for full-time or backup residency as part of your Plan B, you can invest as little as US$27,700 in the country and qualify for an investment residency visa.
As I see It, Here's Who Should Be Focused On Colombia Right Now:
1. The Retiree
The City of Eternal Spring (Medellín) is rapidly becoming a popular destination for the North American retiree. Medellín enjoys one of the world's best climates, is home to 8 of the top 35 hospitals in all Latin America, offers a great selection of restaurants and cafés, and boasts an exciting cultural scene, with theater, orchestra, and events all year… all starting at less than US$1,000 a month.
2. The Digital Nomad
Those who can work remotely from anywhere have been called Digital Nomads. Young and old, they're heading here in droves due to the affordability, fast internet speed, café culture, and quality of life (especially when earning income in dollars or euros).
3. The Global Diversifier
Colombia is hard to beat when it comes to the 'Residency Flag' of my 5-point diversification strategy. Getting a permanent visa here is quick and cheap, and it doesn't require a lengthy wait, a lawyer, or a big pile of papers. Even pensioners with Social Security income south of US$1,000 can qualify, while investors can get in with less than US$30k.
In other words, I'd say that everyone should be paying close attention to Colombia right now.
Lief Simon