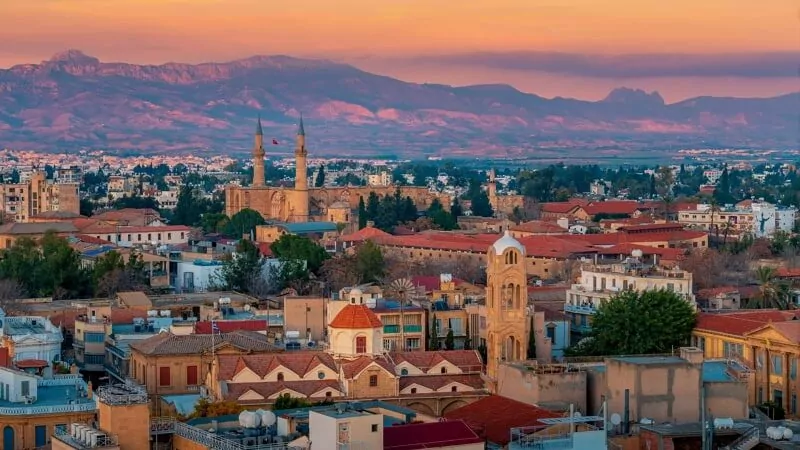 The Best Places To Live Abroad And Launch A New Life
Now That The World Is Beginning To Reopen...Here's Where I'm Headed Next
The world is reopening. It won't be long now until we're all able to get back out there scouting, exploring, and discovering.
As you begin to plan your life post-pandemic, where should you be focusing your attention?
To help you answer that question, today I'd like to share the places that are right now dead center of our radar.
When travel restrictions are no longer an obstacle, here's where Lief and I will be bound for…
Panama
OK, in this case… we're already here.
Lief and I have been in residence in Panama, on this country's Veraguas coast, since mid-January.
It's been a darn nice place to ride out a pandemic.
Indeed, we've named Panama as the world's #1 do-everything haven for more than two-and-a-half decades. This country has long been and remains today the best place on Earth to spend time and money as an expat, a retiree, an investor, and an entrepreneur.
Panama's is the most proven property investment market in the world… with a track record for recovering quickly from downturns thanks to the secret weapon and massive cash cow that is the Panama Canal (which is one reason we believe Panama will be the first country to recover from the global pandemic crisis).
In addition, Panama remains home to some of the best options on the planet to invest for cash flow… both short- and very long-term.
In its continued and expanding efforts to welcome the world's retirees, investors, and business folks, Panama is remaking herself, building new roads and paving old ones… building new hospitals, more schools, additional airports… creating tax-free and investor-incentive zones… investing in a metro system for Panama City… as well as new parks and recreation areas…
If I hadn't been here, on the ground, watching the infrastructure and other improvements myself day-to-day, I wouldn't believe the reports. It's like watching time-lapse photography. When these Panamanians set their minds to something, they do it. A new highway? New bridge?
Other countries in this part of the world promise those things for years before following through. In Panama, you blink and the promised road is a reality… the new airport open for business.
Here in Panama today, you really can realize the retirement you've long dreamed of even if your retirement nest egg is far smaller than you expected it to be. You really can generate the income you need to live the life you want… and keep every dollar you earn. You really can invest for both immediate cash flow and long-term upside, positioning yourself in an economy that has managed to thrive in the face of the global downturns and disasters of the past several years.
We've been bullish on Panama's prospects for more than 25 years… and, this 2021, we're doubling down. If you haven't yet taken your position in this country, I can't imagine what you're waiting for.
Northern Cyprus
Northern Cyprus, located in the Mediterranean Sea between Europe and Turkey, is not at the top of most would-be retiree's or investor's list, but this former British colony has a lot to offer. This is the best of the Mediterranean at a fraction the cost of living the Med life elsewhere.
Northern Cyprus is also a safe, welcoming destination with developed tourism infrastructure, including clubs, casinos, and luxury hotels, all more affordable than their counterparts in France or Italy.
Northern Cyprus also has the advantage of holding most of the island's coastline. As well as attracting sun worshippers, it has a strong casino industry (hence its reputation as the "Las Vegas of the Mediterranean") and a burgeoning medical tourism sector. All of this means an increase in demand for tourist accommodation.
In addition to the low cost of everything, the main attractions are the sand and the sea. It's possible to own an ocean-view condo with direct beach access for as little as US$75,000 at current exchange rates (real estate in Northern Cyprus trades in British pounds). It's also possible to buy with developer financing, meaning low capital requirements up-front.
Look specifically along Iskele (pronounced ee-skeh-leh), on the eastern coast. This region is known for the nicest and longest stretch of beach on the island, as well as its seafood specialties.
Retirement in Northern Cyprus would mean a life outside the more familiar comfort zones of Europe and the Americas. If you're up for an adventure at this stage of your life while stretching your retirement budget to buy you a bona-fide luxury standard of life on one of the world's most beautiful stretches of coastline, Northern Cyprus should be at the top of your list.
Portugal
Our 2021 Retire Overseas Index names Tavira, Portugal, as the single best place in the world to launch a new life overseas.
Indeed, Portugal's Algarve region has come out on top in our annual survey for the past six years.
This year, we took a closer look… and identified a corner of this region that remains completely off the world's radar. In today's world, we value sweet, simple, and private above most other things.
In addition, Tavira's undiscovered status means it's also one of the most affordable spots in all Portugal. Costs of living and of buying property have risen in Lisbon, Porto, Lagos, and other better-known Portuguese cities and towns… but in Tavira the cost of everything is refreshingly low.
The Algarve continues to offer everything the would-be retiree could want, including:
Near-perfect weather and sunshine year-round…
An established and welcoming expat community…
Top-notch medical facilities…
A high quality Old World way of life that's a bargain compared with costs in the rest of the EU…
Endless opportunities for fun and adventure, especially for nature-lovers…
A great deal of English spoken…
First World infrastructure…
And easy access to the United States and all of Europe.
Indeed, the Algarve continues to be the world's best place to retire overseas. However, thanks in part to our coverage, the Algarve is now well-known internationally, home to big, long-established expat communities. All this popularity has led to important infrastructural developments and improved amenities, but it's also had the effect of driving up prices.
This region, taken as a whole, remains a highly affordable retirement option… but not everywhere in the Algarve is the budget destination it once was.
That's why this year we're drawing your attention to Tavira in particular, a charming little fishing town in the eastern Algarve that features all the bests of a traditional Algarvean town… from cobblestone streets and whitewashed buildings to lacework chimney pots and colorful azulejo tiles.
If you want a view to the Algarve of centuries past, before the golf courses and beach resorts were put in, look no further than Tavira. Its property market remains a real bargain. The center of town boasts an enviable selection of historic homes, and riverside properties are especially charming. More modern, new-build residential developments just outside town are likewise temptingly priced.
Croatia
Neckties and wine.
Croatia may be better known for its long coast along the sparkling green Adriatic and its tumultuous, 1,000-year-long history, but, when I think of Croatia, I think of neckties and wine.
This gorgeous, complicated country is the birthplace of both the necktie and the Zinfandel grape, and these two facts reveal a lot about Croatia. First, it has great weather. The Zinfandel grape requires a climate not too hot and not too cold. Croatia's mild winters and sunny summers make for perfect Zinfandel grape-growing.
Second, Croats are the trendsetters credited with introducing today's tie to the fashion world. The Croat contingency of the French service wore their traditional knotted handkerchiefs during the Thirty Years War (1618 to 1648). The Parisians took a fancy to them and called them "cravat"—a cross between the Croatian and French words for Croat (Hrvati and Croates). So began a cravat fashion frenzy. In the 17th century, these kerchiefs became so intricate that they were tied in place by strings and arranged in a bow that took forever to arrange.
Croatia is tucked into southeastern Europe, bordering the Adriatic Sea, between Bosnia, Herzegovina, and Slovenia. It's near the coast, Vienna, Venice, Budapest, skiing in Austria, and golf in Slovenia. It's been 30 years since the Socialist Federal Republic of Yugoslavia was dissolved. Its six republics—Croatia, Bosnia and Herzegovina, Macedonia, Montenegro, Serbia, and Slovenia—are all very much their own countries today.
Croatia is wearing its new skin comfortably, as it should. The Kingdom of Croatia was, in fact, its own entity starting in 925 AD. It joined Hungary in 1102 but maintained a Croat culture with hopes for independence. Although it was titled a free royal town in 1242, it took about 800 years before Croatia was independent again, this time from Austria-Hungary in 1918. That freedom, too, was short-lived, however. Croatia became a member of Yugoslavia after World War II and didn't stand on its own again until 1992.
A Croatian friend told me a story about his family once. "My father lived to be more than 100 years old," Lovorko explained. "He lived his whole life in Croatia, here in Istria. Not only in the same town where he'd been born but in the same house. And, in his lifetime, he lived in nine different countries."
You have two strong lifestyle options in Croatia, the coast and the Istrian peninsula. The Adriatic waters offshore from Croatia are a sailor's paradise. Inland, in Istria, is a wonderland of another kind, with vineyards and olive groves. If you've any romance in your soul, I defy you not to fall in love with this country. The ancient Romans called it Terra Magica, the Magic Land. Perhaps the best part is that, unlike Tuscany, the region of Italy Istria is most often compared with (with good reason, as the geography and the history of these two regions have much in common), the average person can afford Istria, where you can buy a small, renovated cottage with lookouts over a valley and vineyards, perfect for regular visits, for rental, and for retirement, for as little as US$100,000.
Retiring to Croatia, you'd be in good company. Diocletian, the only Roman emperor to abdicate his position (that is, to retire) was also the first person to retire overseas. Diocletian built a palace on the Dalmatian coast (his birthplace was Dalmatia), the location of current-day Split, and it is here, with the glorious Adriatic Sea spread out before him, that he chose to live out his days.
It's easier than it's ever been to take a page from Diocletian's book, thanks to this country's new residency program (which our Lief Simon will cover in detail in his Simon Letter advisory service).
Colombia
Fifteen years ago, Santa Marta was a work in progress, rough around the edges in some areas and downright seedy in others.
Today's Santa Marta is a different story. Its downtown has undergone a restoration effort that has revived its Spanish-colonial parks, churches, and homes to their former glory. New elements have been introduced, as well, and the city now boasts an attractive seafront park, excellent seafood restaurants, cafés, boutique hotels, and even a cruise-ship port. These upgrades have attracted interest from around the world, and tasteful condo projects have sprouted up all along this coast, offering an impressive diversity of beach living options.
Festive and friendly El Rodadero, with its longer, wider, better-kept beaches and small-town feel, is the most popular location among expats. Along El Rodadero's beachfront is a boardwalk lined with palm trees where people come to walk, exercise, and take in the views. The energy picks up after sundown, and central Rodadero takes on a party feel, with live music and people of all ages out to socialize.
In 2020, property prices increased by 23% in dollar terms. Continued appreciation is expected. Meantime, you can buy a two-bedroom seafront condo in a new building for about US$175,000 at the current rate of exchange between the dollar and the Colombian peso.
In 2015, the Colombian peso devaluated against the U.S. dollar to the tune of 40%. Right now, you'll get around 3,600 pesos for your buck (compared with just 2,400 pesos in 2014). Colombia's reputation as a price-friendly destination is growing every year, and the bargains we're seeing now can't last.
Brazil
Long famous for its miles of golden-sand beaches, including such icons as Ipanema and Copacabana, it's hard to imagine snapping up a beachfront property in Brazil for less than six figures. But in the northeastern state of Ceará, the beaches are just as stunning (without the crazy crowds of Rio)… and prices are seriously undervalued.
The path of progress today is on the stretch of coast from the city of Fortaleza (with its own international airport) down to the resort of Canoa Quebrada and beyond. Best of all, the tourist industry is driven by the locals. Though international visitor numbers are rising, the economy is not dependent on foreign tourist dollars.
Thanks to recent increases in the numbers of international destinations serviced by the airport here, it's easier than ever for North Americans and Europeans to discover the merits of Fortaleza, too.
Fortaleza is a quintessential Brazilian beach town. Fisherman offer their daily catches from wooden tables set up along the boardwalk. Men shimmy up trees on the city beaches to bring down fresh coconuts to sell for their water. All over the beaches, you see ever-active Brazilians playing volleyball and soccer, kitesurfing and practicing yoga.
Fortaleza is also one of the most populated cities in Brazil, meaning big-city amenities to support your life at the beach. Beira Mar Avenue is the city's beating heart, with wide, leafy avenues that extend until they narrow out into small streets.
Also on your side in this market is the currency advantage. Right now, the dollar is trading at over 5 Brazilian reais. That means that everything from eating out to staying at a hotel to buying property comes at a significant discount.
Fortaleza's market appreciated in Brazilian real terms in 2020 but dropped in value almost 16% in dollar terms, creating a buy-on-the-currency-dip opportunity. For the best returns, look for property right on the sand—or as close as you can get to the front line. Prices for beachfront condos start from US$67,000 and can earn you an annual net yield as high as 15%.
Dominican Republic
In 2019, Dominican Republic snatched the accolade of number-one tourist destination from Cancún during the Thanksgiving travel period. Hailed by Condé Nast as "the Caribbean's new hot spot," we expect this country to continue upward when people start to vacation again.
Within the Dominican Republic, there are two main markets of interest to investors—the beaches of the Samaná peninsula (especially those close to the town of Las Terrenas)… and the capital city, Santo Domingo. Both have strong tourism appeal, but it's the capital where it's still possible to break in for less than US$100,000.
As the oldest city in the New World, Santo Domingo offers visitors a rich culture with plenty of museums and theaters… the opportunity for fine dining, shopping, and live baseball… as well as being close to the beach. The city's Zona Colonial is a UNESCO World Heritage site.
Rapidly expanding demand and undervalued pricing make this a top rental investment market, and local developers are looking to fund new projects through pre-construction. You can buy a rentable apartment for as little as US$100,000 or less. One-bedroom units in a project in one prime Santo Domingo location start at US$66,000. Financing is possible for foreign buyers, meaning the Dominican Republic offers the lowest buy-in capital requirement of any cash-flow market I know. A modest investment positions you for net yields as high as 10% per year (outside the current pandemic climate).
Having invested in a rental property in the Dominican Republic, again, after COVID-19 travel restrictions have been lifted, you should have no trouble filling it. The country's open-sky policy has resulted in many new flights, including more nonstop routes to and from the United States. All those arriving passengers translated to average hotel occupancy rates of 77% pre-pandemic, and those tourism trends are expected to continue post-crisis.
The even better news is that the DR's burgeoning tourism economy is not reliant on one market. The country attracts travelers from North America, Europe, and South America, with direct flights from all three continents. Beaches are the main draw, but Santo Domingo adds one of the biggest and oldest Spanish-colonial town centers to the mix of attractions, and, as the country works to position itself as a Caribbean business hub, executive travelers are creating a new demand.
Kathleen Peddicord
Editor, Overseas Opportunity Letter