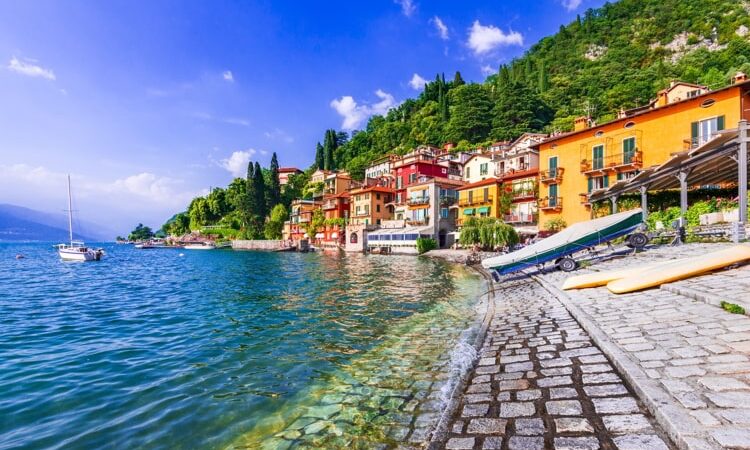 Our Online Retire Overseas Conference May Be The Best Ever
My "Big Six"—These Are The Critical Issues To Address Before Going Overseas
Over five days next month—Sept. 13–17—I'll be co-hosting, alongside my wife and publisher Kathleen Peddicord, the biggest go-overseas event of the year.
For this year's Retire Overseas Virtual Conference, Kathleen and I are bringing together more than 100 experts and expats from across the globe. With their help, we'll introduce and hold under the microscope the 22 best places to think about living or retire overseas.
In addition—and as important—we'll also be addressing, through a series of panel discussions, the Big Six.
I'm talking about the six most important issues faced by all would-be overseas retirees… as follows…
Workshop #1: Moving Overseas—Don't Let Money Get In Your Way
What do you need to do to get your financial affairs in order for a move overseas?
This is the workshop that will answer that question for you—and show you how you don't need a large nest egg to do this.
Our panel of experts will reveal everything you need to know to make your own financial plan for living overseas, including:
How much money you need to move or retire abroad…
What to do if your savings are on the skinny side…
How you should invest (for the short- and long-term) to maintain a healthy portfolio…
How to manage your day-to-day spending, complete with budget spreadsheets…
How to cope with changing exchange rates…
The best time for you to start taking Social Security as an overseas retiree…
How to manage your credit cards while living abroad…
Whether to sell or to keep your U.S. property…
What to do if the U.S. dollar tanks…
This is the workshop where attendees tend to find new hope—discovering that what they really need to move is far less than what they feared they needed (and far, far less than what they'd need to afford a comparable standard of living in the United States).
Workshop #2: Visas And Residency
How can you stay legally in your new country… and for how long?
In these days of tightening immigration control, not everywhere may suit you.
That said, certain parts of the world are rolling out the welcome mat for expat retirees and investors, even in this pandemic age, offering special incentives, perks, and advantages. We'll cover the best ones here.
In this workshop, you'll learn the good, the bad, and the ugly of establishing a physical presence overseas and find out:
The 3 most retiree-friendly countries in the world. In these places you can look forward to generous discounts—often as much as 50%—on goods and services from restaurant dinners to dental work and from airline tickets to closing costs on a home…
The fast track to permanent residency in the world's top retirement havens…
How residency affects your tax burden and how you can control and minimize this through careful planning…
The benefits of using an attorney to guide you through the application process… when you must use one… and when you can save yourself the expense…
Easy immigration: Places where you can easily (and legally) stay long-term on a tourist visa…
The "no complications" approach: Divide your time among three or four places a year and you can avoid jumping through residency hoops altogether…
The implications of establishing residency in a foreign country (for example, how local inheritance laws could affect your estate)…
The many benefits of second citizenship and how to obtain it legally…
Note that this is just the beginning… we'll also discuss residency specifically for each of our 21 featured countries in their respective country breakout sessions.
Workshop #3: The Nuts And Bolts Of Getting Established Overseas
In this important-yet-fun workshop, we'll address all of these nitty-gritty issues that you'll need to know once you've landed in your new country.
This workshop is designed to help you experience the minimum amount of hassle (and the maximum fun) getting set up in your new home. Our panel of expats from different countries will cover:
When, and if, you'll need a new driver's license…
The ins and outs of opening a bank account in another country…
How to pay your bills… both locally and back home…
Organizing your household for shipping… how to decide what stays and what goes…
Learning the local language… or getting by in English…
Staying in touch—inexpensively—with friends and family back home…
Getting utilities connected and choosing internet service…
How to find reliable craftsmen…
Bringing your pets… details of the paperwork you'll need…
Tips for a smooth move if you're bringing your household goods…
Workshop #4: Taxes For The Expat And Foreign Retiree
If you're an American, your international tax burden is one of those areas that's hard to get excited about.
But it's one that you can't ignore either. In fact, regardless of where you're coming from and depending on your strategy, you could wind up paying far less tax than you do right now… and maybe none at all.
I'm talking about things like:
How to earn up to US$107,600 per year tax-free…
Two foreign assets the IRS doesn't want to know about and that you can legally hold overseas without triggering a reporting requirement to the U.S. IRS…
The top jurisdictions for low-tax or no-tax living…
Getting good representation—the key to paying no more tax than you should…
Where you'll enjoy the lowest property taxes… and where you won't pay any property tax whatsoever…
Where and how to enjoy exemption from import duties on household goods and belongings you decide to bring with you to your new home…
Understanding your options and how to structure your new life overseas can save you thousands of dollars in taxes each year. You'll get the full scoop at this year's Retire Overseas Virtual Conference…
Workshop #5: The Property Question
It's one of the biggest issues in considering a move overseas—and one that's inspired many a heated debate… even among the Live and Invest Overseas team where the points of view differ.
Generally, I say rent first and maybe rent long-term.
However, sometimes, depending on your situation, buying a home of your own and even buying right away can make sense. When we meet online this September, our panel of property experts will talk this important question through for you, considering all the options and many different points of view.
They'll also share their insights on everything you need to know about buying or renting your new home abroad, including:
The benefits of renting long-term…
What to look for when choosing a rental, whether for short- or long-term use…
How to review a rental contract in a foreign country…
Where to start your search for a rental property and how and why to take your search local…
What you need to know about buying property overseas, including the pitfalls and how to deal with them…
12 critical questions you should ask before buying real estate in a foreign country…
How to protect yourself as a buyer in a foreign market…
How to evaluate a selling price in any given market…
How to structure foreign property ownership…
How to address the tax implications of owning real estate in a foreign country…
What the IRS needs to know about your property holdings overseas (note: for you, that may be nothing)…
Workshop #6: Health Care For The Expat Abroad
Good news. You have many, many options—often excellent and affordable options—for the expat looking for medical coverage abroad.
And, as many of the expats and doctors you'll meet at this Retire Overseas Virtual Conference will testify, it's possible to receive quality care—sometimes even better than the level of service you're used to at home—in many of the retirement havens on our agenda.
From this workshop, you'll find out:
Which of the top 21 countries I mentioned earlier stand out in terms of top-quality health care…
Where, among these top havens, you'll find health care to be the most affordable…
The differences between public and private health-care systems… and when to use the (possibly free) public systems abroad…
Your top options for medical insurance abroad and the pluses and minuses in each case…
The points to consider in choosing a policy that suits your specific needs…
Why you should never buy insurance online… at least not until you've confirmed the answer to this all-important question…
What your overseas health policy should cover… and what it likely won't…
How much deductible makes sense given where you'll be living and your personal health circumstances…
Cost details for sample insurance plans in a number of overseas retirement havens…
What to do if you're beyond the age for enrolling in a new insurance policy…
How to evaluate a policy in a foreign country…
The best international health and travel insurance policies on the market today…
Lief Simon