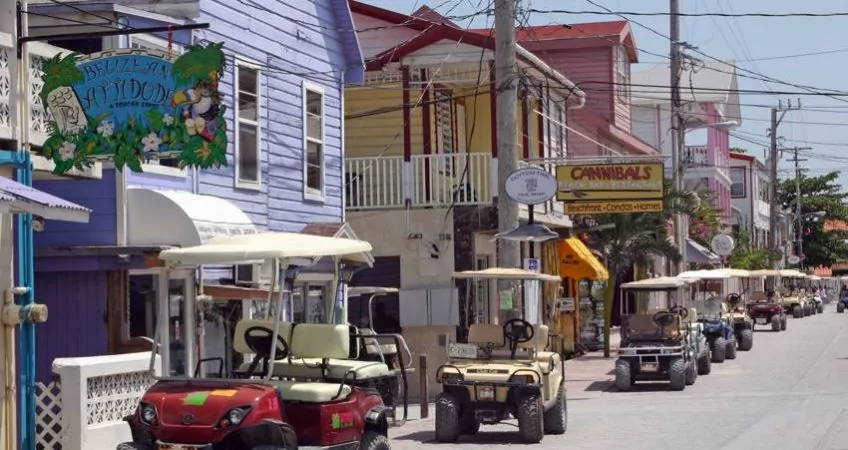 The Telling Changes Of Ambergris Caye's Development
I Stand Accused—Seems I've Destroyed This Island In The Caribbean
I spent 10 days in Belize this month, first hosting our sold-out Live and Invest in Belize Conference and then scouting new development projects on Ambergris Caye. It was my first trip to San Pedro in at least three years.
As the old joke goes, no news is the best news in Belize. However, while the island is more or less the same as it was three years ago when I was last here, I did see telling changes.
The biggest is the number of golf carts cruising the few small streets of San Pedro town.
The only vehicles allowed on the island are government cars, taxis, and delivery trucks. Otherwise, tourists and residents must drive golf carts… and everyone seems to be in the golf cart rental business.
Noticeably, more golf carts coming and going means traffic jams at certain hours, generally around lunch time, and parking congestion. I found it easier and faster to walk most places. The distance from my hotel on the south side of the airport to the center of San Pedro was only about a mile-and-a-half.
A Developing Island
However, I found that I didn't need to make the trip into the center of San Pedro as I've had to do every past visit to this island. Development has now extended south of the airport, meaning I found more than enough shops and restaurants to keep me stocked and fed. I prefer to avoid traffic and crowds as much as possible as a rule and was happy to be able to do so this past weekend on Ambergris.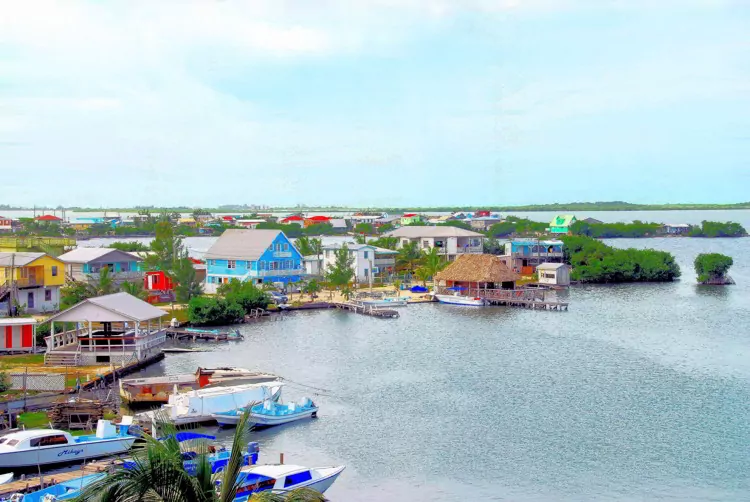 Just before my hop from the mainland over to the island, a reader wrote to me to complain. He's been going to Ambergris for 14 years, he told me, and it's been ruined by people like me writing about it. The early adopters (my phrase, not his) want to keep this place for themselves.
This reader went on to tell me that it's a shame how foreigners are taking advantage of the locals on Ambergris. From his point of view, the foreigners are making all the profits from the tourism and real estate market growth the island is seeing, while the locals continue to suffer and struggle.
Belize doesn't hand out work permits to foreigners easily. The majority of the workforce on Ambergris Caye is Belizean. The growth the island is experiencing means that more jobs are available all the time… good-paying jobs in hospitality and construction. In addition, many of the businesses, including most of the golf cart rental businesses, are owned and run by Belizeans.
Yes, many foreigners have started businesses, as well… and they are hiring locals to work in them. The whole of the island's population—expats and locals—is benefitting from the economic growth playing out.
And the whole of the population is suffering.
As recently as a few years ago, I never would have imagined traffic jams on Ambergris Caye, but, as I mentioned, these are now a part of everyday life. This is in part because of the increased number of golf carts on the roads, but it's also because only a few of the roads in San Pedro are paved. No one drives the back, dirt roads.
That will be a next step of the evolution of this market. More roads will be paved… which will make getting around easier for everyone… until enough new golf carts are introduced and the expanded drivable area around town becomes congested. Then more roads will be paved, but the population will continue to grow. More people will mean more golf carts… which will lead to more congestion and, eventually, more paved roads… and so on.
Is All That Good Or Bad?
Prices are higher on the island than on the mainland for pretty much everything. That's because everything has to be shipped over. Especially pricey are imported items, thanks to the high duties that Belize imposes. San Pedro isn't the place to shop for a bag of Doritos.
However, prices higher than those on the mainland doesn't necessarily mean expensive prices. Breakfast at my resort hotel was US$12, including tip. That's less than I pay in U.S. hotels where I stay, and you can easily find cheaper in local restaurants.
In other mail this week, another reader wrote to tell me that he'd taken a cruise that stopped in Belize City and was appalled that we would recommend this tiny English-speaking country for anything let alone retirement.
He found Belize City dirty, dangerous, and full of touts trying to sell him trinkets he didn't want. He made a point of telling me the color of the skin of the guys on the street trying to sell him souvenirs. Narrow-minded people are unhappy everywhere. They bring the discontent with them.
That said, right, Belize City isn't a place we recommend if you're considering living or retiring in Belize. The city has little to recommend it other than bigger grocery stores and more shops than you'll find anywhere else in the country.
The cruise-goer who wrote to me this week was a tourist. He spent part of one day passing through one small section of Belize City (the area around the dock where the cruise tenders drop off their passengers) and, assuming the entire country must look and operate the same, passed a broad judgment.
If we go with that approach, what do foreign tourists who fly in for weekends on the Strip in Vegas think of the United States? They must figure Americans are all so impaired that we can't figure out how to tie our shoes. Otherwise, why would everyone be walking around in flip flops and sandals?
Lief Simon