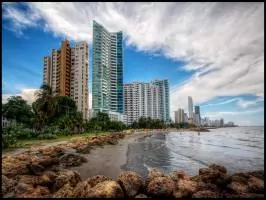 Risks Of Investing In Colombia
Why I Love This City Of Terrorists, Drug Lords, And Grumpy Old Men
I'm in Medellín, Colombia, this week with about 100 other brave souls with the courage (and the wisdom) to ignore the stereotypes and the bad press and come see for themselves what this city and this country have to offer.
What's there to be afraid of in Medellín, Colombia? My co-host for this week's event, Lee Harrison, identified three specific risks in this part of the world in his opening remarks this morning:
FARC…
The Medellín drug cartel…
American men on the prowl for new wives and girlfriends.
The Colombian government has been working hard these past few years to take risk #1 off the table. Ongoing negotiations, including in Havana, Cuba, recently, aim to bring FARC out of the hills and into this country's mainstream. FARC numbers have fallen dramatically over the past decade, and their ranks continue to diminish. The remote regions of the country where FARC remains active aren't, for the most part, places where you'd want to spend time. So unless your plan for Colombia is to hike around in remote jungle areas, you don't have much to worry about from FARC.
What about Pablo and his drug-running minions? Pablo's dead (shot to death in 1993). The drug trade continues in Medellín and elsewhere in Colombia, but, like FARC, its heyday is history. The drug gangs in Medellín don't have any more impact on the day-to-day lives of paisas than the drug gangs of New York have on the typical Manhattanite. As long as you're not hanging out in their neighborhoods, you're not likely to know they exist in this city of more than 3 million people.
The stigmas of the decades of FARC and cartel presence in this country are slowly fading. As Lee pointed out this morning, his 36-year-old daughter doesn't really know who Pablo Escobar is. For her and others of her generation, he's a footnote in history. That might explain the growing number of young foreign travelers in this city.
Why To Invest In Colombia?
As I've been pointing out for the past seven years, the stigmas that this country has long labored under have been the contrarian investor's ally. Colombia in general and Medellín in particular offer opportunities for making money in part thanks to these longstanding stereotypes. That is changing, but Medellín, Bogotá, and Cali, in particular, still offer excellent property buys, especially right now thanks to the current rate of exchange between the U.S. dollar and the peso.
In fact, prices in U.S. dollar terms are close today to what they were when I bought in Medellín four years ago. Property values have appreciated about 7% to 10% a year in this city for the last five years at least, but, thanks to the 27% drop in the value of the peso in the last nine months, you can get into this market at a nice discount. It's a second chance to get in at the bottom. How often does that happen?
Four or five years ago, when I invested, short-term rental yields were reaching 15%, even 20% net per year if you bought right. Today, you won't see that level of return, but you can get 8% net or better. Meantime, real estate values continue up as both the middle class and the economy continue to expand in Colombia in general and in Medellín in particular. You can expect as much as double-digit appreciation to continue for the next few years at least.
Colombia is also a top choice for a backup residency. This country offers one of the lowest thresholds for pensionado residency available anywhere right now, thanks, again, to the current exchange rate. To qualify as a pensionado in this country, you must have a pension that amounts to at least three times Colombia's monthly minimum wage; right now that works out to a bit less than US$900 a month.
While you could live in Medellín on US$900 a month, especially if you invest in a place of your own and aren't paying rent, realistically you should figure a bit more than that if you plan to base yourself in El Poblado (as I'd recommend). With US$1,200 to US$1,500 per month, you could live large in this neighborhood that is this city's answer to Beverly Hills. In El Poblado, you've got high-end shopping malls, an abundance of restaurants, plenty of parks, clean, shady streets… This is a luxury lifestyle setting.
You could invest in your own digs or a very rentable apartment in this part of the city for as little as US$1,200 a square meter. That's one of the lowest costs per square meter for real estate in any city in the world of comparable size and quality. Any way you figure the cost-to-value analysis, Medellín comes out at the top of the list for living or investing in real estate in today's world.
Other opportunities in Colombia include agriculture. More on this on Thursday. 
Lief Simon