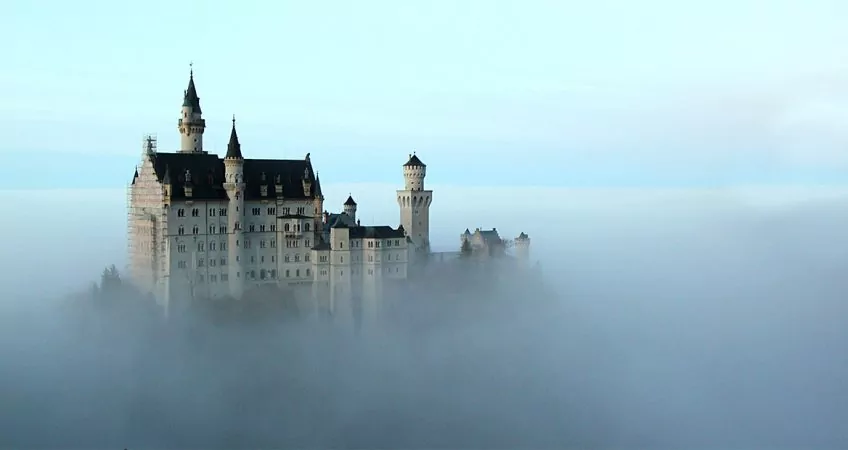 Cost of Living Overseas: Part Castles In Air, Part Compromise
Is It Still Possible to Rent In Panama For Cheap?
A recent conference attendee wanted to know where in Panama City he could rent an apartment for US$500 a month or less.
He'd decided he wanted to retire to Panama City and had set his housing budget at what he currently pays in property taxes and insurance for the paid-for house he lives in Texas. He explained that if he couldn't find a place to rent for that amount or less he'd just stay put in Texas.
For someone on a very limited budget, that kind of narrow analysis could be the best way to decide where to live. However, after spending extended time, including in some cases living for years, in at least 15 countries, I've learned that you have to compare the total cost of living in one location with the total cost of another location.
Don't boil the all-important decision of where to be down to a single criterion.
You've Got To Consider All Costs 
My first experience with this kind of analysis was when moving from Phoenix, Arizona, to Chicago, Illinois. At the time, cost of living index figures put Chicago as more expensive than Phoenix overall. However, when I looked more closely, I realized that the difference came down to housing primarily. Food was cheaper in Chicago at the time, and costs in all categories considered were comparable.
I was a renter at the time. By renting an apartment in Chicago rather than a house, as I had been in Phoenix, I was able to keep my cost of housing the same after my move from one city to the other. Chicago has plenty of three-flat buildings where the apartments can be bigger than the house I had rented in Phoenix. Keeping my housing cost even meant that my overall cost of living was less in Chicago. Food costs were lower in the Windy City, and I was able to reduce transportation costs by taking the L rather than driving to work every day.
Paris Cheaper Than Rural Ireland?
Jump ahead 10 years to when Kathleen and I moved from Waterford, Ireland, to Paris, France. Analyzing our cost of living in Waterford at the time versus what I projected it was going to cost us to live in Paris, I came to the surprising conclusion that Paris would be cheaper than Waterford. Friends and colleagues didn't believe it until I broke the numbers down for them.
Housing in Paris is much more expensive than housing in Waterford… but you live in less space in Paris… meaning that, as with my move from Phoenix to Chicago, we realized it'd be possible to keep our housing cost even. We moved from a 4,500-square-foot house on six acres to a 1,200-square-foot apartment. We sold our house in Waterford for nearly the same money as we then paid to purchase our apartment in Paris.
Following the changeover from the Irish punt to the euro, food became more expensive in Waterford (as it did in many places across Europe). I remember protests in Italy and Greece as grocery stores increased prices to match euro prices for the same products in France and Germany. Similar euro-effect inflation occurred in Ireland.
The bottom line result was that our grocery bills in Paris were more or less the same as our grocery bills in Ireland.
In Waterford our primary utility expense was heating oil. Keeping a large Georgian manor house heated to a temperature acceptable to a man from Arizona and a woman who is always cold can run up your fuel bill.
In the apartment in Paris, we were (and still are… I write from this apartment today) surrounded by neighbors, helping to keep the smaller space warm in winter. Plus, unlike in Ireland, where we heated the big, drafty stone house year-round (our Irish friends never visited for long… they were always too warm), no need for heat in Paris in summer.
Our transportation cost was another big winner after our move to Paris. In Ireland, we had to keep two cars. We lived in County Waterford but worked in Waterford City, a half-hour away. In Paris, we've never had a car. The metro and walking get us most everywhere we want to go. Taxis take us to and from the airport, and it's a 10-minute walk to the nearest car rental agency when we need a vehicle for day trips or weekend getaways.
Our entertainment costs were controlled in Waterford because there just wasn't a lot to do. The options for spending your time (and therefore your money) in Paris are many. Museums have free days, but most events and distractions come at a cost. Savings from transportation were offset by increased entertainment costs in Paris.
But, Wait... Paris Is Expensive, Isn't It?
Paris is considered an expensive city… and it can be for tourists. However, once you've settled in and figured out the best places to shop for the things you want to buy, as we found when we made the move from Waterford, your cost of living in Paris can be very reasonable.
The Third World, on the other hand, is cheap, right?
It can be… but, again, you can't take this as law. You might be surprised, for example, by how expensive the cost of living can be in expat-dominated locations and international business hubs.
Once Cheap Doesn't Mean Always Cheap
When it comes to cost of living, Panama City is a great case study.
Up until about two decades ago, when the United States handed Canal operations over to the Panamanians, Panama City wasn't much more than a service hub for the U.S. military bases in the Canal Zone. As a result, the cost of living was extremely attractive. In the 20 years since, this has changed dramatically.
Panama City has turned into a transportation and financial hub. Dozens of international companies have set up regional headquarters and put in place thousands of highly skilled, highly paid workers, as well as even more highly paid managers. We've watched over the past 10 years as supply and demand have conspired to reinvent Panama City. Today I'd bet that Miami is cheaper.
Sure, the guy from Texas could find something to rent in Panama City for US$500 a month or less. However, he'd be living outside the city proper and far from any area where expats congregate. He'd be a nice commute, too, from all the services and amenities that have developed to support all the expat demand.
At this point, it shouldn't surprise you to hear that, when analyzing the cost of living comparison between Panama City and Paris for the repositioning that Kathleen and I have this month undertaken, we've found that our overall cost of living returned now to Paris should be lower than it was in Panama.
Housing expense will be about the same. As when we moved from Ireland, we're moving from a big place in Panama City to the smaller apartment we bought 13 years ago in Paris. What we were paying in rent in Panama is about the same as the mortgage we're paying down in Paris (which was covered while we lived in Panama by the rental income the apartment earned in our absence).
In Panama, our monthly food bill wasn't cheap. We bought a lot of imported American products. Plus, food costs have suffered from dramatic inflation over the past decade. Paris is at the center of European food distribution chains. Fresh regional and local food is priced similarly to the imports we bought in Panama.
The cost of cooling our apartment in Panama year-round was greater than the cost of wintertime heating in Paris. Summers in Paris can be hot. That's why the Parisians head to the coast in August. But you don't need air conditioning to survive. As I write, we've got all the windows of our apartment open and are enjoying a nice cross breeze between the street out front and the courtyard in back. It's comfortable enough.
In Panama, I know some people who say they're OK with this kind of cross-breeze cooling, but most people (including me) prefer air conditioning in the tropics.
As when we moved from Waterford to Paris, for this move from Panama City to Paris, we're swapping the cost of owning two cars for a couple of monthly metro passes.
For us, Paris is a relative bargain.
For you, depending where and how you've been living to this point, it could seem ridiculously expensive.
I'd say that the guy trying to find a place to live in Panama City for less than the cost of his property tax and insurance bill in Texas would find Paris a challenge. You, like me, might find the superior quality of life in this city worth the very controllable cost.
Lief Simon