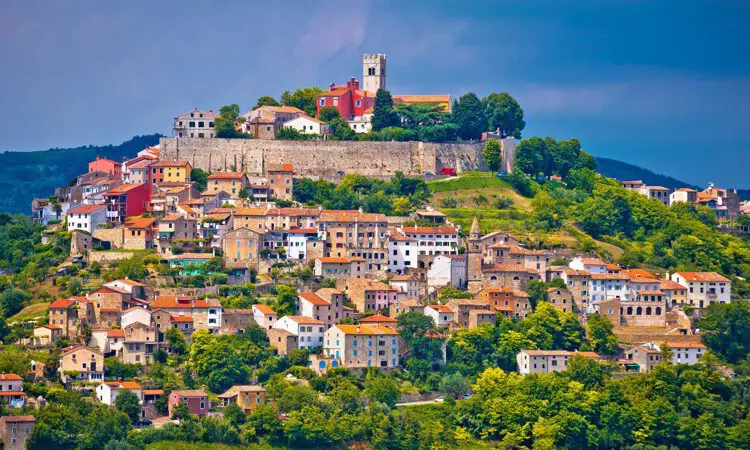 Buying Property In Croatia: Your Best Bet At Getting Tranquility For Cheap
16 Years Later, I Find I've Timed This Investment Perfectly—This Market Is On Fire
Back in Croatia last week for the first time in more than 10 years, I'm happy to say that Istria is still a place I enjoy spending time.
That's a good thing because we own a property here that finally, 16 years after the purchase, we're moving forward to renovate.
Our focus in this country has been the western Istrian coast and the center of the peninsula around Motovun. That's where our house is located.
Finding The Ideal Place To Invest And Escape
This is a low-density area with lots of narrow, winding local roads but just one "motorway." The main road to our house is a single paved lane. It passes through a couple of villages that are little more than former farm complexes.
Our property isn't easy to find or to get to, and we like it like that.
At the same time, I wouldn't call it remote. The closest town—with two wineries plus a restaurant world-renowned for its truffle dishes—is about 5 minutes away. The famous walled white city on the mountaintop of Motovun is a 10-minute drive from our house. It's 20 minutes to the nearest grocery store and 30 minutes to the nearest seaside town.
In other words, this is an ideal location for someone who wants to escape the world… while having all the comforts and conveniences of our age on his doorstep.
Croatia Is A Gem For Many
That's probably why this wonderfully undeveloped corner of the world is attracting jet set-level attention. Formula 1 driver Michael Schumacher has a home not far from our place.
"He comes with friends for 10 days or two weeks at a time," our renovation manager Tomi told us as we drove by the entrance to Schumacher's home." They go out to one or two restaurants. Otherwise, they keep to themselves. They come for total escape…"
And they're not alone. Germans, Austrians, Swiss, and others from across the Continent are buying up the peninsula. They all want peace and quiet in a world where those things are harder and harder to come by.
The downside to Croatia for a non-EU passport holder is that obtaining residency in this country is complicated. It's possible, as local real estate agents tried to assure us with one-off real-life stories… but, unlike neighboring Slovenia and Montenegro where you can obtain residency simply by investing in real estate, Croatia doesn't make it easy.
Meaning this country is a top part-time go-overseas option.
Buying A Rental Property In Croatia Is A Great Option
The rental business in Istria has gone through the roof this year thanks to the pandemic. Hotels, Airbnbs, RV parks, and campgrounds are all full.
And the Central Europeans coming to Istria in growing numbers aren't only looking to rent. The Pandemic Effect is inspiring them to buy, too, creating a property boom. A house in Croatia is a bargain compared with the cost of an apartment in Berlin. Germans are taking advantage of the disparity and investing in second homes with built-in social distancing.
Meantime, Croatia is expected to switch from its currency the kuna to the euro in July 2022. The impending transition seems to have already begun pushing up costs. I can report that prices in restaurants and shops seemed on par with those in Sicily, where we traveled for family vacation earlier this month.
That is to say, prices are higher than I remember them. Of course, my most recent experience in this part of the world is a decade dated.
Real estate is already priced in euros so I'm not convinced the change in the currency will have a big effect on real estate prices, though everyone in the real estate business we spoke with is counting on it.
All in all, I'm feeling very good about the yield prospects once the renovation of our place is completed.
Sixteen years later, it seems we've timed this investment perfectly.
Lief Simon