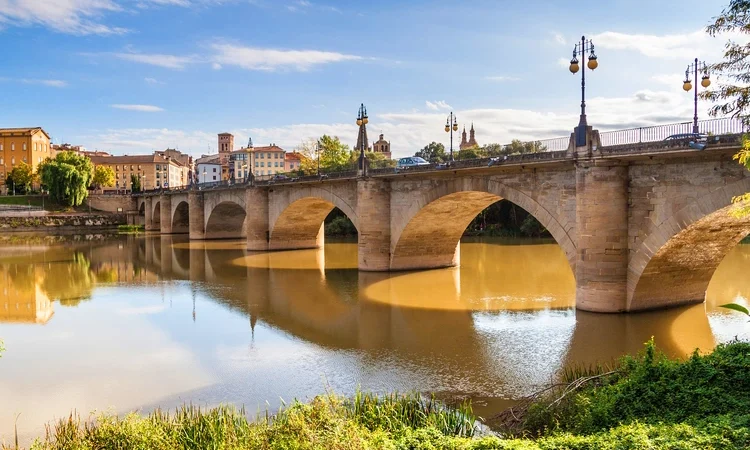 11% Yields In Spanish Wine Country
We could debate the best country in Europe on several counts, such as natural beauty, economics, doing business, or investing in properties…
But Spain can't be matched for lifestyle. With its amazing food and wine culture, laid-back ambiance, and warm weather, you'll find no other country quite like it.
And there's no better place to enjoy the Spanish lifestyle than Logroño… a small medieval city that works on the idea that good food, good wine, low prices, and friendly people are all you need for a rich and rewarding lifestyle.
Logroño (pronounced loh-GROHN-yo) is the capital of La Rioja, one of the smallest of Spain's 17 Autonomous Communities… and the one that contains Spain's premier wine region.
Autonomous Communities are regional groupings that contain Spain's 50 provinces.
Logroño's economy is heavily dependent on wine, along with the type of tourism that comes with a good wine region.
Logroño was settled by the Romans in the first century, and finally granted a city charter in 1095 A.D. It's located on the Ebro River (Spain's longest), 87 miles (140 kilometers) south of the international airport in Bilbao. Madrid lies 200 miles (323 kilometers) to the south by highway.
This small city of around 115,000 captured me immediately upon crossing the old stone bridge over Ebro River. Logroño's narrow, cobblestone streets are lined with attractive, well-preserved buildings holding a wealth of small cafés, restaurants, shops… and of course tapas bars.
And to be honest, while the architecture, the river, plazas and parks are beautiful, it's the "tapas culture" that brought us out onto the street night after night.
And while enjoying the tapas culture is something that draws people to all parts of Spain, Logroño is the one I enjoy the most. "Tapas", in this part of Spain are more-commonly called by their Basque name of "pintxos" (pronounced PEEN-chos, and written in Spanish as pinchos).
Technically, pintxos and tapas can be somewhat different, but the idea is the same…it's a small, less-than-appetizer sized portion of some house specialty, that's served informally with wine… normally while standing at a bar or high-top table.
We usually use "cruising for pintxos" as a more-enjoyable substitute for a more formal, sit-down meal while in Spain.
Here's how the experience works: You pass by an inviting-looking café or bar, and one of their appetizer-sized delicacies on display catches your eye. It could be Spanish meatballs, chorizo, olives, cheeses, croquettes, shrimp, etc.
Go Offshore Today
Sign up to our free twice a week dispatch Offshore Living Letter
and immediately receive our FREE research report
on how to live tax-free today, while earning up to $215,200!
So you walk in, order a glass of good wine, and sample the pintxos. Maybe you just have the one that caught your eye… maybe more. Then you move on, until the next pintxo (or wine) calls out to you further down the street…
After a few hours, you've sampled a wide array of regional wines, and a diverse selection of local delicacies, without having to spend hours inside the same restaurant.
I've found that I eat a lot less, I spend less, and walk a lot more. What's more, you see more places, experience more of the city, and meet more people when dining this way.
In this region the wine seems to be the feature attraction, rather than the pintxos themselves. You can get a glass of a decent wine for around two euros… while a premium wine will run beyond four euros. (Wine by the bottle is priced equally low.) This was a shock after a recent visit to California, where a good wine can easily top US$20 per glass.
It's remarkable how much Logroño's character changes throughout the day. I like to take photos in the early morning, when the streets are quiet and there's almost no one out and about.
During the afternoon, you can enjoy the bars and cafés with a light crowd… they're not deserted but not packed.
After 8 p.m., the town is energetic, bustling, and chaotic along some of the downtown streets.
The tapas bars and restaurants are buzzing, and thousands fill the downtown area to sample the renowned pintxos and Rioja wines.
To see how bustling it can be, head to Calle del Laurel—the most-popular, with its wall-to-wall tapas bars—or Calle Portales. But there's far more to the city than these popular venues… frequent visitors will stick to Logroño's hidden-away alleys and walkways that conceal those pintxo bars that few visitors know about.
Go Offshore Today
Sign up to our free twice a week dispatch Offshore Living Letter
and immediately receive our FREE research report
on how to live tax-free today, while earning up to $215,200!
Properties In Logroño
Although property prices are very reasonable, resist the temptation to buy where all the action is downtown. While this can be fun for a visitor—and productive as a rental—the sun will be coming up by the time things quiet down enough to sleep with the windows open.
Just a few blocks away, you'll find much quieter surroundings suitable for a longer-term stay or part-year residence.
For less than US$100k, you can find an older apartment in a super location.
I found a unit of 72 meters (775 square feet) with two bedrooms and one bathroom. It has two small balconies looking onto the street. It's in a good downtown location—about one-and-a-half blocks from the stone bridge—but not in a chaotic tourist area. Built in 1989, the unit is on the second floor with no elevator. The asking price is 83,000 euros (around US$87,000).
For something a bit larger, there's a fourth-floor unit (with elevator) also located in the historic center. It has 102 meters of living space (about 1,100 square feet) counting the balconies, with two bedrooms and two full bathrooms. The asking price on this one is 139,000 euros (about US$146,000).
If you really want to have pintxos at your doorstep, there's a good unit for sale at the center of all Logroño's action. It's a classy unit with newly refurbished parquet floors, new bathrooms, and lots of attractive wood trim. With two bedrooms and two bathrooms, it has 76 meters of living space (817 square feet). It's on the third floor, with two elevators. The asking price is 220,000 euros (about US$234,000).
Two-bedroom units in the historic center rent for between 750 and 1,100 euros per month, depending on size and location.
If you want to buy a property to rent out, this market is not bad compared to a few others I've looked at in northern Spain. If you rent long-term (more than monthly), expect to net around 5.5%, allowing for HOA fees and property taxes. If you operate a vacation rental using Airbnb, the best you can expect is around 11%, allowing for HOA fees, taxes, and a 65% occupancy. I have not factored in Spanish income taxes in either case.
The cost of living is quite low in Logroño, especially when compared to the big-name tourist destinations like Madrid, Barcelona, or Seville. Even if you prefer a formal dining experience, the reasonable restaurant prices and low wine prices will come as a surprise. Rent is reasonable, market prices are inexpensive, and home prices are low by European standards.
The weather is pleasant all year in Logroño. July is the hottest month with warm days and pleasantly-cool nights… the average high is 86°F, while the low is a cool 60°F (that's 30°C and 16°C, respectively). January is the coldest month, with a still-livable high of 50°F (10°C).
But aside from all the practical matters, Logroño is simply an upbeat and enjoyable place to be.
On our first visit to town, we swapped our three-day stay in Madrid for three days in Logroño, on the recommendation of a Madrid resident. Logroño turned out to be our most memorable stop of the trip that year… a stop that put it on our itinerary for good.
Is Logroño For You?
If you enjoy good wine, good food, and a completely-walkable medieval downtown—in a small, manageable city—then Logroño should be high on your list.
Sincerely,

Lee Harrison
Contributor, Global Property Advisor