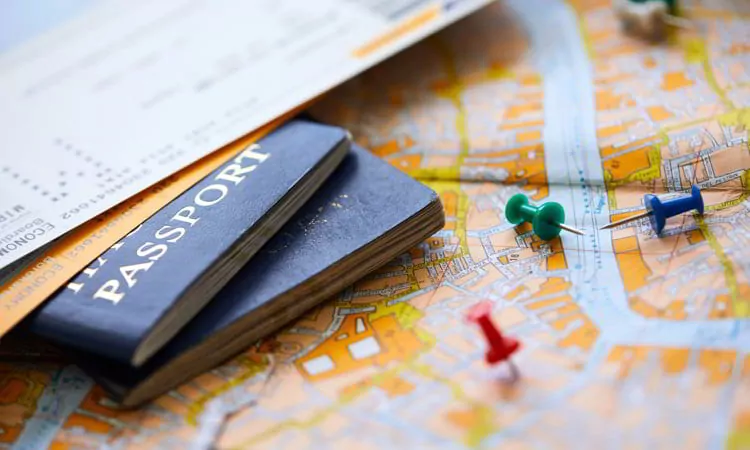 The Importance Of Getting A Second Passport
My First-Ever Citizenship Index Reveals World's Best Second Passports
What's the point of having a second passport?
It's one of the questions I'm most frequently asked… along with the follow-up:
Which is the best second passport to obtain?
My team and I have prepared our first-ever Citizenship Index to answer those questions definitively. The complete survey is featured in this month's issue of my Simon Letter advisory service.
I met the first person I ever knew to have a second passport nearly 25 years ago.
The guy was a con man.
He had built a story around being a multicitizen with links to British nobility and having U.S., British, and Maltese passports. He never showed anyone his passports, though… because he only had the one from the United States and it showed that the name he used wasn't actually his.
He was the kind of guy who gives second passports a bad rap.
Nevertheless, he put the idea of having more than one passport in my head.
At first, I assumed you simply had to be born with more than one citizenship to have multiple passports, but I began researching and found there are many routes to multiple citizenships.
How To Get A Second Passport
One of those routes is naturalization.
That's the path Kathleen and I took to get our Irish citizenship. We lived in Ireland long enough to qualify for naturalization.
Our son, on the other hand, was born in Ireland. At the time, the country granted jus soli, or rights of the soil. Jackson was a citizen of Ireland simply by being born there. Ireland was the last western European country to grant jus soli. They voted to remove it from their constitution in 2005 because of refugees taking advantage of a loophole in the country's residency rules.
Ancestry is still a path to citizenship in Ireland and many European countries. If your grandparents were citizens from another country, I recommend checking the rules to see if you might be eligible for citizenship of that country.
If you are eligible… act. Don't wait because the laws can and do change.
The last way to obtain a new citizenship is to buy it. A handful of mostly Caribbean countries will make you a citizen if you invest in the country either by buying real estate, investing in a sovereign-type, fund, or donating a large amount of money to a country development fund. These programs are attractive primarily to wealthy people in countries with passports that allow for very limited visa-free travel.
That brings us back to my opening question.
Why Should You Have More Than One Passport?
Visa-free travel options is one reason.
Having both a U.S. passport and an Irish passport came in handy when traveling to Brazil before they lifted the visa requirement for Americans. It was also appreciated when traveling to Chile, which charged an entry fee for Americans of US$165 but no entry fee for Irish citizens.
Those may seem like small things and certainly saving US$165 to enter Chile didn't make up for the cost of getting naturalized in Ireland, but the point is that having a second passport makes travel easier and can expand your travel options.
An EU passport is particularly valuable. It allows you to spend as much time in the EU and Schengen zone as you like without worrying about tourist stay limits.
Non-EU citizens can only be in the Schengen zone countries for 90 days in a 180-day rolling period. It's not 90 days per country. It's 90 days in the entire zone.
Spend 90 days in France and you have to leave not only France but the entire Schengen zone for at least 90 days. Spend 30 days in France, then 30 days in Italy, and then 30 days in Spain, and again you've got to leave the Schengen zone for at least 90 days.
With my Irish passport, that restriction doesn't exist.
An Irish passport also means I can work without a work permit in any EU country… if I were looking for a real job.
And it means I can move around within the zone as often and for as long as I want.
While residency can give you some benefits—such as being able to remain in a country indefinitely—it has downsides.
Unlike some residency permits, citizenship doesn't require renewals or any specific amount of time spent in the country.
Another big benefit of a second citizenship is when you can pass it down to your kids.
Our son's children will be born with at least two citizenships—U.S. and Irish. They could possibly have more than two depending on the nationality of his spouse. The options and freedom those children will enjoy with three or more passports are immeasurable.
The Citizenship Index featured in this month's issue of Simon Letter takes a different approach than a typical passport survey. Ours doesn't list every passport in the world by visa-free travel, as that's a severely limited perspective.
Singapore or South Korea may have the best travel passport from a visa-free point of view, but you're not likely to be able to be naturalized in either of those countries… and if you do, Singapore is going to make sure you've given up any previous citizenships before they give you one of theirs.
As important as where a passport allows you to travel is how easy and how quickly you can obtain it.
That's the starting point for my first-ever Citizenship Index.
If you're a Simon Letter subscriber, watch for it in your inbox later this month.
If you're not yet a Simon Letter subscriber, you should fix that here now.
Lief Simon