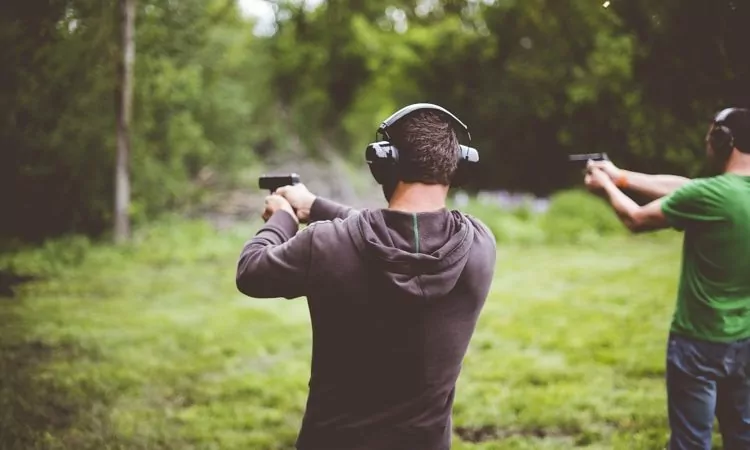 Buying And Owning A Gun In Panama Vs. The Dominican Republic
Wanna Buy A Gun?
"Can I own a gun if I live there?"
It's the question I'm most commonly asked about every country I report on.
In some countries, including Ireland and the U.K., for example, it's illegal to keep a handgun… but you can own a shotgun for hunting.
Every country in Central America allows handgun ownership. That is, it's possible to get a gun permit. The hard part can be finding a gun.
Panama introduced a moratorium on the importation of guns six or seven years ago. No new guns being brought into the country means a seriously limited supply. Even if you have permanent resident status (the requirement to be eligible for a gun permit in this country), you're going to have a hard time finding a gun. Give up on the idea of a particular brand or model. Count yourself lucky if you find any gun period. And be prepared for it to cost multiples of what the same gun in the same condition would cost in the United States.
I recently took the time to visit a gun shop in Panama City to inquire about getting a gun permit. The process is straightforward though more involved than in the United States.
You have to give a DNA sample, provide fingerprints, pass a psychological test, file a ballistics sample from the gun, and take a course to ensure you know how to handle a gun.
"No problem," I told the guy behind the gun shop counter after he'd detailed the process for me. "Let's get started with the paperwork."
Paperwork For Owning A Gun
The first step is selecting a gun. You can't get a generic gun permit. Every gun permit is attached to a particular gun. So, before you can apply for the permit, you must have the details of the gun you intend to use that permit to purchase.
When I indicated that I wanted to proceed, the gun store owner excused himself, went into his back room, and then returned carrying every gun he had available.
That is, he returned with five guns.
Four where Czech CZs of various calibers and one was a Taurus 9mm. They all looked like they'd been through a war.
I had a Taurus back in the United States and liked it. I was mentally talking myself into the idea of being OK with this Taurus even though it looked like it had fallen off the back of a truck in Serbia, despite having been re-blued, when I decided to ask the price.
"How much?" I wondered in Spanish.
I was sure I was misunderstanding the guy's Spanish in response, so I asked again.
Nope, I had heard right the first time. The price was US$3,500. That for a beat-up model of a gun you can buy new in the United States for about US$400. With so few guns to go around, anyone interested in selling one can charge almost whatever he wants.
That was the end of my gun quest in Panama.
When I told this story about shopping for a gun in Panama to friends in the Dominican Republic, they suggested I try the DR instead.
The requirements are similar—a psych test, fingerprints, ballistics sample, gun course, and drug test.
And, again, you start the process by selecting a gun.
I decided to take my friends up on their offer of help.
They took me to a gun shop with a far better selection than the shop in Panama City.
Available for purchase were different models of Glocks, a Taurus, a Walther PPK, and some of those Czech CZs.
And that was one of dozens of gun shops. In Panama City, I found only two. Hard to be in the gun business when you have no inventory, I guess.
Owning A Gun In DR
In the Dominican Republic, the gun shop does most of the work, shuffling you from one place to the next through each step of the process, which differs depending on whether you're transferring a used gun or buying a new one. As the shop I visited had no new guns, I went through the transfer process, meaning the current owner had to be present.
First step was a visit to the administrative office that issues the license. It was like a fancy DMV with people helping to guide you from one window to the next. First, the seller went into a room to check the gun, while I was guided to a window where I was registered and had fingerprints and a photo taken.
Then the seller went up to another window for some paperwork.
Next stop were the drug and proficiency tests, both administered in the same place. Pee on the left; shoot on the right. They have you shoot one bullet from a well-used 9mm (that still looked better than the Taurus in Panama). The guy administering the proficiency test seemed surprised when I hit the 10 zone. I tried not to feel insulted.
Next, a quick stop to get two passport-sized photos before heading over to another office to submit the gun and the paperwork for processing.
All in all, start to finish, the process took less than two hours. Accomplishing anything in any Latin American country in less than two hours is extraordinarily efficient.
Now I wait 30 and 60 days for approval. After that, I can go pick up my gun license and gun.
Since I don't live in the DR, a friend arranged for storage at a gun facility for me.
Why have a gun in a country where I'm not living full-time? Because I can. Now every time I visit, I'll be able to go to the shooting range with my friend and shoot with my own gun.
For me, it's one more benefit of my DR residency.