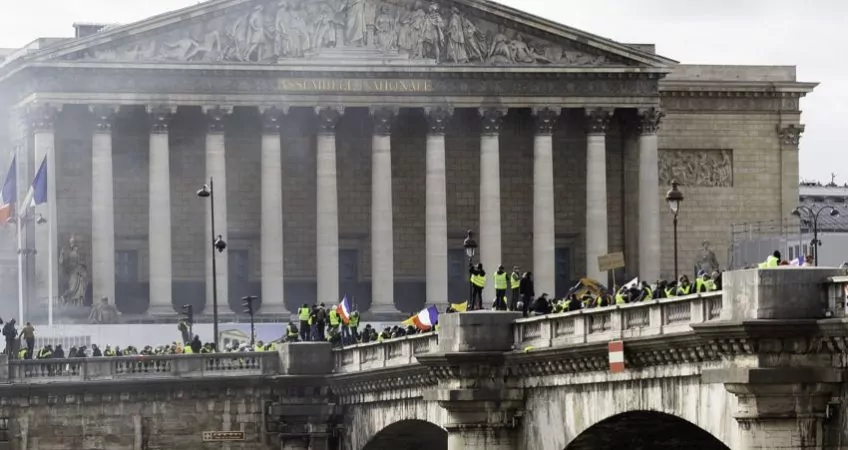 This Is Exactly Why I Have A Personal Freedom Plan
"These French… I Hate These French"
Earlier this week, Kathleen had an appointment with her dentist here in Paris.
Afterward, she told me that the poor guy spent most of the visit complaining about the situation in France right now.
"These French… I hate these French," he told her.
Monsieur Cherel is French himself, of course.
"They are out there in the street every day causing trouble. Disrupting, disrupting, disrupting, to no good end… and with no end in sight," he continued.
"The government has no plan. And we pay so much tax. Do you know how much we pay in tax? But for what? For our streets to be overtaken by these do-nothing, know-nothing trouble-makers?
"You are my first patient of the day," he told Kathleen. "Everyone else has cancelled. They simply cannot get here.
"If I could, I would sell everything and leave this country for good," he concluded.
For Monsieur Cherel and every other business owner in Paris right now, the ongoing strikes and protests are a disaster. Most all public transportation has ceased operating. The city has been brought nearly to a standstill.
For the local residents, getting to work, getting to the dentist, getting anywhere has become a challenge.
We feel for them all. I'm right there with Kathleen's dentist. These French out raising a ruckus in the streets, day after day, week after week, for more than a year now? I hate them, too. They are destroyers of all valuable things, from time and energy to freedom of movement and day-to-day commerce.
Why I'm So Glad I Have Other Options
For Kathleen and me, however, the situation is really just a minor nuisance.
We arrived in Paris the first day of the strikes. The airline offered free date changes to anyone who wanted them, but we were coming to spend Christmas with the kids. We didn't have to make the trip, though. Our lives are flexible enough that we could have changed our plan if we wanted.
Now that we're here during what appears today to be, as Kathleen's dentist explained, an indefinite situation, we could brave these mean streets and commute back and forth to our little office… but we aren't. We're opting to work from the comfort of home. Our productivity is not being affected at all.
We're able to have groceries delivered, and we're doing most of our Christmas shopping online. A benefit of modern commerce and of being in a city like Paris where anything you could possibly want is just a few mouse clicks away.
If the strikes and protests expand or escalate to the point that they do affect our ability to work or to come and go as we need and want, then we book a flight back to Panama… or maybe Medellín… or somewhere else where we've planted flags.
As another year comes to an end, reflect back on what steps you've taken over the past 12 months toward creating or expanding your personal freedom plan. Whether it was opening a new bank account (even in your home country), establishing residency in a new country, or making an investment in another currency, what specific actions can you name that add options, flexibility, and therefore a greater level of freedom to your life?
As the world grows more complicated and more unstable, including in developed Western countries, putting your personal freedom plan in place is a more important and more urgent agenda than ever.
Looking ahead to 2020, what next steps will you take to build on what you've accomplished in 2019?
Keep planting your seeds and watch your freedom grow.
Lief Simon