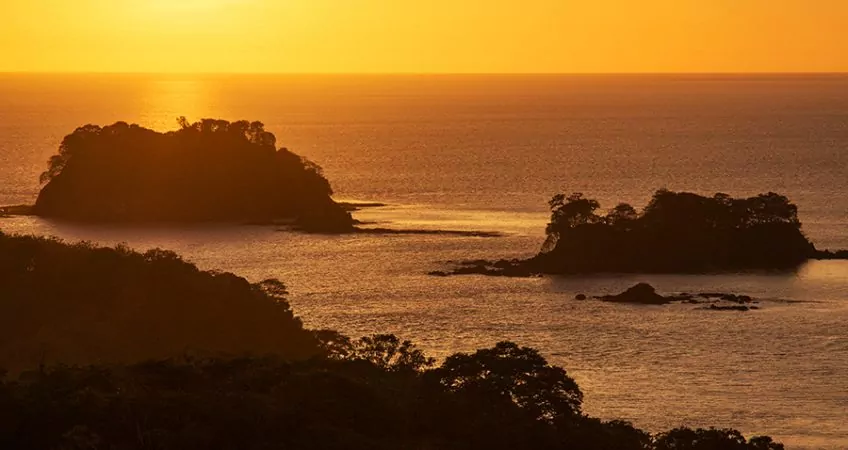 In Los Islotes, Panama, Developing Opportunities Are Endless
Weekend At Los Islotes
About 20 of us sat around the tables of the open-air "rancho on the hill," as we call it, sipping Panama beers and Abuelo rum and Cokes and staring out at the crashing surf and the three little islands just offshore that give their name to my Los Islotes development project on Panama's western Azuero coast.
The scene was mesmerizing, and the bunch of us sat in silence for a bit. Finally, Allan spoke up.
Allan is our on-site project foreman. He's Panamanian but lived and worked in California for years. He's also a diver and a fisherman and used to lead tours in Panama. He knows his country's coast, and when he spoke it was from the perspective of a local.
"Did I ever tell you," he started, "that I knew this property years before coming to work here?
"But I knew it from the ocean. I used to take divers and fishermen to that spot just over there," Allan pointed to the left of the little islands.
"I was here all the time, because those waters out there are some of the best in the country for both diving and fishing. I can remember sitting out there in a boat looking back at this countryside. From the water, it looked spectacular.
"Now that I'm working here, driving and hiking up and down these hillsides every day, I'm realizing that this land is even more beautiful than I thought back then."
The contractor who is building houses and about to break ground on our beachside village is Costa Rican. Alonso lives in Guanacaste, Costa Rica, where he is also building houses and developing property. He, like Allan, has seen a fair amount of coastline in this part of the world.
Alonso nodded his head as Allan spoke.
"Yes," he said, "this is a special place. Every time I'm out here, I feel myself drawn in. Once I'm here, I don't want to leave. I have to say," Alonso continued, "I prefer being here to being back home in Guanacaste…"
Others with us for our long weekend at the Los Islotes beach included other Panamanians and expats from four countries. Each had a unique take on why Los Islotes feels so special, but we all agreed in the end that it comes down to two things primarily—the views and the tranquility.
What we're building out at Los Islotes is about beauty, community, legacy, and privacy.
Getting to the point where we could spend the weekend at the property with 20 or so friends, colleagues, and co-workers hasn't been easy and has taken several years.
We've endeavored to do everything by the book as we've worked to launch development at Los Islotes. That has meant endless delays and bureaucracy. We don't pay bribes… which has meant more delays and more bureaucracy…
Now that the bulk of the behind-the-scenes paperwork, design work, and permitting has been completed, construction has begun. The first two houses, including our Founder's Lodge, are under way and will be finished this year. Three more houses will be started shortly.
Our new Rancho Playa (the counterpart to our rancho on the hill) will be available for use by guests by the end of the summer.
Part of the weekend was spent walking the property with Alonso and his man Angel, determining the views from various lots and considering the types of houses that might best be built on each of them.
It's impossible to do the property justice or to describe the views and how they change depending on which way you turn and where you stand on any particular lot.
Most lots at Los Islotes are big compared with lots in other coastal projects, both here in Panama and in Costa Rica and elsewhere. Stand in one spot, and you get one view. Move over just a few feet, and the view changes. Turn your head 10 degrees, and the view changes again…
One specific agenda for this weekend's visit (in addition to enjoying some down time with the team we've put together out there) was to finalize plans for our first ocean-view condos. Alonso, Allan, Kathleen, and I spent a lot of time walking the piece of land that has been set aside for these. We want to position the condo building so as to exploit the best possible ocean views from every angle.
This is an important milestone for Los Islotes, one that Kathleen and I have been looking forward to for a long time.
Our first ocean-view condo building will include 12 units, 6 large one-bedrooms (84 square meters) and 6 two-bedrooms of 136 square meters. Each condo has its own terrace where you can take in the views along with the ocean breezes.
In the building's central courtyard, you'll be able to sit and watch the sunset with your neighbors.
We'll begin marketing these new ocean-view condos in earnest within the next two weeks. I thought I'd give my Offshore Living Letter readers a heads up.
If you'd like to become part of what we're building at Los Islotes, this is your best chance. Pre-construction pricing has the one-bedroom ocean-view condos available from US$179,000; the two bedrooms start at US$279,000… again, that's pre-construction.
Prices will go up as soon as Alonso breaks ground.
Get in touch here for more information.
Lief Simon