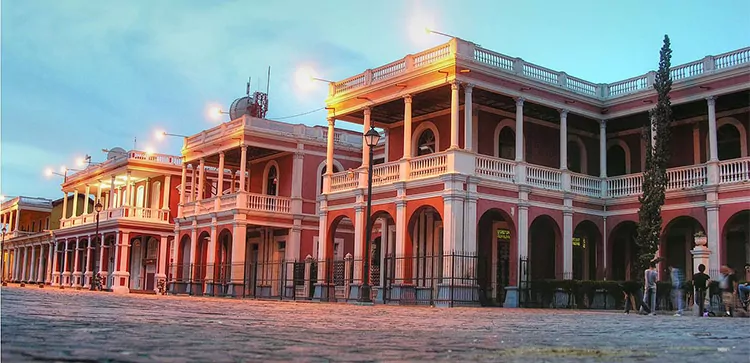 It's Time To Be Looking At Nicaragua For Investment Again
Nicaragua For The Tourist, The Retiree, And The Investor
I traveled to Nicaragua this past weekend for the first time since 2006. That's the year, coincidentally, when Daniel Ortega was re-elected this country's president. He's since been elected for a second consecutive term in 2011 and sits as Nicaragua's president today.
It was lack of time that kept me from returning to Nicaragua these past eight years. Just too many other places I had to be. For many, though, Ortega has been the deterrent. He was, after all, the leader of the Sandinistas, the group that ousted the dictator Samoza back in 1979, and the same guy who, then, once in power, confiscated land and redistributed it to the poor. Investors had concerns.
Then came the global downturn that started in 2008. In its wake, both investors and tourists were even thinner on the ground in this country.
Seeing the volume of traffic in Granada this weekend, I think it's safe to say that the tourists have returned full force. A new (well, new to me) pedestrian street lined with restaurants extends now from Granada's main square toward Lake Nicaragua and was crowded with people every time I passed. Many new hotels have opened in this city in the last eight years. However, more important, the hotels I remember from 2006 are still there. They survived the downturn.
I don't think this little colonial city has seen as much activity as it is seeing right now at any other time during its almost 500-year history. Based on my conversations over the three days, it's not only tourists who are feeling comfortable enough to give Nicaragua another chance. It's investors, too.
Everyone I met with—expats, business owners, and those in the real estate industry—assured me that the market is returning. Sales are being made at greater rates than at any time since 2008. After almost eight years in office this time, Ortega hasn't made a move against anybody's property. As the book I'm reading on Nicaragua's history over the last 100 years puts it, today's Ortega is not 1970s Ortega. Ortega today is the capitalist version of a Sandinista, with an appreciation of the importance of personal property rights.
My main impression from this weekend's visit is that Nicaragua still makes sense for many reasons. I like this country for a lot of different agendas.
Why To Choose Nicaragua For Living And Investing
For tourists, Nicaragua is an absolute bargain. The super-low cost of everything attracts backpackers, of course, but it also attracts others looking for a high quality-vacation at a bargain price. The legitimately four-star hotel where we stayed in over the weekend, La Gran Francia, cost us US$60 a night, including breakfast and Wi-Fi.
For surfers, Nicaragua is a mecca. This country's Pacific coast serves up some of the best breaks anywhere in the world. Those who make their way to try them out aren't just 20-somethings with shaggy hair and empty pockets. Today's surfer is as often a grown-up guy with a grown-up job and real net worth. He's been surfing since he was in his 20s and sees no reason to stop now just because he's a few decades older. These older surf dudes, with available capital, were an important part of the property boom Nicaragua enjoyed pre-2008 and are back in the country buying again. We saw several beachside or ocean-view houses and condos that have been recently bought as surf pads.
For retirees, the attractions are both the long Pacific coast and the very low cost both of living and of beachfront property. Layer on the warm weather, the incredibly friendly Nicaraguans, and the country's recent pensionado residency visa program (the world's cheapest), and you've got the full retiree package.
I see Nicaragua as a top choice for a retiree on a small budget. You could live well in Granada, for example, on US$1,200 a month. The minimum wage in Nicaragua is less than US$250 per month. A retiree with income of US$1,200 is wealthy compared to most locals.
I also, though, see Nicaragua as a top choice for a retiree with a bigger budget who wants to use it to buy a "luxury" retirement. Increasingly, this is possible in this country. There are not only four- and five-star hotels and restaurants now, but international-standard development communities, too, especially along the Pacific coast. You could retire to one of these communities…furnish your new home with custom-made furniture…have a maid, a driver, and a gardener…eat out at high-end restaurants four or five nights a week…take regular weekend trips to explore the country…on a budget of maybe US$2,500 per month or less.
Of course, you have to keep this idea in perspective. Nicaragua remains a Third World country with limited infrastructure. Even that has improved in the last eight years, though. It used to be that we said take a look at Nicaragua because it was a much better value than Costa Rica. Costa Rica has always been more expensive, but it used to have better infrastructure and more destinations developed with the foreign retiree and expat in mind.
Today, Nicaragua remains much cheaper than Costa Rica, but its infrastructure has improved. Maybe it's now on par with that in Costa Rica…hard to say. However, considering that real estate prices in Nicaragua are essentially what they were eight years ago for most types of property, the infrastructure improvements make the country an even greater value. Certainly, if I were looking to make a coastal investment in this part of the world today, I'd go with Nicaragua over Costa Rica.
For the investor, Nicaragua is again an interesting choice that I think could become more so over the coming several months. The television show "Survivor" has just finished filming two seasons in San Juan del Sur. We watched crews in that city packing up their kit. I was told that the first of these San Juan del Sur episodes, which will be billed as such (that is, these will be "Survivor San Juan Del Sur" seasons), airs this week.
The direct positive impact of dozens of production crew in the country this past summer during filming was considerable. But imagine the greater positive impact of Americans going online to Google "San Juan del Sur, Nicaragua" after they've been introduced to it in prime time?
I saw several good investment options in and around San Juan del Sur this weekend, from ocean-view lots to beachside houses, both modest and luxury standard, and from business opportunities to agricultural offerings I liked. I looked at timber and fruit projects, but most everything grows in this country, from coffee and mangos to coconuts and sugar cane.
Lief Simon
Mailbag
"Lief, I can chip in a story to this discussion.
"My bank in Sweden would not give me a debit card with a Visa logo on it instead of the Maestro debit card (only works in Sweden and not for Web transactions) I now have with them when they found out that I am a Swedish citizen living in the United States (they did not even ask me if I had a Green Card). They told me it was on directives from the 'U.S. government' and they can only issue it to Swedes living in Sweden!
"Thus I can't use my Swedish bank account to make payments worldwide since the Maestro debit card only works in Sweden and not online!"
C.H.