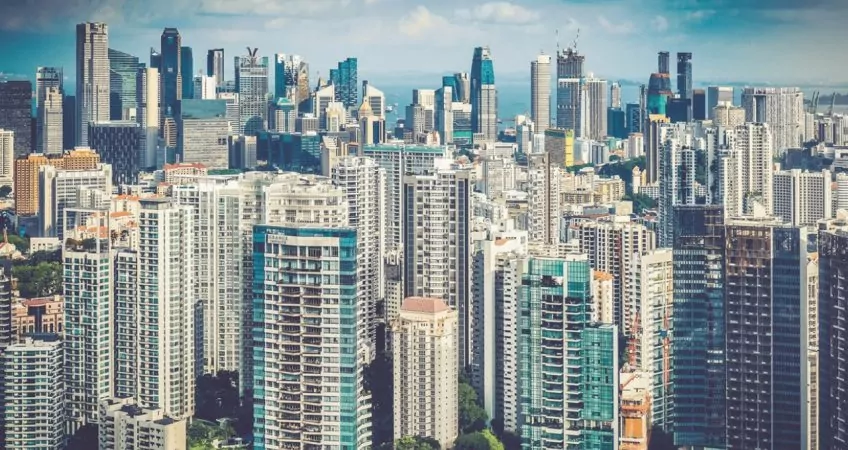 Is Singapore A Suitable Destination For Diversification?
Asia's Most Impressive Turnaround Tale Of Success
Singapore sits on the path of ancient shipping lanes… which is why it has long been an attractive destination, first, among Asian kingdoms and then, starting with the Portuguese, Europeans.
Eventually, the British ended up with the island as part of their empire and they didn't give it up until 1963, when Singapore joined the Federation of Malaysia… from which, two years later, it was expelled.
In 1965, this newly formed little country faced big problems, including high unemployment, limited resources, and hostile neighbors in both Malaysia and Indonesia.
However, it took the Singaporeans just 20 years to reinvent their situation. By the mid-1980s, the island boasted an economy growing at average annual rates of 8%. During the same period, unemployment fell from 12% to but 3%.
Today, Singapore is an ultra-modern trade, banking, shipping, and tourist destination that turns out to be a great place to hang out.
This could also be a good option for diversifying… if you can afford it.
The easiest flag-planting opportunity can be to open a bank account… again, if you've got the funds to fund it. Account minimums aren't as big as in, say, Switzerland, but the Singapore banks open to taking on new American clients will ask you to deposit at least S$350,000 (US$255,000) for the privilege.
Further, you won't be able to invest those funds. Thanks to SEC regulations, you'll only be able to use your money on account to hold different currencies… which still can be a reasonable reason to keep an account here.
Want to become a Singapore resident? You'll have to invest S$2.5 million, or about US$1.85 million, in a business or an approved investment fund.
Do either of those things, and you'll automatically become a permanent resident. After you've held that status for two years, you can apply for naturalization.
Note, though, that if you become a citizen of Singapore you will be required to give up any other citizenships you hold.
In addition, if you're male, you'll acquire a military obligation. You'll have to serve in the Singapore military until age 40 as an enlisted soldier or until age 50 as an officer. The required service period is 40 days per year. Not everyone would be up for taking on that kind of responsibility.
On the other hand, if you were to acquire Singapore citizenship, you'd hold the best passport currently available for visa-free travel. With your Singapore passport, you'd be able to travel to one more country visa-free (or visa-on-arrival) than someone holding a German or U.S. passport.
Singapore takes a jurisdictional approach to taxation—meaning you pay tax to Singapore only on income earned in Singapore. Income tax rates are relatively modest—the marginal rates top out at 22%.
The country imposes no capital gains tax.
Other Reasons To Consider Singapore
As I said, all things considered, this little island with such a long and intriguing past is more a place to visit than to plant a flag.
Even passing through, you'll be struck by the high cost of being here. You don't have to try to mirror the lifestyles of the characters depicted in "Crazy Rich Asians" (which Kathleen and I went to see over the weekend… fun to watch this movie set in Singapore while in Singapore) to feel the pressure on your wallet.
Though there are bargains if you know where to look for them.
When I was last here, about 15 years ago, I had two suits made. They've served me well… and I figured that this return trip would be a good chance to replace them.
I'm happy to report that you can still arrange for a tailored suit for as little as or less than you'd pay for an off-the-rack suit from Men's Warehouse. Tailored shirts are less than what I pay at Nordstrom… and I only buy on sale.
And, of course, the materials, the craftsmanship, and the fit of a custom suit don't compare with a department store suit.
Here I am ordering my two new custom suits from Harry at Happy Harry's Tailors on South Bridge Road…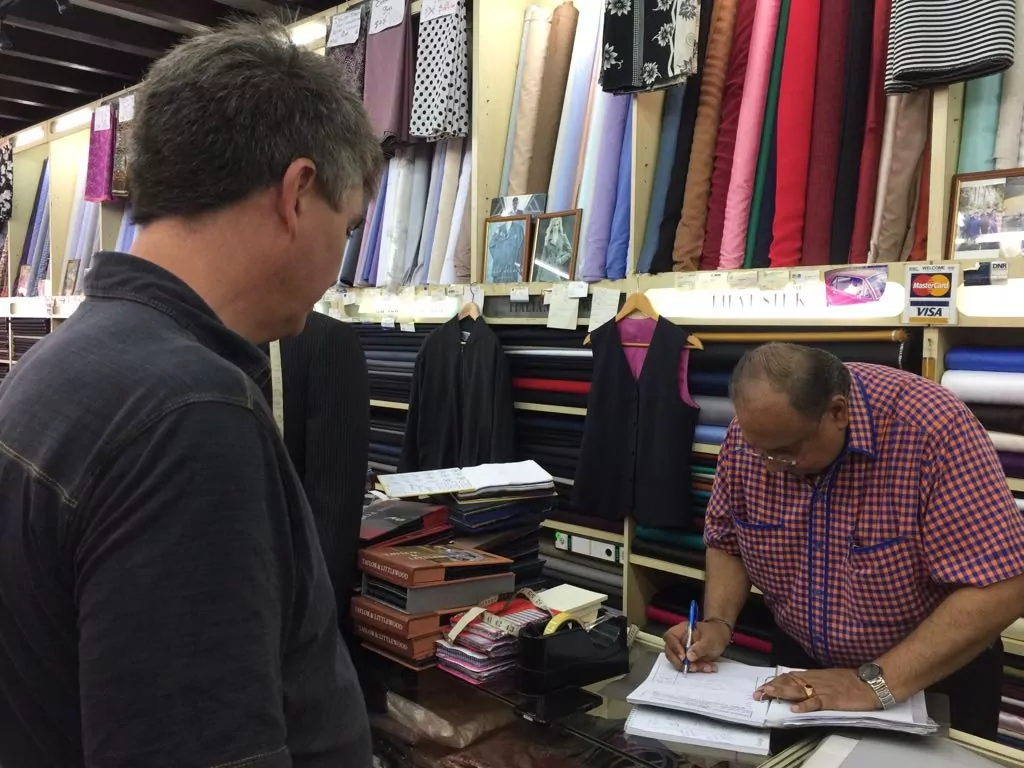 I plan to debut my new bespoke duds at our Retire Overseas Conference in Las Vegas starting this weekend.
Plans To Return
If you like history, the museums here in Singapore will both educate and inspire you. They are remarkably well conceived and put together. Try to arrive on the hour at the Asian Civilizations Museum for the free tour.
When we planned this trip earlier this year, I worried that a week would be too much time to allocate to Singapore. But Kathleen had never been here and it'd been years since my one visit… so we decided to carve out enough time to settle in.
I'm glad we did. While we've seen and done a lot this trip—from long walks through Chinatown and Little India, and several temple visits to drinks at the harbor-view SkyPark of Marina Bay Sands and too many hawker meals to remember—this is the only place in the world where hawker food stalls have been awarded Michelin stars—we sense that we're only just beginning to get to know this city-state with such an impressive turnaround track record.
We'll be back.
Lief Simon