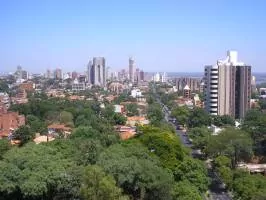 Investing, Doing Business, And Going Offshore In Paraguay
Why I Rank Paraguay A #1 Offshore Haven
Spending last week in Paraguay confirmed at least one thing for me. This country is a land of opportunity. With up to 70% of its population under the age of 30, Paraguay is poised for continued growth over the next decade at least.
Paraguay's GDP has expanded an average of 7% per year for the past five, and land prices in the Chaco region are up an average of 13% per year for the past 10. In Asunción, new malls are being built, and existing malls are busy, with shoppers buying international brands at international prices. New condos in the capital's highest-end neighborhoods are selling for as much as US$2,000 per square meter.
All of this in a country where the legal minimum wage amounts to about US$360 per month at the current rate of exchange.
Of course, not everyone earns the minimum wage. My point is that the income gap in this country is wide. While some segments of the population are earning less than US$500 monthly, enough people seem to be earning enough money to be pushing the upper end of the market ever-higher.
The even better news is that the lower end of the market is increasingly income diverse. A middle class is emerging and growing. All those kids are taking jobs with foreign companies paying better than local wages, a very encouraging sign for long-term economic growth.
For generations, Paraguay has imported most manufactured products it consumed. Finally, the country is again producing things itself, both for personal consumption and export. Paraguay is today one of the top 10 exporters or growers of…
Electricity
Organic Sugar
Tapioca
Yerba Mate (Ilex paraguariensis)
Soybeans
Charcoal (vegetation)
Manioc Starch
Soybean Oil
Soy Flour
Chia
Beef
Corn
Wheat
As this list highlights, agriculture is an important part of this economy and one of the main attractions for the investor. Land is cheaper in Paraguay than land in neighboring countries and plentiful, specifically in Paraguay's Chaco region.
Pay Attention To These Growth Markets In Paraguay
Another potential growth market for Paraguay is tourism. Right now, international tourism is an insignificant part of the economy. You can't fly directly to Asunción from the United States or Europe; the demand just isn't there to warrant the routes. Regional tourism comes from Argentina and Uruguay, mostly businessmen coming from those countries to check on business interests and investments.
One nonagricultural real estate investment opportunity got my attention—pre-construction condos. There's virtually no high-rise construction in Asunción; this is a city of what I'd classify as low-rises. Currently, some 10- to 20-story buildings are under construction. In the new and trendy neighborhoods, along with high-end shopping and restaurants, new, nice, and higher-rise apartment buildings are also part of the plan.
As one developer we met with put it, "The locals haven't caught on to the idea of buying something that isn't yet built"; however, some developers are beginning to make pre-construction offers nevertheless. The potential to buy early and flip when the building is complete is excellent in this market at the moment.
For the entrepreneur, the market is open. Most businesses and services are small. If you've got ideas and skills to improve on something already in the market or, better yet, to create something that would be new in the market, you have a great chance of making some money. Focus on affordable products or services for the under-30 crowd.
The downside to Paraguay is its isolation. You can't fly here direct from anywhere outside the region, and Paraguay's relationships with its immediate neighbors is troubled. "Our neighbors aren't very nice," one Paraguayan told us. "They're bullies."
That perception stems from a century and a half of bitterness on both sides of every border. With Brazil, Argentina, and Uruguay, Paraguay fought the Triple Alliance War, which almost wiped Paraguay off the map. With Bolivia, Paraguay fought the Chaco War, which also cost it dearly.
Products produced in Paraguay for export have to travel via the waterway to the ocean, the River Plate. Paraguayans are aware of the inherent risk in this. If Argentina or Uruguay decides to restrict access or to make it expensive, what is Paraguay to do? Products get through today, but you wouldn't want perishables, for example, dependent on that route.
Bottom line, the upside for the investor and the entrepreneur in Paraguay is big. Add to this the country's quick and easy options for both residency and citizenship, and you understand why this country gets top marks from me. I see it as a #1 offshore destination.
Lief Simon
Mailbag
"Lief, regarding Paraguay, please remember the Bush courtel (sic) really controls Paraguay. They control 3.5-million acres."
J.K.
I think you mean the Bush cartel?
Yes, the Bush family owns land in Paraguay. My research indicates about 300,000 acres, though, not 3.5 million.
In the scheme of things in this part of the world, that's not that much land. We met last week with several groups that own or control that much land or more. It doesn't amount to controlling Paraguay.
Regardless how much land the Bush family owns, there's a lot more prime land still available.