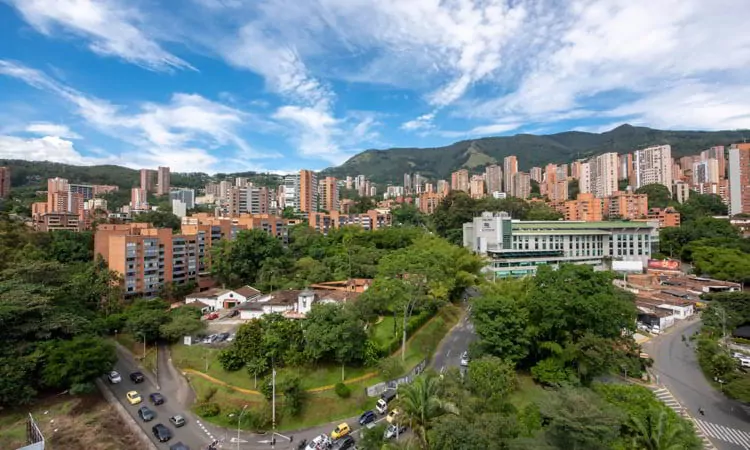 El Poblado, Medellin's Upscale Manila Neighborhood
Earn 8% Income And A 21% Gain On This US$25,000 Investment
In Medellín, Colombia, Manila has long been the undiscovered treasure of the city's upscale El Poblado sector. On its shady, tree-lined streets, you'll find a mixture of houses, mom-and-pop businesses, and more than its share of nice restaurants and cafés.
One of El Poblado's smallest neighborhoods, the walkable Manila is one of the last barrios in El Poblado that is still dominated by single-family homes and still maintains an old-fashioned neighborhood feel.
Manila is changing rapidly. Like a number of other Medellín neighborhoods, Manila has become trendy… chic. Locals, investors, and expats are paying attention.
Manila is home to the original Calle de la Buena Mesa (that's "street of good food" in Spanish). It's a street lined with about 13 small cafés and restaurants, offering Spanish, Mexican, Italian, Peruvian, German, Argentine, and Colombian cuisines, and seafood. While Buena Mesa started here in Manila, it's no longer unique… similar gastronomic streets have popped up in several other barrios, and they're all very popular.
In the heart of Manila, you'll find an old-fashioned greengrocer where you can get fresh fruits and vegetables. You'll also see the small neighborhood barber shop, the furniture makers busily filling orders for custom furniture in their open-to-the-street workshop, and the carpenters framing original artwork in the marquetería.
At the edge of Manila, you'll find El Poblado's largest supermarket, Éxito, a superstore with not only groceries but also a Walmart-style collection of other merchandise.
Manila's location is excellent. Near its east and west boundaries are two major thoroughfares providing easy access to the rest of the city. It's also an easy walk to the metro, which provides train access to the entire valley.
It's only a 10-minute walk to Parque Lleras in the Zona Rosa, Medellín's premier restaurant, shopping, and nightlife district.
You could easily live here without a car, with every dining and shopping option within a couple of blocks and public transit close at hand.
It's easy to see why the area is blossoming.
How To Invest For Profit
The traditional way to profit from this type of market is to buy a property either for capital gain or to play into the short-term rental market. Prices are great at today's exchange rates, and, if you don't mind owning a property and/or managing a rental, this is a good option.
To buy a good rental property in Manila, plan to invest about US$150,000 at today's exchange rate. If you rent out the property monthly (your best option under current law), your gross return should be about 9%. After paying HOA fees, property taxes, property management fees, maintenance, and utilities, you might net about 7%. Capital appreciation has been running about 8% per year in this part of Medellín.
You could also invest a smaller sum in a project designed to deliver both capital gains and rental income.
The offer I describe below grants you a way to capitalize on Manila's property market and short-term rental market without the hassle (or cash outlay) required to buy and maintain your own property.
This project involves the construction and operation of a small building offering luxury rental units targeting Manila's short-term rental market. The developer is experienced in building and managing these types of projects.
This property investment is offering an 8% preferred dividend plus an estimated 21% total return on building equity and capital gain once the building has been renovated and a rental history has been established.
Since 2010 in Medellín, you cannot rent out an apartment short-term (less than 30 days) unless you have approval from 75% of the building's residents. This is virtually impossible to obtain as most residents vote against short-term rentals in their buildings.
In the case of Jardines del Poblado, the developer has purchased the entire building. Units can be rented short-term, generating returns two to three times higher than those from a unit that's rented monthly.
Short-term rentals are so popular because they rent for far less than a hotel in this area. Also, they're more private than a hotel… it's like having your own apartment while you're in residence.
This developer is a reliable partner because they keep occupancy rates high.
The developer is also the rental agent for this property. At this time, they handle more than 50% of Medellín's furnished rental market for foreign visitors. This property will surely get plenty of referrals and good promotional efforts, just as their other projects do.
This group has done similar projects several times before, and each previous project has been a success for investors.
Two more things about this current opportunity…
First, as an investor, you will enjoy preferred rates when you stay at the property. The discount can be as high as 50%, depending on how far in advance you make your booking.
Second, at today's exchange rates, this investment qualifies you for a Colombian visa, category TP7.
Mailbag
"Lief, just read your review of Medellín. I lived there for 2 1/2 years. Is it a nice place to live, yes, but your review is sugar-coated and incomplete. The metro train, I used many times and liked. The bus system is terrible. It's old and a cattle car. You never mentioned the rain. I have lived in 4 countries, 16 different places total. It rains almost as much as Seattle. The banking is difficult. There are no good parks for dogs and people. The road to the airport is two lanes and dangerous. I lived in three different places in Costa Rica. Loved most of it. But you never tell the whole story."
M.H.
You didn't like Medellín's bus system. Okay. But I don't see how that makes our information incomplete. I know people who live in Colombia who like the bus system. Are we to decide what people should like? Plus, why mess with the bus system? Taxis are a bargain in Medellín.
If you're looking for a park for you and your dog, try La Presidenta, with entrances adjacent to the Dan Carlton and from the Parque Lleras area.
Speaking of parks in general, Medellín has more per capita than any place I know. The city has an ordinance that requires so much park space per population density neighborhood by neighborhood. We saw this in action in our neighborhood, where a new high-rise building was recently built. The developer was required to buy a house next to an existing neighborhood park and expand it. Not sure if dogs are specifically allowed, but I've seen dogs running around the space.
I've explained often that it's difficult to open a bank account in Colombia unless you have a cedula. I recommend opening an account with a fiduciary if you don't have a cedula, which is easy to do. Once you have an account open, either with a bank or with a fiduciary, I've found the banking user-friendly and the customer service support strong.
Indeed, it does rain a lot in Medellín. That doesn't bother me (I like greenery and flowers), but each to his own.
Regarding Costa Rica, I can't stand the place. As far as I can tell from a half-dozen visits and speaking with many people who have lived there, the country has no redeeming qualities, neither for living nor investing. Yet you and others love it. Just another example of how no place is perfect and everyone has differ