The Easiest and Cheapest Second Citizenship In The World
The Quickest, Easiest, And Cheapest Backup Residency And Second Citizenship Available Today
The EU is meeting this week to discuss visa reciprocity.
Specifically, some member countries have proposed requiring American and Canadian citizens to obtain visas prior to traveling to Europe.
It's only fair, they argue.
The United States requires citizens of five EU countries—Romania, Bulgaria, Poland, Croatia, and Cyprus—to obtain visas before they're admitted across the U.S. border, and Canada requires visas of Romanians and Bulgarians.
As things stand, both Americans and Canadians can enter the EU visa-free… the whole of the EU. However, EU-member countries are meant to stand united. So, EU-member countries Romania, Bulgaria, Poland, Croatia, and Cyprus suggest, if we need visas to travel to the United States, shouldn't Americans need visas to travel anywhere in the EU?
It's a messy situation, and it's not clear or maybe even likely that the EU will make a change. Requiring Americans and Canadians to get visas for two-week holidays in France or Germany would put a crimp in those countries' tourism industries.
However, the discussions remind us that immigration policies can and do change… sometimes quickly.
Example: Brazil
Brazil has decided to make June 1 through Sept. 18 a no-visa-required window for Americans, Canadians, Australians, and Japanese, all of whom ordinarily need visas to travel to that country. Concerns over low attendance at the upcoming Olympic Games have motivated Brazil to try to make it as easy as possible for anyone who might want to make the trip to see the Games to do so.
In fact, though, most Americans aren't aware that, usually, they need a visa to travel to Brazil because most Americans, even those who travel abroad often, don't think about visa requirements. We Americans tend to think that our blue passport with the eagle on the cover flies above things like asking for permission to cross a border, but, increasingly, that's not the case.
Traveling With A U.S. Passport
Currently, a U.S. passport means visa-free travel to 174 nations… but the German passport-holder enjoys visa-free travel to 177. And, as the United States imposes more visa requirements on more foreign visitors, more countries are, like the EU this week, considering reciprocity.
Not having to worry about visas when traveling makes traveling much easier. Applying for a visa to enter another country takes time, and you're not guaranteed approval. This is one big reason to invest in a second passport… as any Chinese or Russian passport-holder, for example, who can afford to do, does do.
Ease of travel isn't the only reason to get a second passport. Ease of residency and the ability to work in a country are two other good ones. The residency agenda doesn't need to be immediate. In today's world, I see a backup residency plan as a priority.
The best case is a backup residency that can lead to a second passport. Typically, when this is possible, it takes time. Most countries require at least five years of residency before you are eligible for naturalization.
Why I Like The Dominican Republic For A Second Passport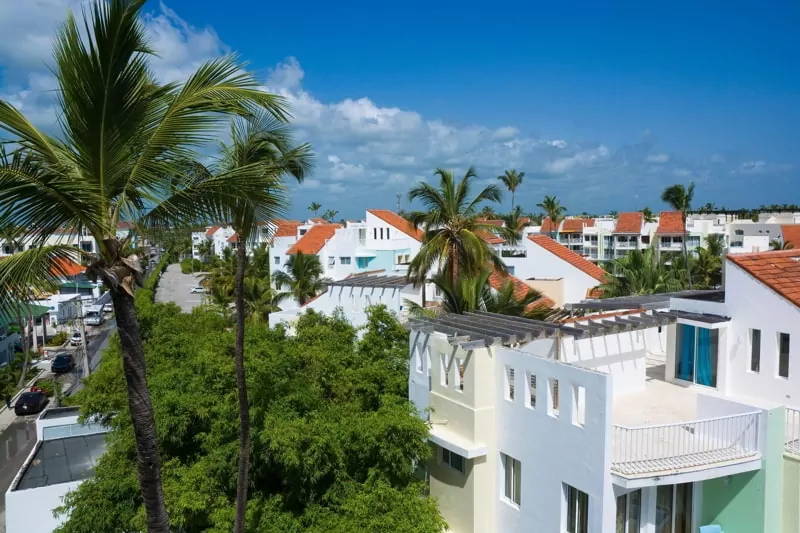 This is one important reason I like the Dominican Republic as much as I do. The DR offers easy residency options that can lead to citizenship in a very short time. Formally, you need three years of residency; however, you can be allowed to begin your naturalization process after just six months of residency.
A passport from the Dominican Republic doesn't compete with a German or U.S. passport when it comes to ease of travel. A DR passport gets you across the borders of but 50 or so countries visa-free.
On the other hand, when it comes to planting a second citizenship flag, it doesn't get quicker unless you are willing to spend upwards of a half-million dollars or more. For the middle-class guy looking for second-passport options, I'd say the DR's program is the best currently available.
Note that the Dominican Republic allows for dual citizenship, which means you don't have to give up your previous citizenship. In fact, the DR allows its citizens to hold up to three citizenships, giving you future flexibility.
The Dominican Republic has a great deal going for it. It's got everything you expect from a Caribbean island—the white sand, the blue water, the waving palm trees…
Plus it's got history (Santo Domingo was Columbus' first stop in this part of the world), charm (Las Terrenas is as Euro-chic as it is barefoot Caribbean), and a sizeable expat community.
It's my top pick right now for a value-based property investment in the Caribbean that positions you for both capital appreciation in the near- and long-term and good yield from rental cash flow.
In addition, though, again, it's the best option in the world today for quick, easy, and affordable backup residency that can lead to quick, easy, and affordable second citizenship.
Few others in the offshore world have realized this. When they do… and begin touting the opportunity… I predict that establishing residency and gaining second citizenship in this country will become less quick, less easy, and more costly.
If backup residency and second citizenship are agenda items for you, I suggest you take a close look at what the DR has to offer now… before the offer changes.
Lief Simon
Mailbag
"Lief, if I want to buy a property in Europe in a year or two but want to buy at the dollar/euro exchange rate now. May I open a bank account in either the United States, Belize, or Panama in euros and just hold the euros on the bet that the dollar will get weaker in the next year before I buy?"
R.F.
In Belize and Panama, yes… in the United States, no.
That is, all Belize international banks should allow you to hold euros, and some Panama banks do.
However, I don't know of any U.S. bank that allows for this.
You could also open an account in Europe.