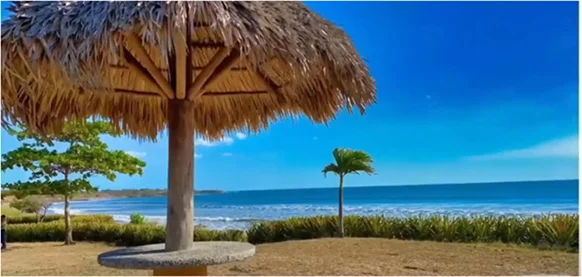 A Beach House In Nicaragua Is The Key To Profits In Your Offshore Haven
Vogue And Travel + Leisure Are Now On Board—I'm Feeling Fully Validated
When you hear "private beach resort"… in a place Vogue has proclaimed a "tropical playground" and "home to some of the best surf breaks in the world"…
You think expensive, right?
Turns out, the place that Vogue has turned its readers' attention to is a coastline I know well.
I've been tromping these beaches for more than 20 years. In fact, I lived in the place for a while just about 20 years ago.
This is a place where Kathleen and I have invested ourselves… several times…
Where we've made returns of 100% and more… where we continue to hold property… and where we look forward to returning every chance we get.
Based on all that experience, I can tell you, first, that I'm happy to see mainstream media like Vogue finally catching on. This country has long been regrettably misunderstood, and I support any effort to adjust the persisting misperceptions.
Second, I can assure you that, while Vogue is not overstating things in its description of this under-appreciated destination, the quality of the beach experience in this place may qualify as top-tier but costs nothing like.
Everything in this county is a bargain—including the real estate.
Which brings me to my point today. I've learned of an opportunity to own your own private beach property in this slice of paradise for as little as US$94,900.
I'm speaking of a home you could use for personal beach escapes… and also rent out to earn a solid rental income when you're not around.
This stunning beach getaway is eco-friendly and boasts some of the world's best surfing to boot, along with a wealth of first-class amenities on-site.
The Same Coastline. The Same Beaches. Half The Price-Tag...
Used to be intrepid tourists and retirees looking for an off-the-beaten-path escape would head to the wild and relatively unexplored rainforests and expansive beaches of Costa Rica.
These days, though, with major hotel chains staking their claims and millions of tourists flocking to the now popular Central American nation, its neighbor Nicaragua (boasting the same stunning Pacific coast beaches) is emerging as the new adventurer's hotspot.
As Travel + Leisure puts it:
"Nicaragua's rise to the top of your must-visit list is inevitable, with its colorful colonial towns, unspoiled beaches with world-class surfing, and pristine Lake Nicaragua, sprinkled with tiny islands…"
Unfortunately, because of its political instability under President Ortega, the country dropped off our shortlist of top retirement havens.
I remain hopeful that in the not-too-distant future, the situation will change.
Meantime, Nicaragua's stunning Pacific coast still holds opportunity for the investor—especially when we're tapping into an already successful beach resort with a proven developer at the helm.
Indeed, the latest phase of this development has already almost sold out to the developer's internal mailing list.
Given the easy rental profits, undervalued beachfront, and low entry cost… I can see why.
Your Private Oasis At The Ocean's Edge
This master-planned beach development, about 90 minutes from Managua's international airport, has been up and running since the early 2000s.
Nestled on the edge of a 3.5-mile-long private beach, the resort already attracts its fair share not only of local tourism and folks on weekend breaks from Managua… but also retreat groups, digital nomads, adventurers, and surfers from all over the world.
Our investment play is a small new riverside tiny home community, located within the existing development with full access to all the resort amenities and just a two-minute walk from a renowned surf beach.
Here you (or your renters) can try horseback riding or take in a round of golf… explore the riverside trails or kayak down to the sandy beach… swim the warm Pacific waters and enjoy world-class surfing from your back yard…
You can dine out at the award-winning restaurant, relax poolside for the afternoon… and take in the sunset from you own rooftop terrace.
Tiny home residents will also have their own separate pool and a fireside social area, making for the perfect getaway if the resort ever gets too busy.
It's like having your own private oasis at the ocean's edge.
Easy Profits With Tiny Homes—From US$94,900
As I said, we're working with a proven developer who has built a number of successful projects not only on this overlooked coastline but all across the region.
These guys know how to create a winning formula and indeed have partnered with Best Western and The Marriott in some of their projects.
Tiny homes are surging in popularity and now more than ever have a huge appeal for vacationers who value a unique experience, easy access to the outdoors, and their own private space… without the hefty price tag.
These are the ideal addition to the rental pool in a world-class surfing location.
We can get in now on a new phase of pre-construction tiny homes, starting from US$94,900, and expect to see a 6% to 9% hassle-free rental income.
The homes are both smart and eco-friendly. Sustainable features include a green roof, gray-water recycling to water your garden, and solar panels.
On the smart side, you can remotely control your locks, lighting, thermostat, and more… as well as having access to a cloud-based security video.
An experienced rental management team is already in place, making this the perfect hassle-free income.
Financing is available through the developer, as well.
Act today and a refundable US$999 deposit will secure your income-producing home in a world-class private beach getaway.
For full details, get in touch here.
Lief Simon