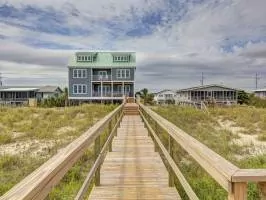 Your Chance To Invest In Nicaragua Property
Time To Refocus On Nicaragua
We Americans bring considerable baggage to the table when the topic of conversation is Nicaragua. Mention the country to most Americans, and we think of the Sandinista Revolution… the Contra War… Ollie North…
That's a shame, because Nicaragua has a great deal to offer that is often overshadowed by the Sandinista specter.
I visited Nicaragua for the first time 25 years ago and began hosting conferences and tours in the country almost 20 years ago. In 2005, however, I pulled back. In 2005, 2006, and 2007, interest in this country's property market was at full boil. Prices were overly frothy for my taste.
Then came 2008. The bubble burst, and most foreign investors backed away. That's when I started paying attention again. Prices for beachfront properties along this country's beautiful coast fell by dramatic margins, as much as 50% and more. Meantime, the fundamentals hadn't changed. Nicaragua was still a country of two long coasts, rose-colored sand, romantic 16th-century cities, lakes, rivers, volcanoes, rain forests, and killer surf breaks. The cost of living was still a bargain, and the people were as friendly and welcoming as ever. The only thing that had changed was that, almost overnight, property values had become much more reasonable. Indeed, they'd become an absolute global bargain.
Which is what they remain today… though I believe the bottom has been reached. We're around that bend, and values are inching up again.
In other words, this is the best time in a decade to be looking at Nicaragua.
Let's start by getting our bearings.
Nicaragua At A Glance
Nicaragua is in Central America, meaning it's just a few hours from most U.S. exit points. Accessibility is one of the country's big advantages. If you're looking to relocate overseas but don't want to be too far from the grandkids, Nicaragua is a good option. Major airlines offer daily flights to and from Miami, Houston, and Atlanta.
The population of Nicaragua is 6 million people, relatively large for the region. However, thanks to the country's size, population density is low.
The official language is Spanish, but you'll find a fair amount of English for a couple of reasons. One is tourism. In the colonial city of Granada, for example, one of the country's primary tourist draws, hotel and restaurant staff speak English.
The other reason a lot of Nicaraguans speak English is because they left when the Sandinistas took over. Many went to the United States, had kids, raised families, and learned English. Now they're back working hard to develop their country.
Tourists come for the history (Granada and Leon vie for title of "oldest city in the Americas") and for the surfing. The breaks along this country's Pacific coast are some of the best anywhere on this planet. The beaches are world class, too, some with white sand, others with sandy stretches that are rose colored, and the climate is not as wet and humid as in Panama, for example. It's drier here; cacti grow along the coast.
That's a tourist's bird's-eye view. We're more interested in what Nicaragua has to offer the would-be expat, retiree, and investor. From our perspective, perhaps the biggest thing Nicaragua has going for it is its cost of living. Nicaragua's is one of the most affordable lifestyle options in the Americas. This country is as great a bargain as Ecuador, for example, and its coast (in my opinion) is far more appealing. A couple could retire to Nicaragua on as little as US$1,000 per month, including about US$500 per month for rent.
Retirement Life In Nicaragua
You don't need even that much monthly income to convince the Nicaraguan government that you could support yourself in retirement. To qualify for this country's pensionado visa, you need show only US$600 per month in pension or Social Security income. That's the lowest income requirement amount for any retirement residency program in the world.
Another noteworthy thing from a residency point of view is that it's easy to establish here even if you're not retired and even if you don't have a pension. In addition to its pensionado program, Nicaragua also offers what's called a rentista visa. To qualify for this, you need to prove income (from any source… could be investment dividends or interest payments, for example) of only US$750 per month. The minimum age to qualify for rentista residency is 45.
Would you be happy living in Nicaragua? You'd have to answer that question for yourself. On the plus side are the low cost of living, the low cost of property, the year-round sunshine, and the great beaches. You could live a healthy lifestyle here, eating locally grown organic foods and spending most of your time outdoors.
It's not only easy to get to Nicaragua but also easy to get around the country once you're here. Everywhere you'd want to spend time is a couple of hours away from everywhere else you'd want to spend time. The zone of interest extends from Managua north to Leon, south to San Juan del Sur, and east to Granada. Nicaragua is much easier to navigate than Ecuador, for example, or Panama. Because of its elongated shape, places can be deceptively distant in Panama. It's a six-hour drive from Panama City to David, for example.
It's easy to get around Nicaragua thanks to its geography. On the other hand, the infrastructure is lacking… though improving.
This is the second poorest country in the Americas. There's not a lot of extra money in the budget. The country is underdeveloped in every way, and there is a lot of poverty. As one expat friend who lives in Nicaragua puts it, "If you can't stand poverty in your face, then you probably don't want to be in Nicaragua."
On our most recent visit to Nicaragua, Lief and I stayed at the Hotel Gran Francia in Granada. One night we went for dinner at one of the restaurants along the pedestrians-only area leading down to the lake. We sat at an outside table, on the sidewalk, and, during the two hours of our meal, we were approached by no less than a dozen little kids. Some were selling things—trinkets, chewing gum, etc.—some were begging. These Granada street kids really get to me. These kids stay with me. I can't stop thinking about them. So we've had to make a decision. Either we were going to stop going to Granada, or we were going to try to do something to help all the homeless kids there. We've chosen to try to do something to help the kids.
Spending time in this country, you'd eventually come face-to-face with this conflict, too. Either you don't see the poverty, or, if you do, you decide how to deal with it.
For us, taking Nicaragua off our radar wasn't an option. We've loved this country since the first time we visited and appreciate it more each time we return.
Kathleen Peddicord
Mailbag
"Lief, thanks so much for answering M.G.'s question about the US$10,000 reporting requirement. I have been wondering how people buy homes, forest, and plantations on US$10K or less. Now it is clear. The only fly in the ointment is related to getting a U.S. bank to transfer funds overseas. I have heard that BoA, and JPM, among others, have banned that practice. Any thoughts on that?"
C.G.
I've heard tales to do with banks no longer allowing foreign wire transactions, but, when I ask for details, it comes down to procedural things, not a ban on sending money overseas. U.S. banks, especially big ones like BoA and JPM, have big corporate clients that would be sending money overseas to subsidiaries and suppliers, etc., all the time.
Typically, retail banking consumers don't make foreign wire transactions often and so aren't familiar enough with their banks' paperwork requirements for doing so. Many banks require you to go in person to initiate an international transfer. Others allow for faxed instructions. Some, including BoA, let you initiate wire instructions online. In each case, though, the particulars of the process differ.
I wire money from the United States to other countries regularly and have no problems, but I'm familiar with my various banks' different systems. Speak with your bank in advance of needing to send a wire overseas to make sure you're clear on what you'll need to provide, and you shouldn't have a problem either.