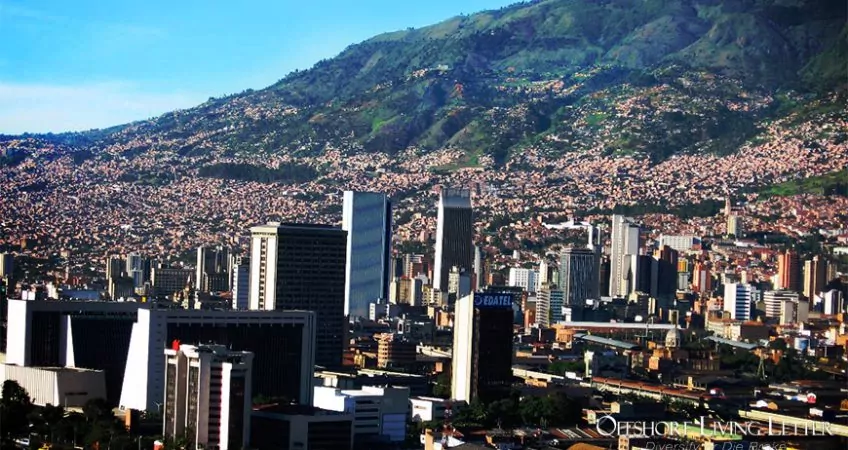 Why Big Investors And Future Innovators Are Sold On Medellín
This Is Better Than A Do-Over
A bad reputation, even one that's completely undeserved, can be a hard thing to overcome.
When I made my first visit to Colombia in 2010, people were astonished that I was daring to venture to the city where Pablo Escobar reigned and members of his Medellín Cartel were certain to kidnap me.
Pablo Escobar was killed in 1993. His cartel was broken up, and the Paisas (the people of Medellín) set to work reclaiming their city.
By the time I arrived on the scene in 2010, you'd never have known that Medellín had once been the center of one of the world's biggest and most notorious drug trafficking trades.
Today, finally, when I tell people I'm visiting or investing in Colombia, they aren't nearly as gobsmacked. In the past couple of years, Colombia, specifically Medellín, has been recognized as one of the world's most agreeable places to spend time by the likes of Condé Nast Traveler, Travel & Leisure, and The New York Times travel section.
And the world's biggest investors have been taking positions.
We smaller investors are buying in, too.
My First Colombia Investment
I made my first Colombia investment in 2011 in the form of an apartment in Medellín. I've since invested in a timber plantation and a factoring opportunity that has paid out beyond the expected annual return.
I took those proceeds and rolled them over into another factoring opportunity…
Now I'm aggressively on the lookout for additional chances to put more money into this country.
Colombia is neither as scary nor as secret as it was when I began focusing time and money here and recommending that you do likewise.
All this attention has translated into steadily appreciating property markets.
Property values in El Poblado, the chicest Medellín neighborhood, where most foreign investment in this city has been centered and where I made my property investment in 2011, have doubled since I made that purchase… in peso terms.
That last point is important… because, while property values have doubled in the last five years, the value of the Colombian peso versus the U.S. dollar has fallen by almost 75%.
It amounts to a do-over.
In fact, it's better than a do-over.
Five years ago, when I invested in Colombia for the first time, this country was a riskier proposition than it is today. I was sold on Colombia from my first visit to Medellín, when I met with a handful of professionals who have become key advisors and great friends. These guys helped me to appreciate the real Colombia and to believe as firmly as they in their country's future prospects.
Now everyone is bullish on Colombia.
The City Of The Year And World's Most Innovative City
Medellín has been named City Of The Year and World's Most Innovative City. In just two decades, it has evolved from one of the most violent places on earth to a model for urban innovation.
Meantime, the government of Colombia is close to concluding, after much negotiation and debate, a peace accord with FARC that will bring an end to more than a half-century of internal conflict.
The country's tourism board's latest marketing slogan promises that the only thing you have to worry about in Colombia is never wanting to leave…
If you do decide you'd like to stick around indefinitely, Colombia offers several good residency visa options. The country's pensionado visa comes with one of the lowest U.S. dollar requirements right now thanks to the exchange rate. You can qualify for a retiree visa showing less than $700 a month in pension income.
Or you can apply for a visa through one of the country's invest-for-residency programs; the lowest investment requirement option right now is less than $30,000… making it one of the most affordable invest-for-residency programs in the world.
Longtime readers know I'm not a doom-and-gloomer. That said, should the global economy come crashing down in a dramatic way, as some suggest it could, Colombia would be a good place to ride out the storm.
The country checks all the boxes. It has sufficient energy resources (Colombia is an oil exporter), mineral deposits, food production, a manufacturing base, and excellent health care.
If global trade disappeared, Colombia is one of a handful of countries where you should be able to maintain a reasonable standard of living.
Meantime, right now, it's one of my favorite places in the world to spend time… and to make money.
Lief Simon