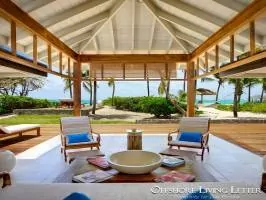 Top Turn-Key Global Investment Opportunities
Where I'm Investing Right Now
"Welcome to Panama and welcome to Lief Simon's Third Annual Global Property Summit…"
So I began bright and early this sunny Panama morning in the meeting rooms of Panama City's Marriott Hotel.
"I've been scouting foreign property markets for more than 30 years… since 1985," I continued for all assembled.
"I made my first foreign property investment in the mid-1990s on the Pacific coast of Nicaragua," I told the group. "In the years since I've invested in 23 countries."
I carried on providing background and context for the discussions to follow over the coming three days.
I explained, for example, how, about 18 years ago, I met Lief Simon on a property scouting tour in Ireland… how we were married four-and-a-half months after we met… and how we have been scouting and investing in foreign property markets together ever since.
Lief began his property investing career in Chicago, where he made 1,800% on his first investment in two-and-a-half years. (No, that's not a typo. It's the upside of leverage.)
In the 20 years since, Lief has built a multi-million-dollar property portfolio that includes rentals, land for land-banking, land for development, and agriculture.
In other words, Lief and I have been doing this a long time, investing through many market cycles, good and bad.
Golden Age of Global Property Investing
Bringing that perspective and experience to bear, I made this prediction for the group assembled with us in Panama City this morning:
We are at the start of what will be remembered as a Golden Age of Global Property Investing… a time when a great deal of money will be made by people paying attention and taking action.
The abundance of current opportunities is a result of growing demand—both foreign, from foreign investors big and small, and local, from fast-growing middle classes in key markets…
The abundance of opportunity is a result of crisis… in markets amidst or post dramatically troubled times…
And it is a result of sensational currency movements. If you're an investor with U.S. dollars to spend, you have more buying power right now in some markets than you've had in years or decades. In Colombia, for example, costs today are half what they were seven years ago in U.S. dollar terms. In Brazil, prices are now 57% lower than they were just a few years ago.
In euroland, your dollars go farther than they have in 13 years.
Diversification is a key benefit of buying a piece of real estate in another country. The need for diversification is greater today than it's ever been in our lifetimes.
Where and what, specifically, should you consider buying? Over the coming three days, we'll be showcasing 13 turnkey opportunities—that is, 13 property investment opportunities in markets of particular interest that require little or no work or management on your part.
Top Opportunities Include:
In all, we're looking closely at dozens of current specific opportunities to invest in Argentina, Portugal, Belize, Istanbul, Nicaragua, Panama, Colombia, Brazil, Mexico, France, the U.K., and beyond.
More from the scene tomorrow.
Kathleen Peddicord
Mailbag
"Lief, thank you for all you and your team do! I recently contacted the group with the teak residency program you've written about recently. In her response, she indicated that the US$15,200 offer was only good for seven days from my inquiry and then the price would go up US$500?!
"Any help and clarification from a trusted source as yourself would be appreciated. Thanks."
M.A.
The confusion is my doing, and I apologize.
The group behind this opportunity increased the price to US$15,700 in January. However, I forgot that when writing up the information last week. I contacted them in a panic, and they agreed to honor the price that we published for a limited time.