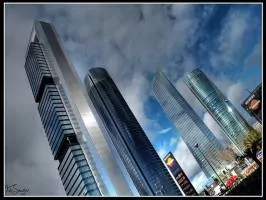 Top Real Estate Investment Opportunities For 2013
Where I'm Planning To Invest In 2013
As the "fiscal cliff" approaches in the United States and every American with an Internet connection seems to be taking the opportunity to rant and rave and comment online about what is wrong in the United States and how to fix it (in his or her often not-so-humble opinion), the rest of the world carries on. Some places have bigger economic problems than the United States does right now, including Greece and Spain, for example. But other countries, including Brazil, Colombia, and Panama, are doing well, enjoying expanding economies and growing middle classes.
So it goes. Some places are in up cycles while others are declining. What's the point? The point is that we, as non-ranting global citizens, have the opportunity to move ourselves and our capital to where we believe we and it will best benefit.
Where might that be in 2013?

Here's My Personal New Year's Agenda...
For real estate, I'm looking at Ireland, where we intend to buy a "second home" that can be rented out. Prices in Emerald Isle have fallen significantly since the Celtic Tiger bubble burst so dramatically. We want to take advantage of the opportunity this presents, which is one reason we're planning a 2013 Live and Invest in Europe event in Dublin, Ireland. This will serve as a good vantage point for an all-Europe conference, but it will also give Kathleen and me a chance to spend some time on the ground in Ireland, shopping for property(and reconnecting with old friends in this part of the world).
In this case, I'm not buying with any expectation of capital appreciation anytime soon. That'd be unrealistic for the next 5 to 10 years at least; however, rental yields in this country have regressed back to the mean and are in the 5% to 8% range (they were in the range of 1% to 2% when I lived in Ireland).
This year I also want to make a farmland purchase. For this, I'm looking to Uruguay, which I see as the obvious choice for a big private farm. This country hasn't yet restricted foreign ownership of farmland, as Brazil and Argentina have. You can buy smaller farms in Belize, Panama, and elsewhere, but in Uruguay you can find large tracts of land that can be leased to a farmer if you're not up for becoming a farmer yourself.
I don't trade currencies. I see this as too risky an investment strategy for the individual investor. I buy and sell whatever currencies I need for real estate purchases; that's as invested in currency as I get. In that context, in 2013, I'm planning to take advantage of any currency dips to move money into euro for my purchase in Ireland and into Colombian pesos, as I also intend to buy another apartment in Medellin, this one to use as a rental (no personal use agenda this time, dear wife).
Banking continues to be a complicated mess, especially for us Americans. Just this morning, one reader reported that HSBC in Panama is closing accounts of Americans in the wake of their Justice Department fine last week. I have someone looking into whether that is accurate or not. Either way, HSBC has been slapped hard by several governments, and you can expect them and other banks to focus ever-more aggressively on their know your client rules. They'll also continue asking ever-more questions about every wire transfer you make. I've come to expect this as a regular part of my day.
My Advice For Banking Offshore
As banks worldwide continue to try to figure out how to be compliant with the rules being handed down by the IRS in this FATCA era, you can expect all this to get much more complicated and restrictive before it finally shakes out. My advice for right now and through 2013 is to open accounts where you can when you can and to do whatever you have to do to keep any current accounts open. Banks will continue to increase their fees as their compliance costs go up, but, unless you're certain that you won't ever need an account in the future, I say it's worth paying the higher fees. You never know, at this point, which accounts are going to be unceremoniously closed or when. The more options the better.
Next year's travel agenda includes at least two new destinations for me. The Philippines is a hot spot among American retirees, particularly military retirees, thanks primarily to the low cost of living and the abundance of English spoken. A few years ago, I invested in a small real estate development project in this country. It's time finally to go check it out in person.
Peru is close to my base in Panama, but with so many other opportunities in the region, I haven't made it to the country yet. 2013 is the year, as a friend who's undertaken a small development project in Lima assures me that a trip to that city is well worth the investment of time. That's my plan.
The United States may be facing a fiscal cliff, but 2013 is going to be a year of opportunity nevertheless.
Unless, of course, the world does end later this week. Did the Mayans simply run out of room on their stone calendar or did they really predict the world would end on Dec. 21? Friends are on their way to Belize as I write to enjoy the End Of The World parties regardless.
Lief Simon