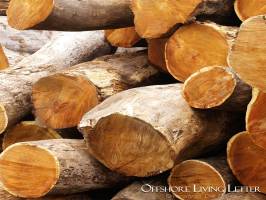 Timber Investment In Colombia: Steadiest Bet In The Market
Second Chance To Earn 16% From Quick Return Forestry Play In Top Agri-Market
A couple of years ago I asked a group I work with in Colombia if they had any ideas for an agriculture project in their country.
Colombia is known for its coffee and there are many coffee farms across the country, but I wasn't interested in coffee. I wanted something unique.
My associates in Medellín came back with a forestry concept. In fact, the project they proposed had already been begun by a forestry management company but was in the start-up stages. This group was interested in allowing individual investors to participate in an effort to be able to manage and project cash flow more efficiently and reliably.
The initial opportunity to invest was made available in 2016… then a second offering followed in 2017. The idea then was for additional offers in 2018 and 2019.
When I met with the principles of this group at my Global Property Summit earlier this month, they informed me that the 2018 and 2019 offers are now off the table…
Because both of these projects have been funded in full by a single investor.
In other words, the concept has worked so well that one large investor committed to both this year's and next year's plantations.
The good news for you is that it is still possible to participate.
2016 And 2017 Investments Still Available
A handful of investment spots remain for each of the 2016 and 2017 plantations. And these plantations have already been started… meaning you're investing in trees that are already growing.
The forestry concept is straightforward. The forestry management group is growing softwood trees (specifically, acacia and eucalyptus) for biofuel. The market for this wood is growing in Europe, where softwood is used in electric plants.
In addition, an electric plant is to be built in the region of Colombia where the reforestation projects are located. This new electric plant will service the nearest city, which currently gets its electricity from Venezuela. You can understand why the Colombians are keen to change that. Venezuela is not a country you want to rely on right now.
With a decade of experience under its belt developing plantations in this location, the forestry management company behind this opportunity knows what it's doing. Their first plantations had a time frame to harvest of 12 years. Using new technology to create better efficiencies, they are now able to fertilize and plant in a way that cuts the time to harvest to just seven years.
In the context of an investment in timber, a seven-year time line to payout is incredibly quick.
The timber profits aren't the only harvest of these plantations. The group is intercropping with apiaries to produce honey. The first honey harvest was bought out in full by Nestlé. With so much fake honey coming out of China, large companies are looking to buy directly from the source whenever possible. There's no concern about being able to sell all the honey these guys will be able to produce.
Another revenue stream is carbon credits. It's not huge money but does add to the total returns.
In addition, a good portion of the return will result from government incentives and rebates. The Colombian government is working to promote forestry and is currently covering part of the costs for projects that follow government guidelines. These incentives add several percentage points to the total annualized returns.
Those total annualized returns project out to about 16% over the life of the first tree growth. After that, the land could be sold or replanted. Replanting would be an expense, of course; however, with the land cost covered, the next plantation would come at a much lower price than the original.
There Are Other Benefits To Investing

The area in Colombia where these plantations are being developed is currently remote, but, as more investment is made (a number of groups are undertaking projects in this region; the one my colleagues are working with is the largest and most experienced), access will improve… and land prices will increase. Indeed, they already have.
I'm sure you've heard the Chinese proverb…
The best time to plant a tree was 20 years ago. The next best time is today.
Today is the best time to get in on forestry in Colombia, and you have the opportunity to invest in plantations that were planted as much as two years ago.
With projected returns in the range of 16% and the added benefit of being able to obtain Colombian residency through this investment, it's easy to see why both small and large investors are all in.
For more information, get in touch here.
Lief Simon