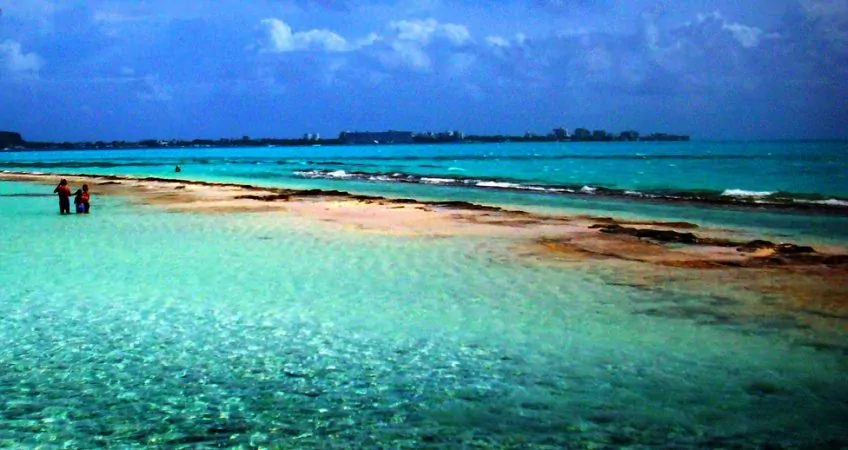 Real Estate Investment In Medellin, Colombia
Why I'm Still So Bullish On Medellin
"So we'll go to the apartment to drop off our bags and pick up the cellphones," I said. "Then let's head right back out. It's a beautiful afternoon. Let's walk to town and stop somewhere for drinks."
"Sounds good," Lief replied. "We can call Lee to ask if he'd like to meet for dinner. His local number is stored in my phone."
We were driving down the mountain from the airport to our apartment in Medellin on Saturday afternoon. The sun was shining, the city below was green and inviting, and we had no commitments or obligations, neither Saturday afternoon nor Sunday. A day-and-a-half to do anything we wanted and all Medellin to do it in.
A half-hour later, the taxi pulled up to our apartment building, and we hopped out. Lief searched in his computer bag for the key to the front door.
I pushed the door open and was greeted by a woman I'd never seen. The lady introduced herself in Spanish, and I looked over at Lief as if to ask: Who is this woman and what is she doing in our apartment?
Around the corner came another woman. This one I recognized. It was Claudia, our maid, but I wasn't expecting to see her either.
Continuing to make my way inside, I saw a third woman carrying sofa cushions from the terrace to the laundry room.
I stopped walking and looked around. A pile of laundry on the kitchen floor…stacks of dishware on the kitchen counter…
Several months ago, our neighbors in the apartment below emailed to say they had a leak in their bedroom ceiling. The source of the leak, we found, was our terrace, which had been rebuilt as part of the renovation we carried out on the property about two years ago. We cleaned the drains, then tried applying an additional coat of waterproofing to the tiles. Still, every time it rained, our neighbors' ceiling leaked…and the floor in our living room (whose French doors lead to the terrace) flooded.
After a few months we felt we had no choice. We'd have to tear up the terrace and lay it again, this time making sure that the drainage was adequate and that the slope fell away from the living room (rather than toward it as it seemed to do).
A crew tore up the tiles and the concrete of the terrace, resloped it, and relaid it, with new drains. Then another crew tore up the flooded parquet from the living room floor and relaid it, too.
Only they didn't do a good job of it…and had to tear up what they'd done and try again.
Word from the scene indicated that this redo of the redo would be completed in time for the place to be cleaned and ready for our arrival on Saturday.
Going As Planned Is Not That Common Sometimes
Walking through the door on Saturday to be greeted by the three women working hard to restore order, we realized things hadn't played out as planned. Turns out, the floor crew had been at work until 7 p.m. Friday evening. And they hadn't covered all the furniture in the apartment during the sanding phase of their work. Thus the pile of linens, towels, and cushion covers on the floor in the kitchen. Claudia was stripping and laundering.
While I tried to take stock of the scene, Lief walked to the back to unlock the owner's room. Uh, oh. What went on here? Piles of stuff we hadn't left in this room…and, Lief confirmed after an extended search, no cellphones.
Then Claudia took me by the hand to show me the dead flowers on the terrace…damage here…wear and tear there…
It was only 3 p.m., but I reached inside my suitcase for the bottle of duty-free wine we'd brought with us from the airport. I poured a glass and sat down in the corner. Claudia and associates returned to their work. Lief fired off an email to our property manager to ask about the missing phones.
The three women continued cleaning and organizing until 6 o'clock, when I told them to call it a day. See you again Monday, I said.
"Maybe We Should Sell..."
Lief and I awoke early Sunday morning to do what we could to continue setting things right. I got the kitchen in order. Lief sorted out the owner's closet. Then we went out to buy new cellphones and groceries for the week.
Back in the apartment late Sunday afternoon, we made ourselves a snack and settled in to finish our bottle of wine on our newly retiled terrace. The view stretches across the valley. The light at sunset is mesmerizing.
Next door to us is a small colonial-style church. It must be the most sought-after wedding venue in the city. Five or six weddings every weekend we've been in residence, including this one. We listened to the wedding march play then the church bells toll as we sipped our wine and watched the sun slide into the horizon.
Other than the music from the church, all around was silent and still. The city lights twinkled in the valley.
"Maybe we should sell this place," I said. "When we bought it, we imagined coming for weekends and holidays, making the quick trip over for regular breaks from the hustle, bustle, and heat of Panama City. But we've been here twice in the past 12 months.
"It's hard to take care of the place long distance," I continued, "hard to keep up with maintenance and repairs…"
"Yes," Lief said, "we could sell. I'd say the apartment is worth twice what we have invested in it. But, if we sold, what would we do with the money? That is, where else would you rather have that money invested?"
"Nowhere I can think of," I admitted.
"Me either," Lief said. "We've doubled our money in the three years we've owned this place, but I think that's only the start. I believe values will continue to appreciate slowly and steadily in Medellin near- and long-term. I like being invested in Colombia, and I like being diversified into the Colombian peso."
We sat sipping and staring out over the valley, enjoying the breeze and the twinkling lights.
As Lief reminded me, Colombia in general and Medellin in particular are among the most appealing investment markets in the world right now. More than that, though, Medellin is one of the nicest places in the world to spend time. Beautiful city, great weather, friendly people, lots to do…
Making it what I've come to think of as a perfect-storm destination, a place that appeals for both lifestyle and investment.
We continued sitting and sipping. By the time we decided to turn in, Medellin had worked her charms. This living and investing overseas thing isn't without its road bumps. Sometimes the day-to-day hassles can distract you from the point.
Fortunately for us, this Sunday evening, sitting on our terrace soaking up some of what this special city has to offer, Medellin reminded us.
Kathleen Peddicord
Mailbag
"Lief, we have been in the Panama market with an investment in a Bella Vista condo that we have had as a rental for over two years. Although we put our condo into a corporation a few years ago, we are still waiting to get any registration paperwork from our lawyer. Although we have requested them numerous times, our current lawyer has never followed through.
"We are now thinking it is time to be looking for another lawyer to assist us with our corporate and tax planning in Panama. Is this a feasible process to change lawyers, and if so would you have any recommendations for a lawyer who deals with foreign investors?"
J.U.
Yes, I'd suggest that you find another attorney. It should take no more than a few weeks to register a title. That is, you should have your title by now.