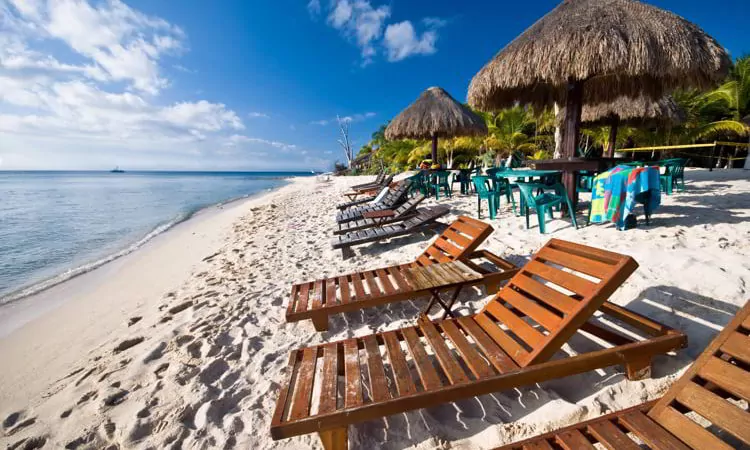 Obtaining Mexican Residency In 2022: Everything You Should Know
Easy, Fast Residency Make This A Top Plan B Option
Mexico isn't usually first to come to mind when you think of your best options for living abroad. It's too familiar for that.
But Mexico is #1 in a way that really counts: over 1.6 million Americans are living there, which puts Mexico out in front by a wide margin.
In fact, Mexico accounts for almost 28% of all American expats living abroad. No other country even comes close.
It helps that Mexico offers one of the world's easiest immigration programs. Travelers are granted long stays upon entry, and residency is easy and fast to obtain.
Here are a few highlights of Mexico's residency program:
There are no health checks or physical exams required.
Mexico requires no criminal background checks.
Instead of income, you can qualify with savings or an IRA/401k balance.
Temporary residency is easy to qualify for, with fast approvals.
Permanent residency is available to new applicants, without a period of temporary residency. Higher financial thresholds are required do to this.
Citizenship is available after five years of residency or only two years if you qualify.
Mexican tax residency is easy to legally avoid, with no 180-day tax residency rule.
Mexico grants residency visas locally at your nearest consulate, using English-speaking agents. If you're looking to set up a Plan B location, Mexico is the fastest and easiest place to do it… and it's a place you can drive to if air service becomes difficult, as it did with COVID-19.
Here's What's New In 2022
Same-day service has started in most in-country immigration offices. The process for getting your residency ID card in Mexico used to be cumbersome. My first resident's card took several weeks to process.
Today, most offices take care of all the approvals while you wait and can take your photo and print your permanent card on the premises. This saves a big hassle and several trips to the immigration office.
The "automatic" 180-day tourist entry may not always be automatic. Mexico is known for its liberal tourist entries, with no cumulative in-country stay time. But that's not guaranteed. In November 2021, immigration declared that they were only going to grant the time you expected to be in Mexico, and some agents began asking how long you expected to stay. Then in February 2022, I had an agent tell me that the 180 days was still "automatic." The bottom line is to make sure that you have the number of days you need before leaving the kiosk when entering Mexico. It will be written on the card they give you to take away when entering as a tourist. (This does not apply to those with residency.)
Mexico is actually encouraging residency visas for travelers who come frequently for longer stays. This works out well for the traveler, as the residency card gives you most of the rights of a citizen. You can come and go from the country as you please and can even import your household effects duty-free if you like.
Plus, you'll have access to the banking system, health care infrastructure, and can even buy Mexico's high-interest Treasury Bills as a resident.
Do You Even Need Residency? First Check Mexico's Easy Entry Policies
Mexico has no cumulative limits on stay time. And as you're usually granted a 180-day stay upon entering Mexico as a tourist—rather than the 90 days or less that you get from most countries—part-time residents and vacation homeowners can live in Mexico for half the year on a single tourist entry.
So if you just come to Mexico now and then for a few weeks—and you don't need a bank account for direct debit and don't manage a rental—then a simple tourist entry may fit your needs long term. You don't need residency to own a property in Mexico.
Fast Facts On Mexican Residency
The normal process:
Most people start Mexico's visa regime as temporary residents. You can hold a temporary residency for four years, after which you can become a permanent resident. If you transition to permanent residency in this way, you do not have to meet the normally required financial thresholds.
Giving up temporary residency:
If you prefer, rather than moving on to permanent residency, you can let your temporary residency expire and start over again with another four years' temporary status. Some residents will do this so they can drive down with their own cars, as permanent residents may not have foreign-plated cars in Mexico.
Permanent residency shortcut:
Applicants have the option of starting off as a permanent resident without serving the normal four years as a temporary resident. This option is not unique to Mexico, but it's also not very common. The income requirements are higher, but if you qualify, this is the easiest and fastest way to become a permanent resident.
Where to apply:
You apply for a residency visa at a Mexican consulate in your home country. Only in rare cases (such as asylum claims) can it be done in Mexico. Then you get your residency card in Mexico at the immigration office nearest your Mexican address. In-country time: Unlike most countries, there is no time-in-country requirement in Mexico to maintain your residency.
Important note on financial requirements:
The exact income and savings requirements for your visa will come from your consulate when you apply for the visa… and not all consulates require the same amount. For purposes of this report, I'll use the thresholds from the consulate in Phoenix, Arizona. The required incomes and savings are per person. Mexico does not have a "per couple" rate for visas, except as I describe below. For couples, Mexico offers a visa to those who are married to (or in a common-law relationship with) a resident visa-holder or citizen.
For a couple to take advantage of this, one person would get their visa, and then the second person would apply, having to show only a relatively small amount of additional income. Mexican consulates are fairly common in the United States, and they have a few in Canada.
One more important thing to note about qualifying for residency in this country:
Mexico is the only country I know of that allows you to qualify for residency—both temporary and permanent—with savings in lieu of income. Many expats use their IRA or 401k.
Lee Harrison
Senior Correspondent, Simon Letter