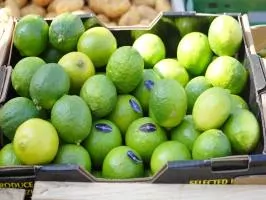 Invest in Panama Limes For Up To 18% Returns
New Agro-Opportunity In Panama
Agricultural investments have been a focus for me for the past half-dozen years. Unfortunately, as I've been reporting, it's not easy to find agricultural projects geared toward the small investor.
However, early 2014, I began working with a group in Panama with an idea for a mango plantation investment intended specifically for the individual investor.
Their plan was to open up their plantation to small investors in an effort to grow more quickly and to achieve some economies of scale. I introduced readers to this opportunity to own their own piece of this mango farm while the development group took care of all of the work—planting, irrigation, fertilization, and eventually caring for the trees and harvesting the crop.
The response was overwhelming. The mango plantation sold out in June.
In the past few months, this same group has put together a small plantation of a different fruit tree at the behest of one of their biggest U.S. buying groups. The crop in this case is limes. Specifically, organic limes.
This developer launched this new project just 10 days ago, making 100 hectares of the new crop available for individual investors. Those 100 hectares sold out in six days. I've been involved with the launch of many real estate development projects, including now many different agricultural projects, and this is unprecedented. I've never seen anything like it.
I've been in discussions with the developer these past several days about how this opportunity might be expanded. More on this in a minute (bottom line, no, you haven't missed out… yet).
What's So Special About This Investment?
Here are some of the reasons this Panama agro-investment should have your attention:
For all of these reasons, as I've explained, this launch has been more successful than any other I've known or been involved with. When I spoke with the developers last week and they reported a waiting list of investors, I asked if they'd be willing to release any of the plantation hectares they had planned to keep for themselves. They have agreed and are allowing investors access to an additional 100 hectares at the same US$39,000 price (again, for Live and Invest Overseas readers only).
If you are interested in this opportunity, I strongly urge you to act now. These additional 100 hectares likely won't last any longer than the initial offering. That is, by this time next week, these additional 100 hectares likely will be closed out.
For more information, contact the InvestGPS team here. Identify yourself as a Live and Invest Overseas reader when you get in touch to be sure you're eligible for the launch discount.
Lief Simon
Mailbag
"Lief, you have to be crazy to talk about moving to France. Wealthy peoples are moving out because life is impossible there. I do not know how you are recommending people to move there—21% VAT, tax on your assets, high property tax, habitation tax, water, electricity, telephone very expensive, and on and on. Food very expensive. Gasoline very expensive. I don't know what you're thinking."
H.H.
France has a wealth tax, but few retirees would be liable for it. The first 1.3 million euros of assets are exempt. Furthermore, the wealth tax is a consideration only if you intend to become a full-time legal resident of the country. Come and go, spending never more than six months in France per year, and the wealth tax doesn't apply.
I own property in Paris, and the combined property taxes (including the taxe d'habitation) amount to approximately 0.2% (that is, two-tenths of a percent) of the property value. Property taxes outside Paris are a bit higher; however, property taxes in most U.S. states are in the range of 1%… or five times higher than in Paris.
VAT of 21% is indeed high compared with the United States, where sales tax ranges from 5% to 9%.
In France, as in most of the world, income is taxed only at the national level; in the United States, earners also pay state (except in the handful of U.S. states that have no income tax) and sometimes even city income tax in addition. When you consider U.S. federal and state income taxes together, you arrive at total income tax burdens that are comparable to those in France.
Electricity expensive in France? This website shows that electricity per kilowatt hour wasn't much more costly in France than in the United States in 2014. With the weakened euro, it's possible that the cost of electricity in France is less expensive today in U.S. dollar terms. In addition, people tend to live in smaller homes and apartments, especially in Paris. Our total annual gas and electric bill when we're in our apartment in Paris is less than half what we pay in Panama.
In Paris, we have a cable TV, Internet, and phone package that allows for unlimited calls to the United States. The cost is 42.90 euros per month. In Panama, we pay US$85 for a similar package of TV, Internet, and phone services; however, that package includes zero allowance for international calls.
My wife and I have been in Paris for the past two weeks. I'm finding beef and chicken as much as three times more expensive than in Panama. However, other things are cheaper. We buy good wine for less than US$10 a bottle and bottled water for as little as 14 cents per liter. Fresh baguette is 1 euro. Fresh vegetables are very inexpensive compared with Panama, and the variety available is much greater.
It's all about priorities and lifestyle. Paris can be more affordable than you might think… Panama more expensive. It depends on where, specifically, and how you choose to live.