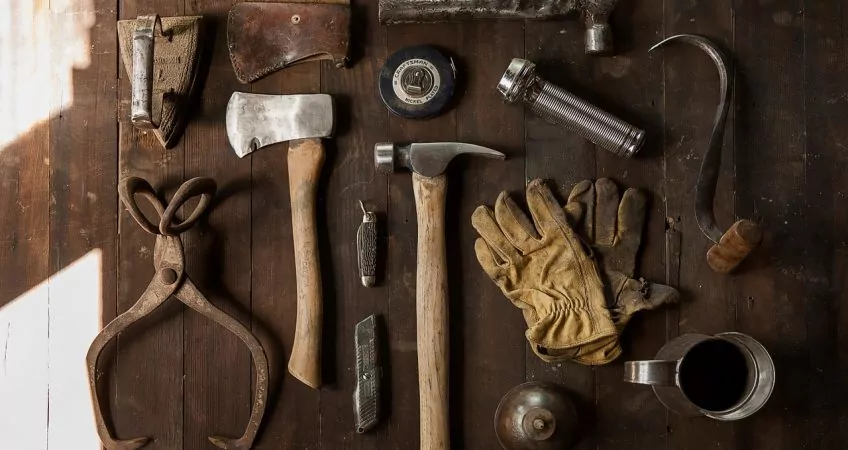 How To Find The Right Resources And Advisors Offshore
Everybody's Got A Hammer
The doctor I found was part of the health insurance plan that I had recently signed up for. He was listed as a primary care physician, but his specialty was cardiology. On my first visit for an annual checkup, the first thing the guy did was hook me up to some electrodes to check my heart. He probably ran blood tests, as well, but the electrodes stand out in my memory.
All was fine on that visit, but a couple of weeks later I came down with a flu so I went back. This time, again, the doctor hooked me up to the electrodes and checked my heart. It struck me as a little odd at the time, but I didn't really think about it. Now, though, again, this sticks out in my memory.
We all have a limited tool boxes, and we've got to work with what we have. As the old adage goes, when all you've got is a hammer, everything begins to look a lot like a nail. This doctor in Paris knew hearts so he checked every patient's heart every visit.
The Theory Transfers To Real Estate Agents Overseas
When we were shopping for a house in Ireland years ago, we met with a real estate agent in Waterford and gave him our parameters. We were in the market for a large Georgian-style house with at least four bedrooms on a bit of land. That agent and then two others proceeded to show us new-built cookie-cutter houses in what the Irish refer to as "estates" (that is, subdivisions).
While many of the houses we saw did, indeed, have four or even five bedrooms, the total size in each case was about 1,800 square feet. That's not a lot of space for five bedrooms. In fact, in many cases, the rooms didn't qualify as actual bedrooms. They were more like leftover space that should have been turned into a walk-in closet.
Bigger picture, the real problem was that not one of the houses any of those three guys showed us met the overall criteria we'd given. Why would a real estate agent take you to see a two-year-old square-box house in a suburban development when you'd asked him to show you 200-year-old Georgian-style houses in the country?
Because that's what he has to show. That's what's on his books. That's the hammer he's working with.
The same phenomenon occurred with the cabinetmaker for the kitchen in the apartment in Medellin we renovated a few years ago. We took him photos of what we wanted our kitchen cabinets to look like. We spent an extended time discussing the style and the finishes in detail.
Then, when we went to see the first cabinet the guy had completed and painted, we nearly had a heart attack. (I should have brought the French doctor along with me.) The guy had shellacked the cabinet with some kind of hard white finish that made the handmade, all-wood piece of furniture look like cheap plastic. Despite the long conversations, the photos, and the samples we'd provided, he couldn't imagine that anyone would want anything other than a hard-plastic finish. That was the hammer in his toolbox.
The Hammer With Tax And Offshore Service Providers
You'll encounter the same hammer syndrome when dealing with tax and offshore service providers. The guy in Belize knows Belize entities, so that's what he'll want to sell you. The guy in Panama knows Panama entities. Etc. Most guys in this arena (and I've known a lot of them) will try to hammer your situation to fit one or more of the types of entities they have experience with and sell.
One client buying at my Los Islotes development on the coast of Panama met recently with an attorney in Panama to discuss her real estate purchases in this country and elsewhere. She was buying several pieces of property in Panama and property in two other countries, as well, and she wanted to formulate a cohesive structures and holding plan in advance.
The Panama attorney outlined a plan that called for three Panama corporations, a Panama SRL, a Belize LLC, and a Belize IBC.
While in theory those entities could work fine for what this client needs long term, the truth was that she didn't need any of those entities just yet. For what she was doing at the moment, all she needed was a single non-Panamanian entity. The Belize LLC would suffice.
Why did the Panama attorney suggest the other entities? Maybe to increase her sales that week, but I know this attorney. I'd say this was another example of working with the tools you've got. This attorney knows Panama and Belize entities. Those are her hammers, so she pulls them out of her toolbox for every client's situation.
From doctors and tradesmen to real estate sales agents and offshore attorneys, you'll find that most, if not all, service providers you encounter overseas have limited experience. How do you work around this to be sure you get what you need and aren't hammered into a not-quite-right or maybe not-right-at-all solution?
Always get a second opinion and maybe a third and a fourth. Speak with several experts and take all of their various recommendations under advisement to form your own opinion about what you really need.
It's not efficient, but it's worth the extra effort and time. In Ireland, we met with eight different agents before finding the Georgian house we were looking for. That house became our home for six years and earned us a profit of 300% when we eventually sold it.
Again, the extended search to find it was worth the effort.
Lief Simon
Mailbag
"Lief, I have recently come into some money and would like to invest abroad somewhere. I have considered the United States and South America and would ideally like to buy two properties that I could rent out, preferably in a growing market. I would be looking at around US$100,000 max for each purchase. I would be interested to have your thoughts and maybe whether you reckon I should be looking at Europe?"
G.S.
That's a very reasonable budget for getting started building a global property portfolio. I've identified six good current offers for my upcoming Global Property Summit with capital requirements of US$50,000 or less, meaning that, with the budget you have, you could diversify among four different properties if you wanted.
Two of these offers are in Europe. As well I'd look at Medellin, Colombia, and Panama.