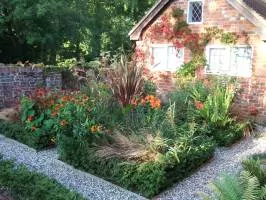 Escape to Belize If Things Go Bad
Turn-Key Solution For Surviving The End Of The World
The doom-and-gloomers continue banging the drums:
It's the end of the world… the end of the world… end of the world… just around the corner…
Maybe… but doom and gloom isn't my thing. I'm more interested in options for action. One option you have is to create a backup plan. Should the dollar collapse, euro-land implode, or the rule of law break down, you want a plan for how you and your family will be ok.
I know I do.
One guy I know who has lived all over the world but who is currently living in Texas believes the United States is going to crumble around him. So he has come up with a simple backup plan. He has stockpiled weapons and canned goods in a bunker where he says he can hold up for a couple of years should worse come to worse.
While, yes, simple and also easy to set up, this guy's backup plan doesn't appeal to me. I can't get excited about locking myself and my family in a concrete box and eating canned food by the light of a hand-crank flashlight while we wait for the world outside to settle down. Furthermore, what if it takes the world more than a couple of years to settle down? When the last can of Campbell's soup is gone, this guy is going to have to brave life outside again, regardless of the state of affairs on the other side of his bunker door at the time.
Diversifying Your Portfolio
On the other hand, buying a piece of land somewhere off-the-grid and out of the line of fire, a place where you and your family could bug out should the need be, where you could not only ride out whatever storms are raging but also sustain yourselves indefinitely… I like the sound of that.
When I look at the world map in this context and try to identify an under-the-radar yet accessible place where my family and I could plant gardens, grow trees, raise animals, and create our own quiet, peaceful world apart, I come down in Belize.
Belize is a country of rich, fertile land but few people. The land is affordable, and the small population speaks English. There's loads of what's needed to live a self-sustainable life—sunshine and water—and you can drive to the country from North America.
Self-Sustainable Life
For these reasons, I'm focusing one of my backup plans in Belize. I'm an independent type, but I don't mind a few neighbors if they're like-minded, so I'm creating my Belize back-up plan in a small development geared toward the self-sufficient crowd. It's called Maya Spring Estates.
Not being a farmer myself (but eager to learn), I've enlisted help from an in-Belize team of folks who are focused full-time on agriculture and food production in this country. My piece of land at Maya Spring is 10 acres, and my Belize farming partner Con Murphy has designed a plan for developing the plot. Some of the land will be given over to hardwoods (no, we can't eat it, but we like timber). Some will be used for pastures for cows and horses. On the balance we'll build a farmhouse, plant a small orchard, put up a chicken coop, and start a vegetable garden.
As we were making the plan for my 10 acres, I had an idea. I asked Con if he could come up with a Farm In A Box model for others who want a backup plan but don't have the time or the know-how to put one together. Con contacted me recently to let me know that he's created such a "farm kit."
Whether you're looking for a self-sufficient retirement or just want to know you'd be able to take care of yourself and your family should the need arise, buying a piece of land in Belize and working with Con to prepare and plant it is about as turn-key a strategy as I can imagine.
Con has worked with Maya Spring Estates to come up with a solution that could be implemented on any of the remaining lots, all of which are big enough for a house and a self-sufficient homestead.
The best part about this plan is that you don't have to build your house or start your farm right away. Maya Spring Estates doesn't have a build requirement, and your farm-in-a-box blueprint could be put on a shelf until you were ready to act on it.
The plan that Con has put together is fully turn-key and includes a small wooden house built by the local Mennonites. This means you could have a living space quickly should you find yourself implementing your backup plan in a hurry.
Of course, you could also buy a lot and build a house at Maya Spring and move there right away. No need to wait for the world to end (it could be a while). Con can get you set up living a self-sufficient lifestyle in no time.
Maya Springs is a small community of only 20 lots, of which 7 have been sold. In fact, the first three houses are near completion.
Lot prices start at US$73,000, with lot sizes starting at 2.76 acres. The biggest remaining lot is 6.89 acres. The basic farm set-up that Con has put together starts at US$7,500
You can reach Con directly for more information about the Farm In A Box here.
Lief Simon
Mailbag
"Lief, greetings from Caye Caulker, Belize!
"You've been absolutely right about the wonderful tiny country of Belize. From the most fantastic snorkeling, diving, fishing, to the Mayan ruins, countryside, and its people, this will be my favorite of mine, and I'm staying for a few months. I only have one disagreement.
"All the Belizean coastline is blocked by the second biggest coral reef in the world, as you said many times before. This means that the country has no natural pristine sandy beaches. No waves means no sand. Businesses here make an effort to clear their own piece of coast for tourists, but the effort is costly and tedious. Algae coming from the barrier reef decompose and creates the soil necessary for mangrove forests to grow.
"Those who prefer the coastline, like I do, will not be disappointed. It's amazing. Just don't come with the long stretches of sand in mind."
N.L.