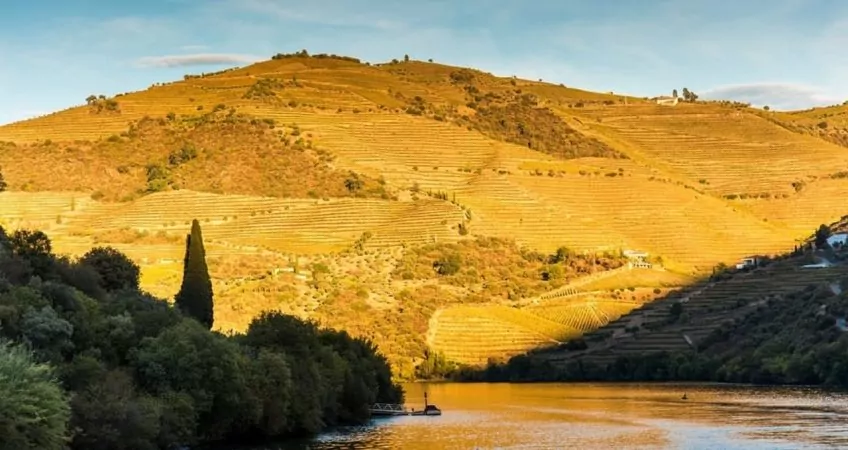 Cruising Through History, Rivers Of Gold, And Lots Of Vinho
A River Of Liquid Bullion
Two or three times a year, Kathleen and I plan outings with small groups of friends from around the world. We identify a special travel adventure… and then we invite the folks we most enjoy spending time with to join us if their schedules allow.
In that spirit, we've extended invitations for friends to join us on a cruise next April.
We've booked passage aboard one of the finest river ships in the world, the Queen Isabel, to tour Portugal's Douro River.
We're not typically cruise-goers… but this isn't a typical cruise.
Starting in Porto, one of the oldest cities in Europe, we'll spend seven days on Portugal's Douro River… meandering through the Iberian Peninsula… experiencing its people, history, culture, gastronomy, and stunning vistas.
And by stunning, I mean… wow…
The Douro River Valley is arguably the most breathtaking wine region in the world.
The river itself, whose name translates as the "river of gold," is said to shimmer in the setting sun like liquid bullion.
During the cruise, we'll venture out on bespoke excursions—including vineyard wine tastings and tours covering everything from Paleolithic archaeological sites to city landmarks. I know this is going to be one of the most memorable experiences of my lifetime.
Specifically, here's what we'll be doing…
DAY 1—All Aboard In Porto
This is where Port wine and the nation of Portugal got their names. The city of Port is a fascinating combination of historic buildings and cutting-edge architecture, tradition, and innovation.
This is where we'll launch our cruise adventure next April. After boarding the Queen Isabel we'll all meet on deck for cocktails…
DAY 2— Mini Wealth Summit On The Douro
Our second day on board will begin with morning discussions and seminars. Our Portugal-specific experts will lead conversations to do with every aspect of living and investing in Portugal, detailing current investment opportunities, comprehensive reviews of your best residency options in this country, as well as tax-reduction and asset-protection strategies.
Later that afternoon, some of us will explore the city of Porto… while others take off to tour the Amorim Cork Factory. Amorim is the world's largest producer of cork products, and the most international of Portuguese companies, with almost 150 years of history.
Then we'll set off up the Douro toward Entre-os-Rios…
DAY 3—Vinho!
Vines have been cultivated and wine produced in the Douro River Valley since the Romans tromped this valley.
For me, this day spent learning about the history of Port wine… and, of course, sampling it… will be a highlight of the trip.
DAY 4—And More Vinho...
We'll continue through the pristine, dramatic, UNESCO-protected landscapes of the Douro River Valley and head ashore for a tasting at a prestigious Port wine estate.
DAY 5—Tapas In Salamanca
Our fifth day on board, we'll leave Portugal for a day in Salamanca, Spain, the university town where Christopher Columbus sought advice before sailing west in search of a new route to the Indies. Salamanca boasts a dozen beautiful and historic churches, including two cathedrals—the new one, built in the early 16th century, and the Old Cathedral, which predates the new one by 400 years.
We'll tour… and we'll dine on tapas—chorizos, cheeses, olive oils, hams…
DAY 6—Medieval Portugal
We'll go medieval on our sixth day together with a stop at Castelo Rodrigo, both the name of a hilltop castle and the village that surrounds it.
I plan to pack my hiking boots so I can get an up-close look at the prehistoric carvings in the area.
DAY 7—Getting Serious
On our final day on board ship, as we near Porto, we'll hunker down for a morning seminar to take a look at a further selection of Portugal and pan-Euro opportunities we like right now.
We'll review everything we've discussed over our week together, answer your questions, and help you consider the next steps to take as you consider diversifying your portfolio and your life into Portugal and across Europe.
I'm equally excited about the touring adventures we'll be enjoying and the company we'll be enjoying it all with. We're keeping the group small so we have the privacy and intimacy to speak freely and openly.
I'm not telling you about our cruise plan to make you envious.
I'm writing because I'd love for you to join us.
Kathleen and I are always looking to increase our inner circle with more interesting and savvy friends. That's where you could come in.
If this sounds like something you think you might enjoy, I encourage you to get in touch now. We reserved room on board the ship for 10 readers to join our group. As of this writing, only three of those cabins remain available.
However, you must reserve your spot over the phone. To do so, contact our team toll-free at 1-877-238-1270.
Lief Simon