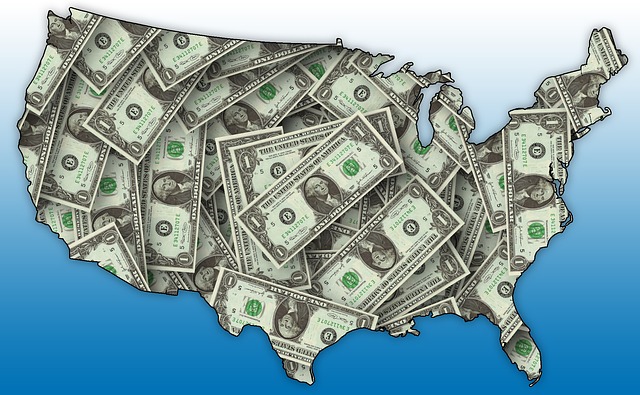 Colombia, Spain, Chile, And Brazil Are Top Property Markets For 2015 Thanks To Surging U.S. Dollar
Strong Dollar Makes These Four Markets Even More Appealing In 2015
The U.S. dollar has been on an upward tear lately after years of decline. As 2014 comes to a close, I decided to take a look at markets where the dollar's current strength has had the most favorable impact on property prices.
As it turned out, a few of my favorite places are having what amount to clearance sales thanks to today's favorable exchange rates. More on that in a minute.
To lay the groundwork, take a look at the dollar's rally this year, as measured by the U.S. dollar index. The index measures the dollar's performance against a basket of weighted currencies, including the euro, yen, pound sterling, Canadian dollar, Swedish krona, and Swiss franc (in descending order of their weight in the index). An index value of 100 is what the dollar was worth when the index began in 1973.
The dollar index shows the dollar's overall trend better than a single country's exchange rate will.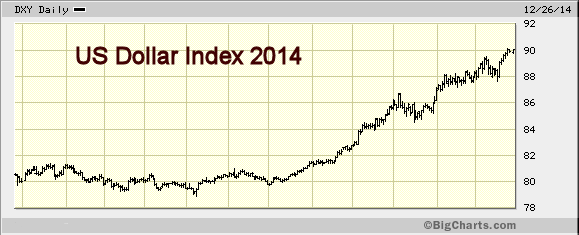 Note the jump in the dollar's strength since mid-2014. (Chart courtesy of Marketwatch.com.)
The gain shown by the index is impressive. But the gain realized by individual currencies can be even better. Let's take a look at a few markets that are benefiting from the U.S. dollar's rally.
All prices are based on a snapshot of prices and listings I took Dec. 26, and the exchange rates were then compared to the start of 2013. The discount I mention is based on a change to exchange rates alone.
Already Undervalued, Colombia Is Now Trading At A 34% Currency Discount
The city of Medellin offers the best lifestyle I've seen for your property-purchase dollar. Even now that the mainstream buyer and traveler are focused on Medellin—and expats are moving there in significant numbers—its negative stereotype of 30 years ago is still keeping prices down.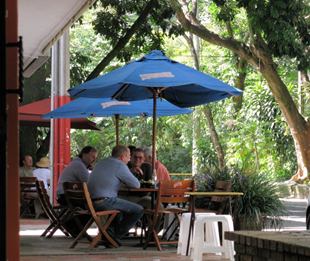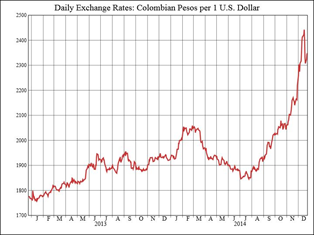 Chart © 2014 by Prof. Werner Antweiler, University of British Colombia, courtesy of Pacific Exchange Rate Service.
In Medellin today, you can enjoy a First World setting, with clean, safe, and shady streets, fine dining, and charming outdoor cafes at prices that we haven't seen since 2006.
The Catay area in Medellin's El Poblado is heavily wooded and has a stream rushing through the area. The apartments are a blend of new and older luxury units. On the market today we found a two-bedroom, two-bath condo with a roomy 125 m2 (1,345 square feet) of living space for an asking price 340 million Colombian pesos. Here's how that works out.

Cali, Colombia, averages warmer weather than Medellin, and some of its neighborhoods offer a great expat lifestyle at prices lower than anywhere I've been in the past two years. The Granada neighborhood is one of my favorites, with its restaurants, cafes, and clubs. Here you can buy a large, 121 m2 (1,300 square foot), apartment with three bedrooms and three baths for 235 million Colombian pesos.

Chile: Latin America's Cadillac Destination Offers The First World For 27% Off
When it comes to a first-rate venue, Chile is at the pinnacle of what you'll find in the Americas. It offers modern, First World infrastructure, a high standard of living, low levels of corruption, a strong economy, and business and entrepreneur-friendly policies.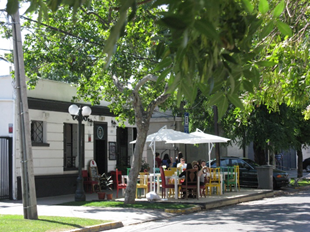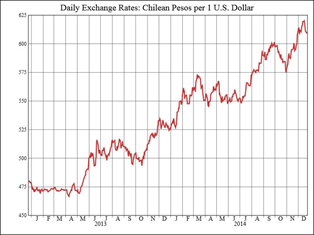 Chart © 2014 by Prof. Werner Antweiler, University of British Colombia, courtesy of Pacific Exchange Rate Service.
And Chile also offers the expat more options for lifestyle than anyplace I can think of. It spans 2,650 miles from north to south and boasts an amazing array of climates and geographic settings. From its sea resorts to small oceanside villages…from the mountains of the lake district to the sophisticated scene here in Santiago…it would be hard to describe a lifestyle that you cannot find here in Chile.
Santiago's Barrio Italia is one of my favorite neighborhoods, with its shady streets and old homes mixed with upscale restaurants, sidewalk cafes, and exclusive boutiques. Just down the street from my apartment, we found a newer condo with two bedrooms, two baths and 75 m2 (810 square feet) of living area. And, importantly in Santiago, it's close to a Metro (subway) station, connecting you to the whole city. It's listed for 174 million Chilean pesos.

Viña del Mar is Chile's premier seaside resort, drawing visitors from all over the country and around the world. (We talked about Viña del Mar last week, and you can read about it here.) In Viña del Mar, we found a three-bedroom, two-bath apartment with 100 m2 (1,080 square feet) of living area and ocean views, listed at 116 million Chilean pesos.

Spain Has Turned Around... And Now The Strong Dollar Is Helping Out
Spain has long been one of the world's most sought-after property destinations thanks to its great weather, relatively low cost of living, and friendly atmosphere. It was hit particularly hard by the last recession, and savvy property buyers have been watching closely for signs of a turnaround.
Now the official data on property sales show that the recovery is in
progress…and buyers and investors are making their moves.
So Spain offers two reasons to buy: It's well positioned for an upside swing, and the dollar has climbed about 12% against the euro since early 2013, giving the U.S. dollar holder additional buying power.
For example, a three-bedroom, two-bath apartment in Barcelona, with 95 m2 (1,020 square feet) of living area, has two terraces for an additional 38 m2 (409 square feet), from which you can enjoy the sea views. The asking price is 170,000 euros.
In the beachfront town of La Cala de Mijas, Málaga, a two-bedroom, two-bath apartment with 85 m2 (915 square feet) of living space plus an additional 129 square feet of terrace is on offer, completely furnished. It belongs to a complex with pools, tennis courts, and a brisk rental market. The asking price is 145,000 euros.

Brazil Now Offers An Additional 33% Advantage To U.S. Dollar Holders
If you've ever dreamed about the romance of Brazil, with its thousands of miles of beautiful beaches, fascinating culture, excellent food, and warm, friendly people, then now will be your best opportunity in years to buy.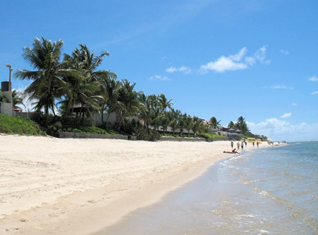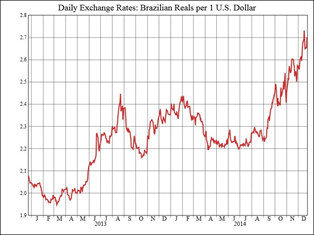 Chart © 2014 by Prof. Werner Antweiler, University of British Colombia, courtesy of Pacific Exchange Rate Service.
Larger than the continental United States, Brazil offers a wide range of climates and cultures. You can live anywhere—from the mountainous wine region in the south with its strong German influence to Brazil's Reggae capital of São Luis in the north with its strong French and African influence.
In between, you'll find hundreds of places to enjoy upscale city living…or a simple rural setting in the vast countryside…or more beach options than anywhere in the world.
Fortaleza is one of my favorite cities, one I often refer to as the "gleaming centerpiece" of Brazil's northeast coast. In Fortaleza's beachside neighborhood of Meireles, there's a 67 m2 (721 square foot) condo on offer, with two bedrooms and two baths. The asking price is 380,000 Brazilian reais.


Maceió is one of Brazil's most popular beachside cities. It's relatively small (by Brazilian state capital standards), but offers everything the expat or second homeowner could want in city amenities. Barra du São Miguel lies just south of Maceió, and here you can buy a three-bedroom, three-bath ocean-view house with 191 m2 (2,055 square feet) of living space, plus a pool and garage. The asking price is 280,000 Brazilian reais.

If You've Been Considering An Overseas Purchase, Now Is The Time To Get Serious
I don't try to predict currency movements and don't encourage people to try to time purchases around currency trends. (Follow the link to see more on currency considerations.)
But let's face it…at the end of the day, buying with a strong dollar will save you a lot of money. While market timing may be impossible to master, there's no use ignoring an opportunity that came knocking.
If you've been thinking of an overseas purchase, now is the best time in recent years to make your move.
Wishing you all the best for 2015,
Lee Harrison
Mailbag
"Lief, I am a Dutch national living part-time Costa Rica and part-time in Europe. I am a firm reader of Kathleen's letters, and I have a few questions for you.
"First, does the Netherlands qualify on the list of countries for Panama's Specific Countries visa? I hold a Dutch passport and a pensionado cedula from Costa Rica.
"I am interested in applying for this visa through the investment in teak you've written about. I would like to know if, after the harvest of the teak, can one plant or build anything else on the land? What about property tax? Are you free to sell it?
"Also, where are the lots located? Would there be a servidumbre to reach these lots?"
J.W.
Yes, the Netherlands is one of the 50 countries on the Specific Countries visa eligibility list.
After the initial harvest, you could work with the developer to plant more teak. Or, yes, you could sell the plot if you preferred. The piece of land in question is small enough that there would be no property tax.
The plantation is located in Panama's Darien region. Yes, you would have road access.
You can request more information from the developer directly here.