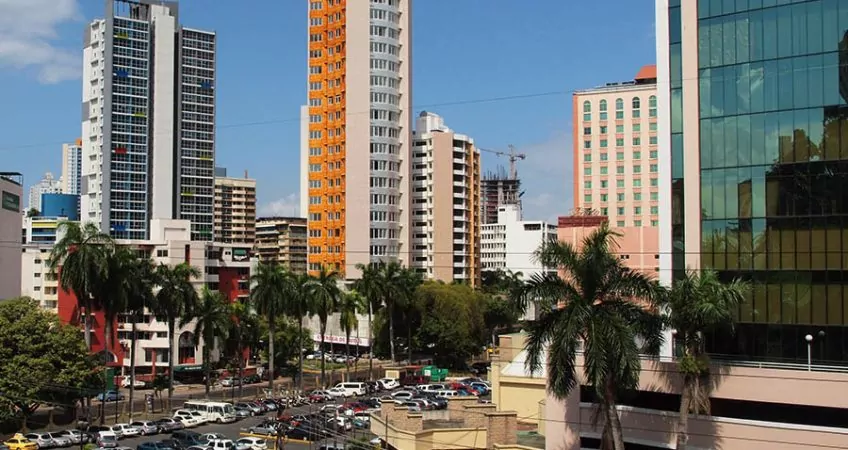 Why Panama's Economy Is In A League Of Its Own
Panama Has These Three Things Going For It
"If you want to grow, you have to go to a place that's growing."
–Panamanian businessman Jose Bern

"Panama has three things going for it—location, location, location."
–Expat investor David Stubbs
"What's the first word that comes to mind when you hear 'Panama'?" expat-investor David Stubbs asked the crowd in Panama City yesterday morning.
"The canal, right?
"Second, you probably think hats… although Panama hats are made in Ecuador…
"And, third, today, you probably think 'Panama Papers.'
"Mossack Fonseca is a highly successful firm that made a huge amount of money selling offshore companies. They are now being investigated for criminal intent.
"Unfortunately, the whole ordeal has been dubbed the 'Panama Papers.'
"It could as easily have been called 'Scandal Papers'… or 'British Virgin Island Papers'…
"Mossack Fonseca's headquarters are in Panama, but the firm has offices in dozens of countries (including the BVI). All the attention from the ongoing scandal, though, is focused on Panama, and this country is going to have a tough time living this one down.
"That's the bad news.
"The good news, frankly, is just about everything else to do with Panama's economy.
"Why should an expat or investor care about the economic situation in the country where he's interested in living or investing?" David continued for all assembled at Panama City's Marriott Hotel for this week's Live and Invest in Panama Conference.
"I'm British," David continued, "but I've been living outside the U.K. for more than 30 years, and I can tell you, based on that long experience as both an expat and a global investor, that there are four reasons to care about the economy of any place where you plan to spend your time or money:
Infrastructure investment—countries with strong economies typically reinvest in their infrastructure…
Safety—countries with strong economies typically have lower crime rates…
Job creation—because lack of job creation can mean disenfranchised youth…
Future real estate values—contributing to your return if you invest in a piece of property…"
We remind you often that Panama's economy is strong. Wednesday morning, David showed all of us in the room just how strong.
Panama's GDP is more than US$45 billion. Its per-capita GDP is US$11,000, way ahead of every other country in Central America.
The country's economy has been among the fastest-growing in the Americas every year since 2005. Between 2005 and 2013, the country averaged growth of 8.5% per year.
The Panamanian economy is, simply, in a different league than that of any other country in this part of the world.
The cornerstone of Panama's ongoing and enviable growth is the Panama Canal. For the past 17 years, the Panamanians have run it successfully, impressively, and profitably.
This month, this country completes the canal expansion that they've been hard at work engineering for the past eight years. The new locks that will open officially June 26 will mean more ships, bigger ships, more crossings, bigger revenues.
And it's not only canal revenues that are driving Panama's expanding economy. The ripple effect of the canal is, like the canal itself, big business, creating more revenues for this country's ports, shipping, logistics, and maritime registration sectors.
In addition, Panama has for years been enjoying tremendous foreign direct investment (FDI)… to the tune right now of 9% of the country's total GDP. This is coming from all over… from elsewhere in the region, from North America, from Europe, from Russia, from China, from the Middle East…
The whole world recognizes Panama for the safe haven it is.
Safe Haven With Upside
Foreign direct investment inflows into this country surpassed US$5 billion in 2015, a sizable bet by foreign companies on the future of this small country. Big companies from around the world taking advantage of Panama's open-door policies and incentive programs include Maersk Line, Halliburton, P&G, Dell, Caterpillar, Sinpopec… a total of 68 so far.
Both previous President Ricardo Martinelli and current President Juan Carlos Varela published action plans upon taking office. Martinelli fulfilled on his in full, and Varela is pushing hard to achieve his goals. Between the two programs, a total of US$38 billion has been and is being invested in infrastructure projects across the country.
That's the equivalent of an investment of US$11.4 trillion in the U.S. economy.
Panama has set an aggressive agenda. This country wants a place on the world stage. It wants to be the new Singapore.
Following World War II, Singapore was decimated. The country had no economy, no money, no resources, no water… only people willing to work hard.
Today, a generation-and-a-half later, Singapore is one of the most developed nations in the world, a First World country with a living standard that is way above that of the United States. Singapore is a dramatic success story that has a lot to do with logistics and transportation.
Mark our words: It won't be many more years before Panama is recognized as an even more dramatic success story.
You have to look very hard to find a country with better economic fundamentals.
If you're in the market for opportunity of any description, this is a good place to focus your search.
Kathleen Peddicord