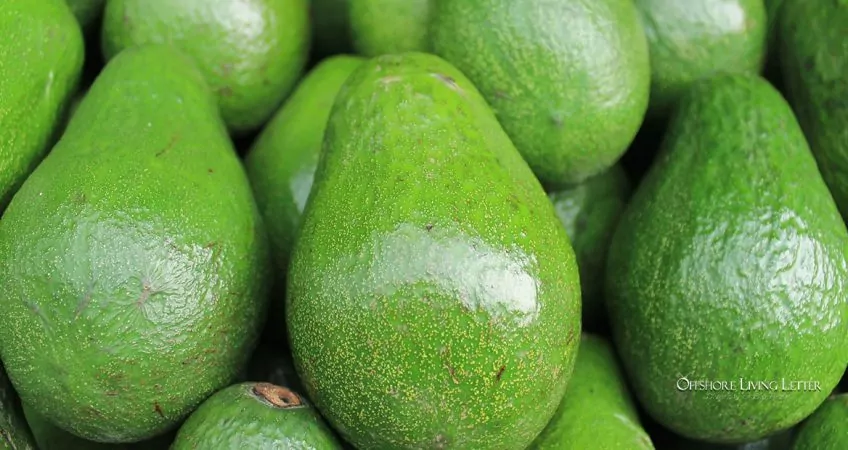 Turn Your Organic Investment Opportunities Into Riches…
Organic Riches—This Is The New Plastic
"One word: plastics."
That's the infamous quote from the equally infamous 1967 movie The Graduate.
Had you listened, even a modest investment in companies that contributed ingredients to the petroleum-based product would have made you a millionaire a couple of decades later.
Investors are continually searching for the new "plastic." Two decades ago, they found it in the internet. A decade ago, it was social media. Today, it's actually simpler: organics.
Those who got in early on this idea have made a fortune. But the industry is still in its infancy, and penetration levels for organic food are still trending strongly in the right direction.
In the past, the easiest way to invest in the organic food sector was to buy stock in a specialty supermarket company like Whole Foods (Nasdaq: WFM) or Sprouts Farmers Market (Nasdaq: SFM). But investing in either company has been disappointing lately. This recent result could lead one to believe that the opportunity is now over. That may well be true for the retailers of organic produce, but it couldn't be further from the truth for the growers and suppliers. For the growers, the boom is just beginning. How so?
The Organic Investment On The Coming Boom
Consider why the profit margins of Whole Foods are declining. It's not because fewer people are buying organic produce. It's because fewer people are buying organic produce from them! Today, you can buy organic products at Wal-Mart! The market is expanding dramatically. And that bodes well for farmers, especially those who are farming in less expensive parts of the world and still meeting U.S. Department of Agriculture guidelines.
I found one such opportunity very recently. I was in Panama to research the organic farming business. It's really beginning to take off there…
The weather and soil are ideal. Drought is never an issue in a country where rainfall is abundant. Farmland is cheap. Labor is cheap. And as Panama is a major global port that straddles the Panama Canal, all the world is accessible from this small, politically stable country.
Once known for its tax havens and seedy brothels, Panama is becoming a much more diversified country. It has little choice in the age of digital footprints that capture money flows instantly.
While in Panama, I spent many hours visiting organic farming operations. These operations are open to retail investors looking to capitalize on this industry. Many of these farms are still in their infancy, with actual delivery of produce slated to occur within one to five years, depending on the fruit.
The operations have been USDA-certified as organic farms. This means their foods meet or exceed the same standards as those foods being sold on U.S. store shelves today.
Thanks to advanced farming techniques and rich farmland, crops like avocados, limes, guavas, and mangos thrive in Panama. Down there, crop yields are often higher than those of similar organic operations in the U.S., where costs are higher.
Organic produce fetches much higher prices than non-organic produce. And that makes for even higher margins in low-cost areas. For example, let's take a look at avocados. As you can see from the chart below, organic avocados fetch much higher prices than the non-organic variety at the retail level.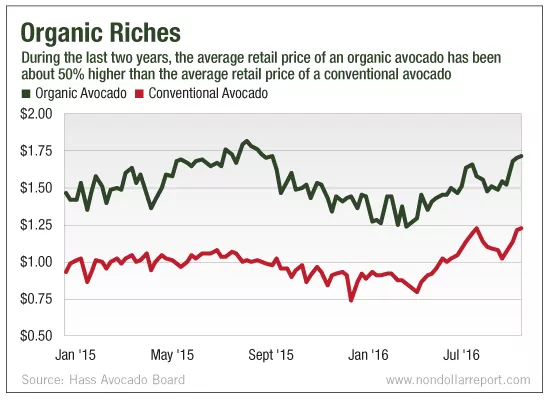 Organic farmers in Panama are selling avocados for about US$0.76 each right now, which gives the retailer pretty fat margins, even after the distributor's take. Of course, prices fluctuate, and you want to focus on produce that is attracting growing demand, like the avocado.
Here is a line item from Fresh Del Monte's (NYSE: FDP) most recent earning release:
Avocados – Net sales increased 47% to US$67.1 million, compared with the prior year. Volume increased 5%. Pricing increased 41%. Unit cost was 46% higher.
Those are very attractive numbers!
While in Panama, I met with the principals of several operations. And frankly, while I think the operations and opportunity are excellent, you really need to deal with people who are in Panama full time and do your due diligence.
You can get involved in these ventures for less than US$50,000, which buys you a couple acres of a much bigger operation. The land is titled to you, and the returns are projected to go into the double digits and continue for decades.
The founders of Live and Invest Overseas are my local contacts on the ground. They've been following this opportunity since its inception and are well-versed in all the nuances. If you're interested in diversifying your investments into organic agriculture, they're the folks you need to contact. Get in touch here for more information.
Good investing,
Karim Rahemtulla
For The Non-Dollar Report