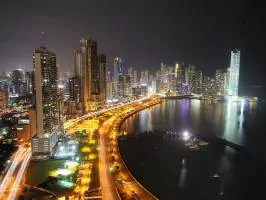 Panama Is One Of The World's Top Offshore Havens, Tax Havens, And Property Investment Markets
The Case For Panama Is Stronger Than Ever
"Panama City today is unrecognizable from the Panama City I discovered for the first time 16 years ago," I explained this morning to the crowd convened for this week's Live and Invest in Panama Conference.
"This city has reinvented itself over the past decade-and-a-half. When I arrived on the scene 16 years ago, this was a country in recession. Today's Panama is booming, and its capital is a bona fide boomtown. Development and investment leveled off post-2008, but Panama didn't see anything like the downturn that other countries in the region, including Costa Rica and Nicaragua, for example, suffered and nothing like the collapse that continues to play out across Europe…"
No question, Panama is an economic powerhouse. If you're an investor or an entrepreneur, that fact gets your attention. However, if you're considering Panama for retirement, for escape to something sweeter, simpler, and safer with a young family, or for otherwise reinventing your lifestyle, you might wonder: What does the economy matter to me?
"I don't care why you're here this week looking at Panama," expat-investor David Stubbs told the room full of Live and Invest in Panama Conference attendees this morning. "Whatever your interests in Panama, the economics of the country are important to you. Even if you're just here for a vacation, this is stuff you should be aware of. Certainly if you're here to invest, to start a business, or to open a bank account, this data is vital to your decision-making process."
Why Care About Panama's Economy?
Why, specifically, as a foreign retiree, expat, investor, or entrepreneur, should you care about a country's economy? Because, as David explained, a country's economy directly impacts:
Infrastructure. The infrastructure in Panama (not only Panama City but across the country) is very good, certainly relative to much of Latin America. Reliable internet, phone, water, stable electricity… you can take these things for granted throughout this country. Panama can afford to keep these utilities up…
Safety and job creation. A strong economy means low unemployment. Low unemployment means less crime…
Future real estate values…
Future foreign investment…
What's driving the Panamanian economy? Primarily the Panama Canal. Without the canal, this country would not be what it is today. In addition, Panama benefits from Panama City's growing financial services and banking industries, and Panama overall is an increasingly popular tourist and shopping destination. Now, instead of flying up to Miami to eat, play, shop, and drop some cash, South Americans with money come to Panama, which is much easier to get to and to get into than the United States.
As a result of all of this, Panama's economy has been on a tear, growing by an average of 8.5% per year every year for the past 10, making it the fastest-growing country in the region by a wide margin. Foreign direct investment is up every year and currently almost double the average for the region, while unemployment is down (currently about 4.2%, which translates, more or less, to full employment). By contrast, foreign direct investment is shrinking in neighboring countries, while unemployment is rising elsewhere in the region, including in Nicaragua, Honduras, and Costa Rica. In 2009, the World Economic Forum Competitiveness Index ranked Panama at 58; in 2014, it ranked Panama at 40.
Panama's debt was 36% of domestic gross product in 2014, compared with 70% in 2004. This reduced debt burden has led to improved credit ratings for the country.
Right now, Panama is among the top 10 worldwide for:
Foreign direct investment
Mobile phone subscriptions
Quality of air transportation
Quality of port infrastructure
Soundness of banking system and accessibility of financial services
Panama's Impressive Growth
The country's impressive commitment to growth began with former President Ricardo Martinelli, who, during his two terms in office, undertook one mega-infrastructure project after another, and continues today with current President Varela, who plans to invest a further US$19.5 billion in public works projects, including a next phase of the new Panama City metro and a fourth bridge over the Panama Canal.
Looking ahead, where will additional growth come from for this market? David highlighted two opportunities for the group in the room in Panama City this morning:
Tourism. Panama is too small for mass tourism (this country will never be France), but it can leverage its geography (two coasts, lots of islands), its history (pirates, gold route, Spanish, French, and American influences), and its infrastructure to be very competitive as a tourist destination in the region. Tourism is growing, but this part of Panama's economy remains under-developed.
Logistics. Since taking control of the Panama Canal, this country has seen three important related milestones—dramatically increased tonnage, prices, and revenues, primarily as a result of reducing transit time from 33 to 23 hours. The Panama Canal returns around US$500 million to the national treasury every year. After the Panama Canal expansion (expected now to be completed in 2016), that figure will increase to more than US$1 billion per year. In a country this size, that's a lot of money. The ripple effect from this related to the logistics industry is big and growing.
The group convened with us to discover Panama this week is diverse—retirees looking for ways to live better for less, families with young children looking to opt out early, investors shopping for diversification, entrepreneurs hoping to stake their claims in this boom-time marketplace…
The very good news is that Panama has a great deal to offer them all.
More tomorrow…
Kathleen Peddicord
Mailbag
"Lief, I would appreciate your input regarding the requirement in Colombia when opening an account, for example with Global Securities or Alianza. They are requiring a copy of the initial pages of my tax return. Is this a common practice? Just in Colombia? Is there a [legal] way around providing a copy of one's tax return?"
J.C.
Unfortunately, this is the reality in today's world. Banks are asking for more and more information about potential account holders as part of ever-increasing Know Your Client requirements. You aren't going to escape this anywhere.