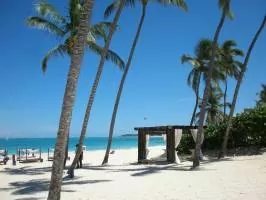 Opportunities For Investing In Real Estate And Starting A Tourism Business In The Dominican Republic
Heads Up, Property Investors And Expat Entrepreneurs—This Caribbean Market Is Ripe With Opportunity
I'm in the Dominican Republic this week for our Live and Invest in the DR Conference, which kicks off Wednesday in Santo Domingo. I arrived early to give myself time to check out Punta Cana, which I haven't seen in 10 years. This is the easternmost tip of this country, with 32 kilometers of white-sand Caribbean coast, prime for development. And, indeed, the region has developed since I was last here a decade ago. Punta Cana is growing up to become Cancun-light.
The white-sand beaches are lined with all-inclusive resorts and condo complexes set up as rentals, and the streets behind the beaches are lined with strip malls, restaurants, and shops, plus adventure parks and other entertainment options. Not my scene at all, but a typical vacationer's paradise. I wouldn't suggest thinking about living or retiring here, but expat entrepreneurs and investors should take note. Opportunity abounds in this big, established, and continually expanding tourism market.
The easiest way to take a position would be to invest in a tourist rental property. The condo complex where I'm staying was designed specifically for this purpose. The development sits just back from the beach (it's about a 35-meter walk), and units rent for reasonable rates.
I'm spending today and tomorrow with local real estate agents who will be taking me to see as many different rental investment options as I have time for and helping me to understand how the numbers work for rental returns.
Dominican Republic's Tourist Market
I'm impressed by the diversity of the Dominican Republic's tourist market. Three planes landed at the international airport at the same time I arrived—one from Europe, one from Panama, and my flight from New York. The Dominican Republic has long attracted beach-lovers from Europe and South America. North American holiday-goers are a more recent addition to the mix.
As more Americans discover what the Dominican Republic has to offer (quintessential Caribbean sand, sun, and fun for bargain prices compared with elsewhere in the Caribbean), tourist numbers should continue to grow.
The DR attracts a diverse tourist population and offers diverse tourism options. In addition to Punta Cana (which I see as a less crowded alternative to Cancun), the Dominican Republic has the Samana Peninsula, specifically Las Terrenas, which offers an entirely different white-sand experience. Las Terrenas is a charming beach town with Euro-chic undertones. This is a good option not only for a tourist rental investment, but also if you're looking for a place to live or retire in the Caribbean. Las Terrenas is home to a sizable expat community.
The country's northern coast offers more resort options around Puerto Plata and more Caribbean lifestyle choices slightly to the east around Sosua. Then there is Santo Domingo, the first permanent settlement in the New World and the Caribbean's only medieval Spanish city. Santo Domingo's extensive colonial zone offers, again, interesting options for both investment and lifestyle. I enjoy Santo Domingo's old town in part because it has yet to be populated with expats like Cuenca in Ecuador.
My point, which is being strongly reinforced this return trip, is that both the real estate investor and the expat entrepreneur should be paying attention to what the Dominican Republic has to offer. I'm looking forward to digging deep into the opportunities available here right now with the help of our in-country contacts, all of whom will be joining me in Santo Domingo starting Wednesday morning.
If you're making your way to the island to be in the room with us, I'll see you soon.
Lief Simon
Mailbag
"Lief, you wrote recently about aggressive anti-money-laundering efforts under way around the world. Is this a problem moving overseas? How about sending money to a bank in another country in hopes of making a home purchase or a business purchase?"
G.M.
You should confirm in advance that the bank where you're sending the funds will accept the transfer. In other words, yes, the current very aggressive global anti-money-laundering agenda can interfere with the kinds of transfers you're suggesting. The bigger the amount being transferred, the greater the chance of a problem.
You should be fine sending funds to your overseas attorney or directly to the developer you're buying from (though the latter creates new risks to do with how much you can trust the developer you're buying from). In either case, any challenges associated with accepting the funds become the concern of the party you're sending the money to. It's on them to make sure their bank accepts the transfer.