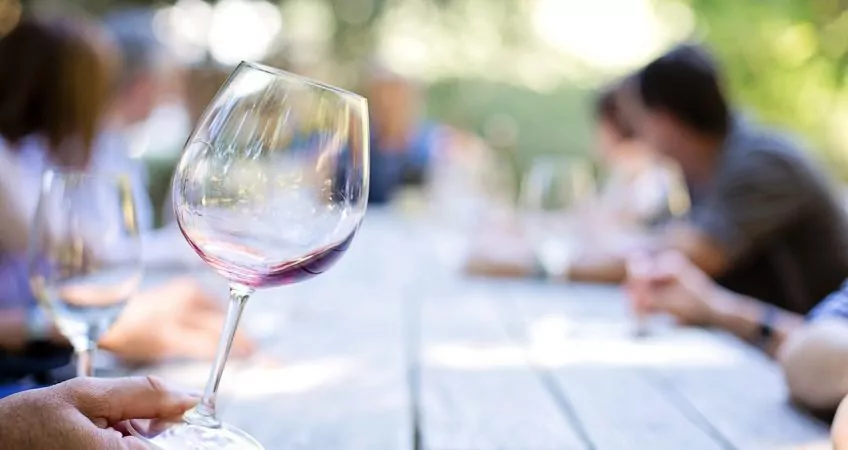 Investing In Wine Futures For Diversification (En Primeur)
Wine For Fun And Profit
I spent the night in St. Emilion this week and was tempted to invest in 2014 primeurs of some of the better Bordeaux chateaux, as I've done in the past.
Chateaux big and small presell their wine from the previous year's harvest. The grapes are picked in September, crushed into juice, and dumped into vats (OK, there's more to it than that, but that's the gist). Then, before the wine is moved from the vats to bottles, the majority of production is presold as primeurs, or wine futures.
Your preordered wine is delivered to you once it's been bottled. Typically, Bordeaux wines spend two years in the vats, so you'd expect delivery of 2014 primeurs in 2016 or early 2017.
As I said, I was tempted to invest, but didn't have time to go into each wine shop in St. Emilion to see what they had available. The wine is sold through brokers authorized by each chateau. Not every broker has every label available, and they can sell out of the big-name chateaux quickly.
Purchasing Primeurs
I last purchased primeurs in 2005 and 2006. At the time, 2005 was being touted as an exceptional year. I happened to be in St. Emilion, so I bought several cases as an investment. A couple of years later, I got an email from the girl who sold me the wine asking where I wanted mine sent… and requesting payment for the VAT. You pay the product price when you purchase, the VAT when you take delivery.
I was so encouraged by the experience that I decided to invest again in 2006.
However, in 2006, I wasn't able to travel back to St. Emilion, so I went online and placed my order through a French wine website offering a wide variety of primeurs from the best Bordeaux chateaux.
This experience did not go as well as the first. The site was too big and too successful. They oversold. When it came time for delivery, they didn't have enough allocation from many of the chateaux to cover what they'd committed to.
Long story short, I didn't get all of my 2006 primeurs, and I recently learned that the website has gone into liquidation. I'm not likely to get any compensation for the missing bottles. The purchase price for the nondelivered wine wasn't much; however, many of the wines I bought but didn't receive have more than doubled in value… which was the point. I made the purchase as an investment.
In 2008, we moved from France to Panama, and I haven't had time these past several years to think about investing in wine futures. Plus, after getting burned by the fancy French website, I wasn't as interested in the idea… until Kathleen and I returned to St. Emilion this week.
You can't walk around this medieval World Heritage Site village soaked in the history and culture of stomping and pressing grapes into wine without wanting to buy some of it. Down every cobblestoned street and around every white stone corner is another wine vintner or vendor. A handful of small chateaux are located right in or just outside the town. Travel any direction down any road leaving town, and you'll discover more vines, more centuries-old chateaux, and more opportunities to sample, to purchase, and to invest.
With So Many Options The Question Is, "What To Buy?"
You don't have to go far for help answering that question. Everyone you meet in St. Emilion knows wine and can make suggestions, depending on your tastes, your budget, and your objectives.
The girl in the shop where I bought in 2005 was fantastic. I followed her recommendations, and every one of the primeurs and other wines I bought from her that year have appreciated well. They've all doubled or tripled in value.
And the 2006 primeurs that were delivered have appreciated more than enough to cover the loss from the ones not received.
Buying wine strictly as an investment is a crapshoot. The obvious variables are the vintage and how well it ages. In addition, you have locational pricing differences and transportation and storage costs (if you don't have a cave in France).
However, as a hobby, buying primeurs and holding them until they are ready to drink is a great idea that comes with the possibility of upside. Of course, in many cases you end up drinking your profits…
In my case, many of my 2005 bottles will be served at my daughter's wedding, taking place here in France in less than three weeks' time. I'd say that's the best investment of all.
If you're interested in wine as a hobby-investment, here's a good place to go to get started.
Lief Simon
P.S. These two months in Europe this summer, I'm looking at "investing" in wine but also considering best current options for investing in real estate in key markets as well as banking choices that still make sense in this post-FATCA, anti-money-laundering age. I'm finding lots of opportunities.
Mailbag
"Lief, I have been a recent subscriber to your Offshore Living Letter and am grateful for the content being provided. I have been a longtime reader to the Live and Invest Overseas newsletter. I really appreciate the information being provided there, as well, as I hope to avail of the information and relocate overseas in the near future.
"In your letter recently, you mentioned that you are looking for a good banking jurisdiction due to banks in your current areas shying away from accepting or transferring U.S. dollar funds due to FATCA.
"I am suggesting that you try Singapore, if you have not already done so. Their banks have a good reputation and are well capitalized. Singapore is also one of the major financial centers of the world and highly developed in every way.
"I hope my little contribution will help you."
U.F.