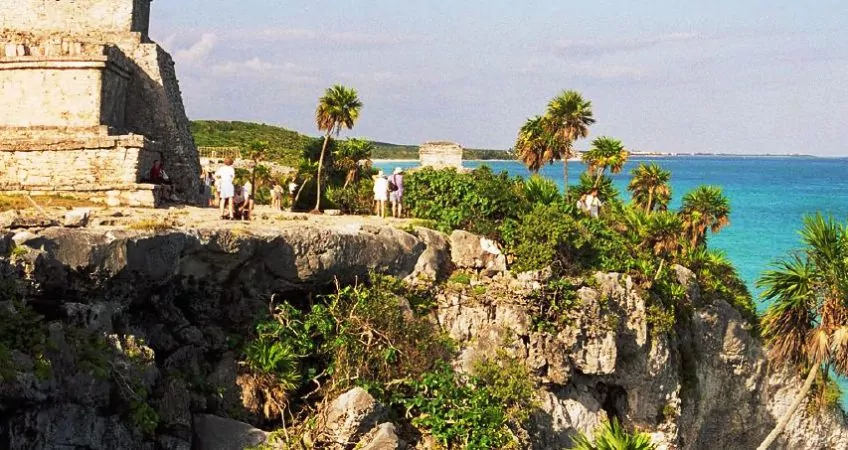 Best Place To Invest In Mexico's Riviera Maya? Think Tulum!
I'm More Bullish On This Coastal Market Than Ever For These Three Reasons
I've just returned to Panama City following our Live and Invest in Mexico Conference in Tulum this week. It was my first visit to the Riviera Maya region in four years.
Most everything is as I remember it… the beach, the water, the palm trees… with three important differences.
First, the value of the peso is way, way down. It's fallen to 19 to US$1. Americans have more buying power in Mexico right now than they've had in a decade.
Second, there are many more direct flights to this part of Mexico. You can fly direct to Cancún today from most every major U.S. city. Seven direct U.S. flights were arriving at the international airport in Cancún at the same time as our flight from Panama City.
The third big change in this region since my last visit four years ago is to do with the volume of tourists. It's up sharply. I'm speaking not only of North American tourists but also and more so of Mexican tourists.
Mexico has been developing its Yucatán peninsula since the 1970s, when it first had the idea to turn a strip of sand on the northeast coast of this peninsula into a vacation destination. Thus was born Cancún. Today, Cancún is one of the world's best known beach resort towns and has evolved into a kind of Las Vegas on the sand. Billboards we saw everywhere touted Vegas-like entertainment options, including a Cirque du Soleil show.
All this fun in the sun is attracting not only more holiday-makers from North America and Europe than ever but also from elsewhere in Mexico.
Riviera Maya, Mexico Now More Attractive Than Ever
The other thing attracting more tourists than ever, both foreign and domestic, is that this region has remained well outside the country's trouble zones. Local holidayers, especially, recognize that Cancún and the Riviera Maya are safe and separate from any drug cartel activity.
All these local tourists are also becoming investors, broadening the real estate market. This is a very good thing for the real estate investor, as it means a wider pool of potential buyers when you eventually decide to resell.
Over the years, the Mexican government has worked to push development south, as the level of investment and the volume of tourists being attracted to the peninsula has continued to increase. Travel along the well-paved road from Cancún south and you come first to Playa del Carmen and then, a bit farther south, to Tulum. Playa del Carmen is a fully fledged beach destination. Tulum is more emerging but growing very quickly.
The path of this progress has ventured south beyond Tulum but not with great success to date. South of Tulum, the scene becomes more rugged and even off-grid.
A friend who joined us on the Riviera Maya this week has long personal investment experience here. She's bought lots both in Tulum (in the jungle) and farther south in Mahahual (on the beach), both of which she's now considering selling.
The Mahahual lot was purchased 15 years ago.
"I might get my money out of it if I sell it now," she told us.
Investing In Tulum, Mexico
Meantime, the Tulum lot has appreciated nicely and could be sold for maybe three times what our friend paid for it about a dozen years ago.
"This area around Tulum," she explained, "is a bubble right now. There's so much activity, so much interest. I think I could make even more money if I invested in building a home on my lot, rather than selling it undeveloped. People want turn-key, and the return on investment in construction can be huge…"
International tourists, local tourists, government investment, foreign investment, strong track record, lots of English-speaking workers, and excellent infrastructure all make for a great market for real estate investment.
Net rental yields (before taxes) in some markets—Puerto Vallarta and Playa del Carmen, for example—are pushing into the double-digit range. Elsewhere, you can find decent net yields—that is, in the standard range of 5% to 8% per year.
One thing to remember when shopping for a property purchase in this country is that property in the tourist and expat areas is priced in U.S. dollars. This means you aren't necessarily benefitting directly from the weak peso when investing in some Mexican real estate markets. However, rental prices are typically also in U.S. dollars in these same markets, meaning your exchange-rate risk is mitigated.
And your expenses—associated with utilities and maintenance, etc.—will be in pesos, helping your net yields right now.
If you're more interested in living in Mexico than investing here, as many who attended our conference this week were, you'll be delighted to hear that the weak peso means living costs are about two-thirds what they were a few years ago in U.S. dollar terms… at least outside the resort spots. Go local, to places charging in pesos rather than dollars, and your U.S. dollars go a long, long way.
One big benefit of the long history of North Americans coming to the tourist spots in this country is that it's easy to find locals who speak English… which attracts more North Americans looking to invest and retire here.
In addition, Mexico makes it easy to spend time in the country as a part-time resident. Nationals of most countries can stay up to 180 days on a tourist visa. Leave the country for a day and you can return as a tourist for another 180 days… or you can simply extend your stay from within the country for a small fee.
¡Viva Mexico!
Lief Simon
Mailbag
"Lief, I have seen several websites that list Nicaragua as a country that will use the apostille process for residency requirements. I have also seen just the opposite that Nicaragua is not part of The Hague list. Can you please advise on this?"
C.W.
Nicaragua isn't part of The Hague Convention. However, they did sign on to the apostille section of the convention in 2012. This went into effect for them on May 14, 2013.
In other words, at one point an apostille wouldn't work in Nicaragua, but it does now. Unfortunately, it seems even some Nicaraguan attorneys aren't aware of this change.