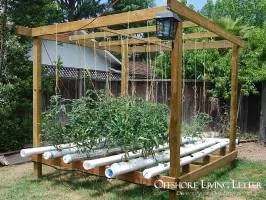 How To Live Self-Sufficient In Today's World
How To Live The Self-Sufficient Life
The World Climate Summit ended Saturday with a general agreement among 195 countries for a plan to limit greenhouse gas emissions. The goal is to keep global temperatures from rising more than 2 degrees Celsius.
Maybe the agreed reductions in emissions will allow the world to meet that target. Maybe they won't. No one can be certain.
One thing that is certain is that the focus is still on carbon emissions as the biggest threat to global warming. Few people are paying attention to other human activities also believed to be affecting global weather.
What about methane gas emissions from all the livestock grown for human consumption, for example? Some guys made a documentary about it—Cowspiracy.
What about the emptying of groundwater aquifers for irrigation in places like the U.S. Midwest? Parts of the Ogallala aquifer in Oklahoma are expected to continue pumping out water for only another few years. One study concludes that it will take 6,000 years to recharge the aquifer to pre-irrigation levels.
I grew up in Phoenix, Arizona, and I remember a visit to a natural history museum when I was a kid when the guide told a story about a guy in the late 1800s whose job it was at Fort McDowell (a cavalry fort) to go out and harvest the marsh grasses to feed the horses. Marsh grasses in the desert? Yep. The groundwater was so high that, at certain low levels, the water just seeped out of the ground.
Today, the groundwater in the Phoenix area is all but depleted… yet people keep moving to the desert.
Whether it's global warming wreaking havoc with weather patterns or vast swaths of productive land becoming unproductive due to lack of water for irrigation, food security is going to become a priority concern worldwide over the next decade.
That's why about six years ago I began buying up parcels of land that could be farmed in different countries. Most of these are small pieces but big enough to support the production of enough food for me and my family. We have an acre of land in Croatia, with olive trees and vineyards all around. In Panama, we have several agricultural parcels, some we own independently, some part of bigger plantations of mangos, limes, and avocados. On the 10 acres we purchased in Belize last year we're planting hardwoods and fruit trees and plan to install an aquaponics system in early 2016.
The trouble is that, while I've accumulated various pieces of land to be able to grow my own food and I owned and lived on a small farm in Ireland (where I paid someone to take care of the animals and to cultivate a kitchen garden), I don't know much of anything about growing food or farming.
Learning About Self-Sufficiency
This year I decided to begin to remedy that. I spoke with a friend in Belize who has become an expert in these things. Con is helping with the tree planting and the installation of the aquaponics system on the land we own in Cayo, and he's working with me to put together a kind of master plan for the most efficient use of our 10 acres.
In addition, Con has created a package he's calling a Farm In A Box. This is a turnkey option for anyone interested in becoming more self-sufficient. The aquaponics system I'm installing on my property in Belize is a piece of this Farm In A Box program.
The more I work with Con the more I realize I don't know, so I asked Con if he'd spend time training me, showing me how to manage the aquaponics system, for example, and introducing me to other self-sufficient ideas and options. This conversation about a one-on-one training session with me has evolved into a training seminar that Con has agreed to make available to others also interested in learning how to be self-sufficient. Con is offering the first seminar Jan. 22–24, following our Live and Invest in Belize Conference. The timing is to accommodate Kathleen and me, as we'll be in the country anyway for the conference.
The first day of Con's Self Sufficiency Seminar will be spent in a classroom setting. Con has invited experts in agriculture and farming as well as solar and septic options for self-sufficient housing to address the group. On Day 2, we'll take a tour to see housing, farming, and aquaponics options live and in action.
While I think Belize is a great option for building the infrastructure for a self-sufficient lifestyle, this program Con has conceived could be applied anywhere… even wherever you are living now. The surprising thing is that current technologies can allow you to grow enough food to support your entire family on very little land. Even if you're living in an apartment, you could grow at least some of your own food.
I'm looking forward to gaining the practical knowledge for how to be self-sufficient and to beginning, in 2016, to develop my personal self-sufficiency infrastructure. You can join Kathleen and me in Cayo, Belize, in January if you'd like to be better prepared yourself.
Lief Simon
Mailbag
"Lief, I'm a U.S. citizen, currently resident in Belmopan, Belize. I file and pay my taxes to the IRS. However, legally, the U.S. government is not allowed to tax me.
"You see, I have no representation in the United States. You might recall that we fought and won a war, some years back, against taxation without representation."
R.R.
Believe what you like but keep sending in your tax forms every year. Otherwise you'll find out quickly what legally or illegally the U.S. government can do to you.