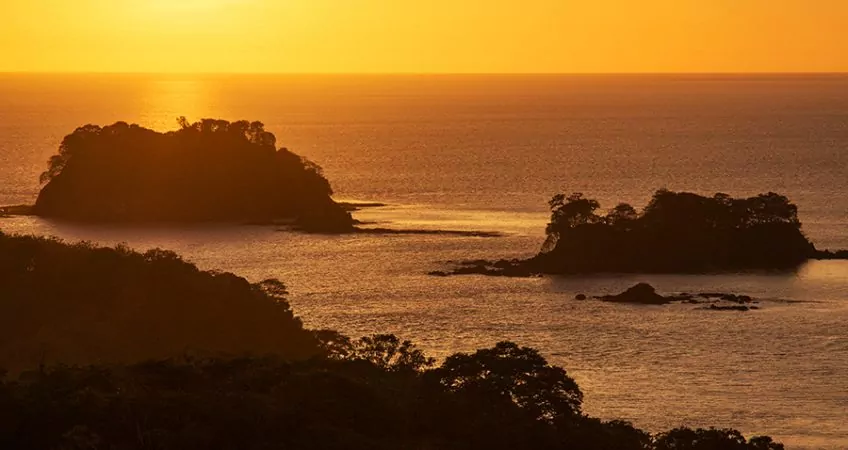 Financing Available To Purchase At Los Islotes On Panama's Azuero Coast
Join Me On Panama's Premier Coast (And Finance The Purchase)
Earlier this month, our first Live and Invest in Panama Conference of 2014 had concluded, I led a group of 30 interested parties out to the west coast of the Azuero Peninsula for the weekend. We were all making the trip to enjoy a couple of days at the beach but also to tour my Los Islotes development. For most of the group, it was their first time seeing Los Islotes in person; for me, it was my first visit of this New Year.
Our collective reaction? Wow.
Project Manager Gary Moseley and his crew hit the ground running this dry season. Since the first of the year, Gary and his team have been cutting roads, expanding access (both to the property and to the beach), digging trenches for underground cables, adding drainage, and constructing bridges. They've built an open-air bar and bar-b-que area so now visitors can enjoy meals and cocktails in comfort. And they've begun to clear building sites, because very soon we'll break ground on the first houses. 2014 is going to be a very big year for Los Islotes.
Thanks to the new and improved access, our group was able to crisscross the property, on foot and in vehicles, and to walk both beaches. At low tide, some of us walked out to explore the islands just offshore that lend the property its name. After wandering around the islets in search of wildlife (we saw crabs, pelicans, parrots, and lizards…sometimes you can also see whales and dolphins in the sea just beyond), we all headed back to the Rancho for lunch. It was one of the best days I've spent at Los Islotes to date, and I'd say that every visit from here on out is just going to get better and better.
A few in our group had already made investments in Los Islotes and were along to check on progress. Owners Peg and April, for example, last on the property before Phase 1 roads were in, were excited to be able to drive to their lots and discuss their building plans with our local architects. Their vision for their future at Los Islotes is becoming reality.
And so is ours. We will start construction of our Founder's Lodge this month. This will be a Spanish colonial-style clubhouse for owners and visitors, with a great room, a dining room, four guest suites, a pool, and a bar-b-que area. In just a couple of weeks, Kathleen and I, along with our children and some friends, will gather with the local mayor, our architects, our contractor, Gary, and his crew to throw the first shovelfuls of dirt and to drink a toast to commemorate this turning point for Los Islotes.
Indeed, Los Islotes is entering a next phase of development. We have moved beyond drawings and plans to infrastructure and construction. Which means it's time to raise prices.
All prices for ocean-view lots will go up starting March 15.
If you've dreamt of waking up each morning to Pacific Ocean views enjoyed from the comfort of your own home in a private beach community, then Los Islotes could be calling your name. I'm hardly unbiased, I realize, but I have to say: This is the most beautiful stretch of coast I've seen anywhere in the world in all these many years of scouting.
And this is the last time you'll have the chance to become part of the community we're developing on this beautiful coast at current Phase 1 prices.
Reserve a lot before March 15, and you can lock in the current price. You'll then have 30 days from the date of your reservation to visit the property if you'd like before completing a purchase agreement. That timing works well if you'd like to join us for our next tour out, which is scheduled for April 12-13.
You can also still avail for a limited time of developer financing, which allows you to buy with 20% down and 0% interest, with the balance paid over 36 months.
The Los Islotes Sales Director and his team are standing by to tell you more and answer your questions. You can reach them here.
Lief Simon
Mailbag
"Lief, Medellin, Colombia, was recently posted on the Do Not Travel list. Why would you recommend moving to the drug capital of South America? A deadly dangerous place."
A.L.
Whose "do not travel" list are you referencing?
You can read the current advisory for Colombia from the U.S. State Department.
That advisory is the mildest I've seen the State Department publish for Colombia.
That said, we don't organize our lives according to government warnings and cautions. We make our own decisions based on our own experience and that of colleagues and friends we trust.
It's worth noting in this context that the United States is the drug use capital of the world and a deadly dangerous place. Living in that country, you never know when you might be shot or blown up—in a shopping mall, a movie theater, a university, an airport, etc.