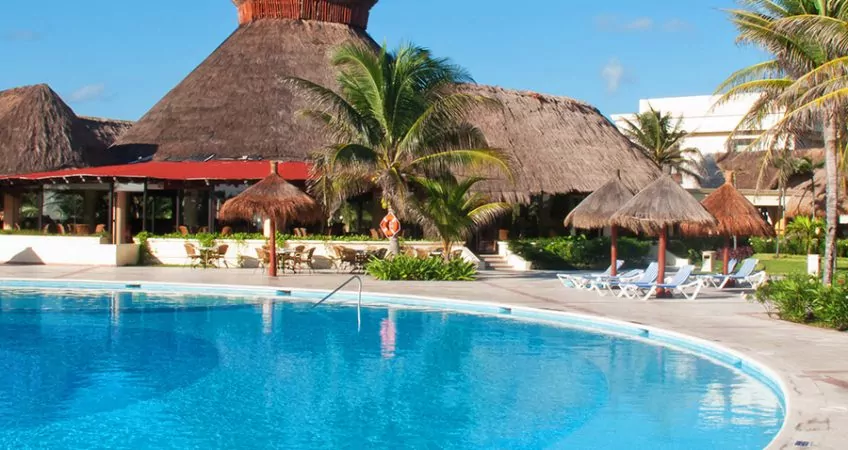 Bahia Principe Condos Are A World-Class Investment Play
Meet Me In Mexico
Four hotels, 11 specialty restaurants, 22 bars, 7 pools, 3 spas, 5 tennis courts, a basketball court, a beach club, and a shopping center…
Plus, a championship 18-hole, par-72 golf course, as well as an executive 9-hole, par-27 course, both designed by Robert Trent Jones II.
In terms of amenities and infrastructure, Bahia Principe Residences & Golf on Mexico's Riviera Maya near Tulum is one of the most impressive projects that I've ever seen.
This exclusive luxury development located on Mexico's Caribbean coast spans an area of 300 hectares. The development is unique in that there is a diverse selection of high–quality residential product options, including luxury turnkey villas, condos, and multiple lot sections for custom homes.
The group behind the development has implemented a strategy where they have integrated their business units to create a business model that takes advantage of the company's core competencies. For example, the tour company feeds the hotel company, the hotel company feeds and manages the resorts, and the resorts provide much of the amenities and infrastructure for the developments.
The development of Bahia Principe in Mexico is well underway. Notably, several turnkey residential options have already been built and sold, including one condo complex situated on the golf course.
Now Bahia Principe is pushing ahead to its next phase of development, one that ties into their resort business—which already exists and is fully operational—and allows homeowners to earn hassle-free rental returns, making for a compelling opportunity for both the investor looking for a yield and the second-home buyer in this part of Mexico.
I've identified a pre-construction investment opportunity within this exclusive master-planned resort community…
Terrazas By Bahia Principe, On Mexico's Caribbean Coast
Terrazas by Bahia Principe is a new contemporary-style condo complex neatly nestled within Bahia's Riviera Maya Golf Course. It includes four buildings with a total of 60 one-, two-, and three-bedroom units from 68 to 252 square meters (738 to 2,720 square feet). The buildings feature an innovative design based on overlapping rectangles that results in large open spaces, big terrace areas, and cutting-edge floor plans.
In addition to having access to the amenities of the five-star hotel resorts in Bahia Principe, residents of Terrazas will have access to the sub-community's own amenities, as well. In Terrazas, residents will enjoy two lagoon-styles pools with recreational areas, a playground for children, an outdoor social area for grilling, two multi-purpose rooms, and a gym. Plus, residents will have 24/7 security and concierge service.
The prices at Terrazas start at US$155,000 for the one-bedroom studio units. From there, prices go up to US$390,000 for the three-bedroom penthouse units.
The developer is also offering pre-construction financing. The terms are 60% down, which is paid during construction as 20% at signing and the remaining 40% in monthly installments until June 2017 when the units are scheduled to be delivered. The remaining balance is to be paid over 8 years at 7% interest.
Why I Like Terrazas As An Investment
Terrazas makes sense from an investor perspective for a couple of reasons…
It's situated in a master-planned beachfront resort community located in an established tourist hotspot in one of the most visited countries in the world. In fact, according to the United Nations World Tourism Organization's annual report, Mexico was the second most visited country in the Americas in 2014, with over 29 million visitors—an increase of 20.5% over the previous year. Further, the region where Terrazas is located has been designated as a zone for tourism development by the Mexican government and tourism authority.
In addition to being situated within a five-star resort with world-class amenities and plenty of activities, Terrazas is located minutes away from four nature-based theme parks, the Mayan ruins at Tulum, and the ancient Mayan city of Chichen Itza, a UNESCO World Heritage Site.
I also like that the group behind the development has over 30 years of experience in real estate development, international hotel management, and tourism.
The developer has projected annual occupancy rates for the condo units of 45%. However, considering that the area where Terrazas is located is in an established and growing tourist region, I believe these projections are conservative.
If you prefer to earn rental income without doing any work yourself, you can simply put your unit in the rental management program, where they take care of everything: the marketing, booking, and administration of your condo unit. The rental management fee is 30% of your gross rental income. With a 45% occupancy rate, you could achieve a 5.62% net rental yield with a one-bedroom studio and a 7.40% net rental yield with a two-bedroom garden-loft unit.
However, to maximize your rental yields I would advise you take on a more active role in renting out your condo unit, in addition to the turnkey rental program. With websites like Airbnb and VRBO, finding short-term renters has never been easier. Plus, you reduce your rental management fee to 10% of your gross rental revenue. In this case, the rental management fee includes administration, check-in, and housekeeping.
Ultimately, the play that I am recommending for this investment is short-term rental cash flow. It's located in an established tourist area where rental demand continues to grow. Furthermore, a short-term rental allows you and your family to enjoy your condo yourselves.
This investment is ideal for an investor looking for a vacation home the family can enjoy that generates turnkey rental income over the long term. In fact, I see this investment producing hassle-free rental returns on autopilot for generations.
To ask a question, get an information package, or make a reservation, get in touch here.
Lief Simon
MAILBAG
"Lief, I own land in Belize and have it up for sale. If l sell it, are there capital gains in Belize and in the United States? If so how much and is there any way to avoid them? Thank you."
K.S.
Belize does not impose capital gains taxes. However, if you're an American, you have a potential liability in the United States on any gain you realize.
You could defer the U.S. capital gains tax by making a 1031 like-kind exchange. This requires following a fairly strict set of rules that call for the reinvestment of the proceeds in one or more properties outside the United States within a certain timeline.
I recommend consulting a 1031 like-kind exchange consultant for more details