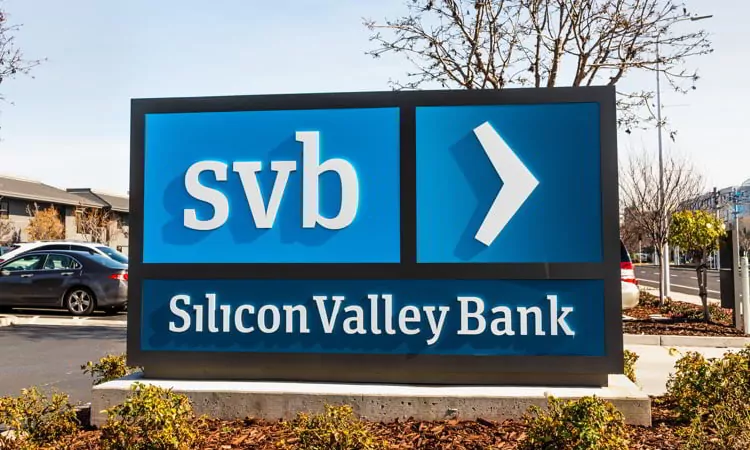 What The Silicon Valley Bank Collapse Teaches Us About Diversification
VIDEO: 2008 Again?
Is 2023 turning into another 2008?
History repeating itself, 15 years later?
I'm sure you've been watching the news… After three banks collapsed in one week in America—including the second and third-largest banking failures in U.S. history (Silicon Valley Bank and Signature)—the FDIC and the Biden administration stepped in, guaranteeing deposits even above the FDIC limit of $250K…
The move was designed to prevent a further run on banks and stop the bleeding…
But it doesn't look like it worked.
The stock of regional banks in the States has taken a massive hit…
The "contagion" has spread as far as Europe, with European bank stocks plunging—some to record lows—and European regulators scrambling to inject confidence…
I've been following the situation closely.
Here's my take: At the root of this crisis is a lack of diversification…
Silicon Valley Bank marketed itself as THE bank of Silicon Valley. Its client base was the Silicon Valley startup sector… It did not have a diverse client base…
When the tech sector slumped, when the economic conditions changed because the Fed started to raise rates, Silicon Valley Bank was completely unprepared… (SVB was heavily invested in government bonds, which went down in value after the rate rises)…
Silvergate and Signature—the other two banks to fail—also both relied heavily on one sector: Crypto in the case of Silvergate and real estate in the case of Signature…
But the speed of the failures has led to jitters everywhere about the state of the banking sector overall…
Change How You Bank
My message to depositors—to bank customers, like you—is the same as my message to bankers themselves…
Just as banks need a diverse range of clients, you, as a customer, need more than one bank.
It probably never occurred to many depositors who had all their money in Silicon Valley Bank that their bank could fail.
Few people in the States—at least in normal times—think their bank will "fail."
But this story just proves, yet again, that it can happen—even in the most developed economy in the world, even with a bank serving what many believed to be a gold mine that would never run dry (the Silicon Valley startup sector)…
This is why you want your money in more than one bank… preferably in more than one country.
In a crisis like this, some places and some people suffer—some places and some people gain.
In the 2008 crisis, for example, while U.S. and European banks were hit hard, the banking sector in Panama—where I live and work—was unscathed.
Crises like this do not hit every part of the world equally…
This is why you want to be diversified. Because when your wealth is divided between multiple banks, multiple assets, multiple countries… Your losses, even in the event of a crisis, are limited.
You don't want to end up like Leslie Feinzaig, the subject of a headline in Fortune: "I had all of my capital held up in Silicon Valley Bank as it collapsed."
She says she "worried we were all doomed and apologized to my husband for putting our family through this for so long."
Leslie remains positive about the future for entrepreneurs like her who can see out the current crisis…
But, if you're properly diversified, you don't have to rely on a positive attitude to see you through.
You'll know your future is secure because your risk is limited…
I went deeper into this topic in a conversation with Offshore Living Letter Managing Editor Ben Murnane.
I urge you to watch it… It's essential viewing if you want to know what steps to take right now.
In the video, Ben and I cover:
The Problem With U.S. Banks
Why You Need More Than One Bank
Who Pays For Bank Bailouts?
Bank Risks And What To Look For
And much more…
I'll also reveal what happened when I went through an experience very similar to what many U.S. depositors just went through.
I'll explain what I did when banks where I held accounts closed down… It's happened to me no less than three times…
You'll want to tune in to this…
Stay diversified,
Lief Simon
Editor, Offshore Living Letter